Haloti Ngata  feels right at home as a destructive force on the Ravens' defensive line.
At 6-foot-4, 345 pounds, Ngata will not surprise many with his brute strength and ability to occupy multiple blockers. Now in his fourth NFL season, it is not a stretch to say Ngata also takes up a second residence in the opponent's backfield with his imposing pass rush.
On Monday night against the Rex Ryan-led New York Jets, Ngata also found himself occupying some new property – the end zone. On the Jets first play from scrimmage, rookie quarterback Mark Sanchez dropped back for his first pass and was immediately pressured by a charging Ray Lewis. Throwing off his back foot, Sanchez forced a pass into the waiting arms of Ngata, who promptly returned the interception 25 yards for a touchdown.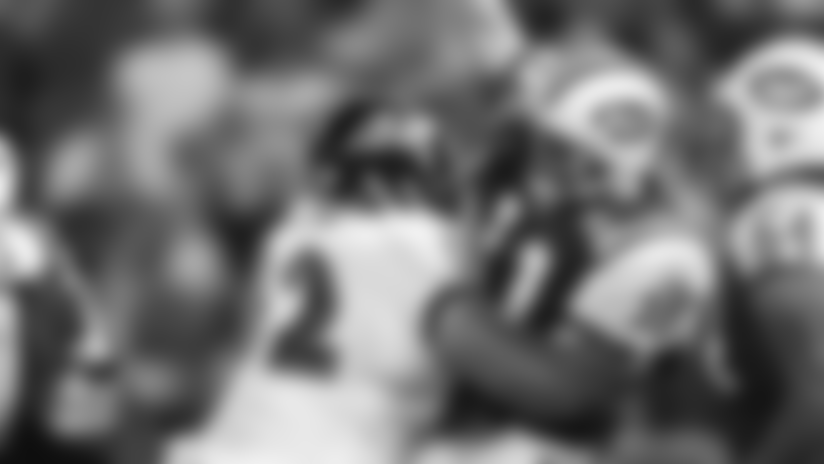 As humble as he is talented, Ngata downplayed the return and said, "My stomach swallowed it and all I had to do was put my hand on it and run. I was basically able to just walk in."
Coach John Harbaugh had a much different take on Ngata's performance: "How many defensive linemen get interceptions? I mean, that's not the first time he's ever done that. That's not a fluke. He's just a heck of an athlete."
Ngata's interception put the Ravens up 7-0 and served to remind him of his first regular season game against the Tampa Bay Buccaneers in 2006. That day, Ngata intercepted a pass and returned it 60 yards to the Tampa Bay 9-yard-line.
Asked which return he enjoyed, Ngata said, "Shorter is always better. I could breathe after I returned that ball [tonight]. That Tampa Bay game, I could hardly breathe. It was better to have it a lot shorter."
Though credited with just one tackle, Ngata was a key player in linebacker Jameel McClain's interception return for a touchdown late in tonight's second quarter, as well. Bull-rushing straight through the Jets' offensive line, Ngata pressured quarterback Kellen Clemens into throwing directly to McClain, who went untouched for a 16-yard score.
"It was great pressure by Haloti (Ngata), to be honest, and it was just me being at the right place at the right time and stumbling into the end zone," said McClain.
Fleet of foot would seldom describe someone of Ngata's girth, but his nimble footwork is obvious to anyone with a discerning football eye. Ngata credits much of his quickness to his days playing rugby. "Definitely. It always comes back to rugby," he said with a smile.
Both defensive coordinator Greg Mattison and offensive coordinator Cam Cameron have taken advantage of Ngata's unique skill sets. In addition to his full-time duties as a defensive tackle, he lined up as a linebacker, offensive lineman and fullback last season.
This season, Ngata foresees his on-field responsibilities expanding. He said, "Hopefully I can get the ball on offense this year."
Harbaugh believes it will be hard to keep Ngata off the field this season.
"I don't know what we're going to do with him," said Harbaugh. "Maybe we'll put him at linebacker, or put him at corner or something. Obviously, we wouldn't put him at corner. Strike that.
"But, he's a special, special player."
Despite all the praise and accolades he has earned, Ngata still contends he can improve as a player.
"I think I took a step back on my run defense," Ngata said. "Hopefully I can work on that and keep on improving on my pass rush and get some sacks this year."
Ngata is always quick to give his fellow teammates credit for his success, pointing out the importance of defensive tackle Kelly Gregg's return to the lineup.
Following the Ravens' 24-23 preseason victory over the Jets, Ngata said, "Oh, that's huge. Kelly always demands double teams and that allows me to have more one-on-one's. Hopefully I can get off of those [blocks] and make some plays. It's huge having Kelly Gregg back. It's great that I can still watch him on film and learn from him."
A Haloti Ngata who has yet to reach his full potential will no doubt provide opposing offenses fits for years to come. If his first three years in the NFL are any indication of what is to come, he will certainly be an entertaining player to watch – no matter what position he may be playing at the time.
By: Sean Patrick Byrne, special to BaltimoreRavens.com