When you pick up your copy of the Ravens Cheerleaders 16-month swimsuit calendar and begin flipping through it for the first time, you might think you're seeing double after glimpsing one specific photo for one of the months. There's no need to have your eyes checked. You're looking at Paige and Chase—identical twin sisters in their second year on the Ravens' squad. I had a chance to catch up with both the look-alikes today as the two girls celebrated their birthday.
If you ever happen to come across Paige or Chase, the other is usually not far away as it seems they do everything together. Not only do these girls share identical attractive looks, they also share many common interests. Born in Denver, Colorado (Paige is the oldest by 15 minutes in case you were wondering), the sisters grew up in Annapolis, Maryland (along with three other sets of twins on their block). Both currently attend Towson University and enjoy sailing, fishing, wakeboarding and snowboarding. They like Mexican food, dance clubs and are happy they will be back from this trip in time to catch the season finale of American Idol. When they're not busy cheering and dancing, Paige and Chase love spending time with their family as each girl calls her parents her heroes.
At the end of today, I asked the girls how they felt about spending their birthday away from their family and friends as they shoot a calendar here in Punta Cana. Both agreed they are ecstatic to be here on their special day. The sisters pointed out that the reason they enjoyed their birthday so much here was not the tropical setting, but rather all the other members of the squad that made this particular day extra memorable.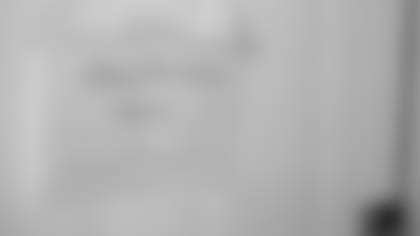 Fittingly, both girls' day began early in the morning with their final photo shoot (together). Paige and Chase were positioned underneath a grass hut and sported Ravens bikinis. After finishing the shoot, the sisters enjoyed a birthday breakfast with each other. They also spoke on the phone with their mother and father and opened a birthday card that their parents had given them before they departed on Monday but told them not to open until today.
As they prepared for their afternoon Silhouette video shoot (which they would do together), Paige and Chase were surprised by their teammates with cupcakes. (The other cheerleaders had attempted to find a birthday cake, but when they couldn't get one on the resort, cupcakes seemed like the next best option.)
The twins took some time to relax after shooting their Silhouette by taking a nap on the beach (together). Other members of the squad woke them up at some point and suggested going for a ride in the ocean on a banana boat. (Banana boats are humorous to begin with. Watching ten cheerleaders ride one—and flip it over twice—is hysterical.)
With the rest of the night off, the eight other cheerleaders still remaining in the Dominican Republic joined Paige and Chase for dinner at a restaurant on the other side of our resort. During the meal, both girls were brought out brownie desserts with birthday candles on them. Several of the waitresses sang them a song in Spanish before the entire squad sang Happy Birthday—once in English and once in Spanish. (And I suppose since there are two girls, it was appropriate to sing the birthday song twice.)
Upon returning to their rooms, Paige and Chase were each greeted with signs on their doors that read, "Happy Birthday Twins!" as well as balloons on their beds and birthday notes from several teammates. Following a long day, the sisters hung out in their rooms with the other girls for a little while before heading to bed early.
When I told the twins that I'd be blogging about them tonight, the first thing they wanted me to do was give credit to all of their teammates who are still here in Punta Cana and comment on how nice everyone was to them. The sisters both consider the girls on the squad to be like family members and they were so pleased that they got to spend their birthday together with many of them.