If kids voted for the MVP, there is little doubt Lamar Jackson would win.
Jackson's popularity with today's youth is off the charts. Kids wear his jersey, follow him on social media and root for him on Sundays.
Meanwhile, his breakout season has inspired young football players at all levels, from Pee Wee to high school. Nowhere is this truer than in Jackson's hometown of Pompano Beach, Fla. and in the surrounding South Florida communities.
Jackson and the Ravens fell short of their Super Bowl aspirations this year. Jackson badly wanted to play in the big game, and doing so a 30-minute drive from Pompano Beach – basically his backyard – would have made it even more special. But even though Jackson won't be suiting up for Super LIV, his presence will still be felt.
Hezekiah "Champ" Harris, a freshman quarterback at St. Thomas Aquinas in Fort Lauderdale, is the 15-year-old son of Joshua Harris, Jackson's long-time quarterback coach. One day, Jackson innocently asked Harris: Who is your son's favorite quarterback?
Harris couldn't believe it.
"Lamar, you can't be serious,'' Harris said. "Who's my son's favorite quarterback? It's you, dummy."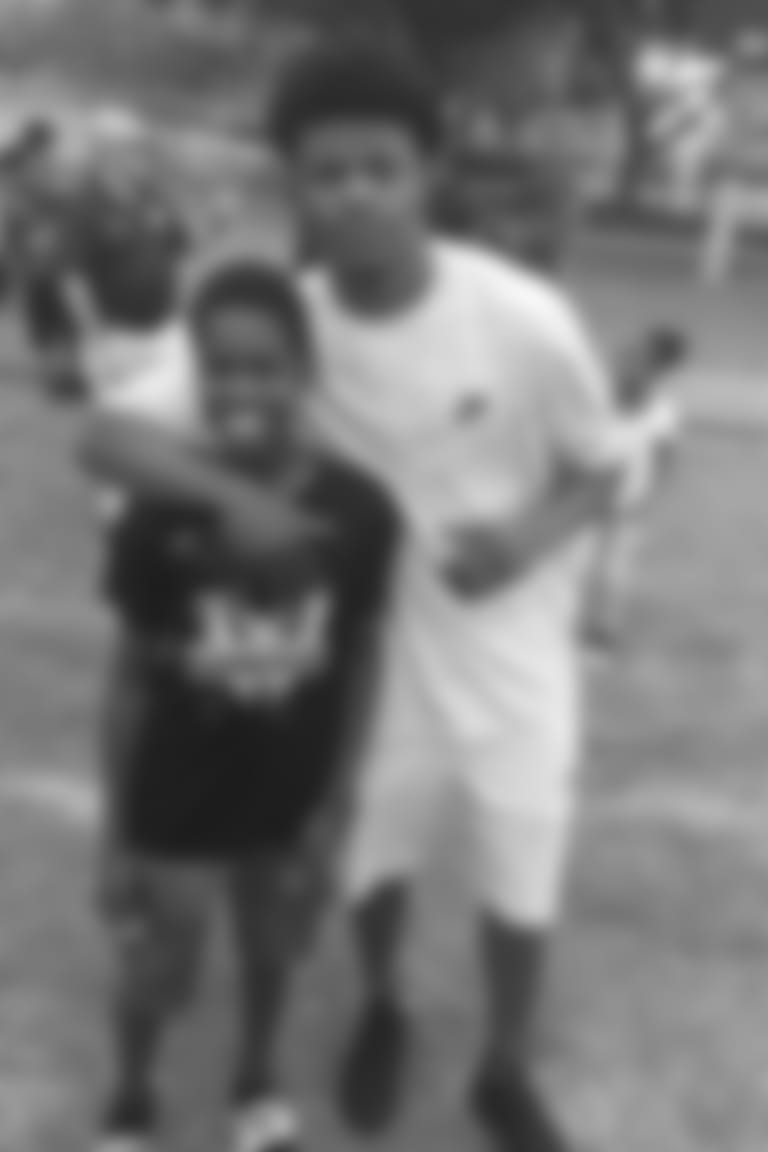 Jackson laughed at that. At age 23, and humble by nature, it's sometimes difficult for Jackson to fathom that many kids now view him as an icon. But his MVP-worthy season has only increased Jackson's star power, his stature as someone that many youngsters want to emulate.
It's another responsibility for Jackson in his young career, but he's more than equipped to handle it. Jackson has remained in his home state after the Pro Bowl, where he is expected to receive the MVP award Saturday night, a day before Super Bowl LIV in Miami Gardens. Fla. It's a special moment for many people in South Florida who have followed him since he played youth football for the Pompano Cowboys, or prep quarterback for Boynton Beach High.
Last year, the mayor of Pompano Beach declared the first Saturday of July every year as "Lamar Jackson Day" in the city.
What does Jackson tell young quarterbacks who aspire to be him? He says it's not only about having talent. It's about having determination and discipline – two traits that Jackson has in abundance.
South Florida is a football hotbed, but growing up, Jackson played with many talented players who never made it to college or the NFL because they made the wrong choices. Jackson never wavered from pursuing his dream, and he wants all youngsters to be just as determined.
"I just tell them to be them," Jackson said. "Be yourself. Be the head, and not the tail. Don't be a follower, be the leader. That's what I was told when I was a kid from my mother, so that's what I tell the young kids.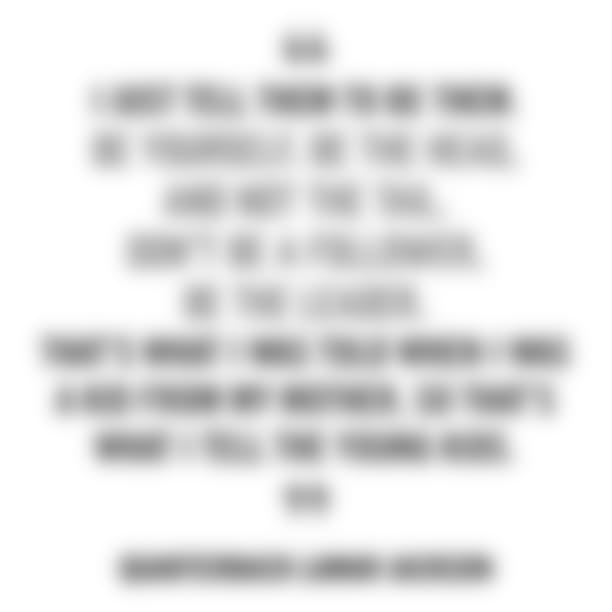 "When you get caught up in a different type of environment, like what we grew up from … people look at the other people who are getting money or stuff like that and want to follow that. Trying to get the easy way out, but not knowing, one wrong move and you're gone for a long time. You could have just waited a few years. You could have been in the league, or you could have been doing something successful. That's how I looked at it when I was growing up, and that's what I tell the kids."
As an African-American quarterback who plays the game with unique style, Jackson's rapid rise to the top of his sport is a potential game-changer. Throughout the years, race has played a role in derailing the career path of many talented black players who aspired to play quarterback.
Sometimes it happened in high school, sometimes it happened in college. But at some point, it was not unusual to see black quarterbacks switched to a different position, especially if they didn't fit the mold of the classic drop-back passer. Jackson has credited his mother, Felicia Jones, for making sure he always got the opportunity to play quarterback, even if it meant having a stern conversation with coaches.
"Felicia knew what her son was, and she always stuck to her guns," Harris said. "Whether that made her a friend or an enemy, a quarterback is what her son was going to be."
Now little Lamars are budding all over South Florida. Jackson is the first quarterback for the first team to average more than 200 yards passing and 100 yards rushing in the same season, and he set the single season rushing record for quarterbacks, leading the Ravens to the best record (14-2) in the NFL.
Harris believes Jackson opened eyes this season, even among some kids who were already in his corner.
"If I can be real, a lot of people knew Lamar was good after watching him in college," Harris said. "But even some black kids were on the fence about whether he'd be successful in the NFL, because they've been so engrained with what they've heard in the media. There was this little voice saying, 'Can I really do this?'
"But when you see Lamar putting up perfect passing ratings? When he's breaking records? When he's about to be the MVP? Now you're a media darling? Now more kids really believe anything's possible, encouraging kids of all color to play their style. Did you hear the way commentators praised Trevor Lawrence of Clemson for running? It's like it's cool now to be a running quarterback."
After seeing Jackson play just once, 9-year-old Nehemiah Howard of Miramar, Fla. was convinced he wanted to play quarterback. When Jackson was in college at Louisville, he hurdled over a Syracuse defender during an amazing run that went viral. Jackson instantly became Howard's favorite player, and he spent this season playing quarterback in a youth league for the Miami Gardens (Fla.) Ravens.
Of course, Howard wore No. 8. The Howards never miss a Ravens game on television.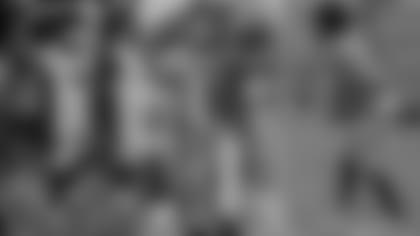 "Until he saw Lamar, my son was a running back," said Brandon Howard, Nehemiah's father. "After that it was, 'I want to be a quarterback.' That one play by Lamar did it. All he talks about is Lamar Jackson.
"Lamar has been transformative for my son. We not only watch his games, we watch his interviews. The way he addressed the MVP questions, how he always talked about the team, not just himself. That's the thing I've highlighted to my son. That's the mark of a great teammate."
What would Nehemiah ask Jackson if they met?
"I'd ask him, 'How do you do the things you do?'" Nehemiah said. "I think he's great."
The Howards met Felicia Jones at an awards banquet in South Florida and told her of Nehemiah's dream to play quarterback in the NFL. Jackson gave the Howards some advice.
"The one thing she told me was, 'You've got to protect your son's dream,'" Brandon said. "I remembered that. And I love what the Ravens are doing with Lamar, the way they've embraced him, the way they've built the entire offense around his skillset. We loved watching them play this year."
Watching Jackson become an MVP-caliber quarterback also resonates with the older generation in South Florida. Derrick Crudup, a native of Delray Beach, was once the top-rated prep quarterback in Florida, playing for Boca Raton High School in the early 1980's. He was inducted into the Palm Beach County Sports Hall of Fame in 1995.
Crudup originally went to the University of Florida, but said he was denied an opportunity to play quarterback for the Gators, so he transferred to Oklahoma thinking he might have a chance there. However, when they recruited Troy Aikman, Crudup gave up the dream and switched to safety.
Crudup made it to the NFL and played three seasons at safety for the Los Angeles Raiders (1989-91). Making it to the NFL while playing his second-best position speaks to the kind of athlete Crudup was, but who knows what he could have been as a quarterback.
"I won the starting quarterback job in the spring [at Florida]," Crudup said. "Right before practice started in the fall, (former Florida coach) Charley Pell called me in to say, 'Derrick this isn't my decision. You did win the job, but there are certain boosters and alumni who will not accept you as our leader.'
"Not everyone was ready to accept quarterbacks who didn't stay in the pocket in my day. Especially black quarterbacks. Times have changed. It's unfortunate it didn't happen in my time, but it happened in Lamar's time."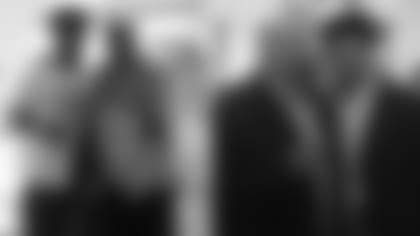 Crudup met Jackson eight years ago at the Palm Beach County Hall of Fame annual banquet, when Jackson was being honored as the South Florida High School Player of the Year. They have remained in touch ever since.
"I'm a huge Lamar fan," Crudup said. "He's unbelievable. We're all super proud of him."
The Ravens' shocking playoff loss doesn't erase Jackson's special season. Jackson is living his dream, and he hopes that kids watching him play are motivated to turn their dreams into reality.
"If that's your dream, chase it," Jackson said of kids playing quarterback. "Don't let anybody tell you different, because I didn't let them tell me different."