Bold Move Revived Ravens' Season
Back in early December, the Ravens had lost two straight games and the frustration in Baltimore was building.
That's when Head Coach John Harbaugh made a bold move.
He replaced Offensive Coordinator Cam Cameron with Quarterbacks Coach Jim Caldwell, making a change at play caller with just three games left in the regular season and the Ravens sitting at 9-4. Questioned by some at the time, the decision is now being heralded as a gutsy move that revived the Ravens' season.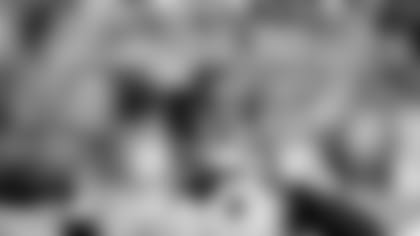 "No team is a bigger surprise entry in this season's final four than the Ravens, losers of three in a row in December, and Caldwell's elevation was the key impetus of Baltimore's unexpected playoff success," wrote Sports Illustrated's Don Banks.
The offense has broken out in the last three games that the starters have played (discounting Week 17 in Cincinnati where most starters rested). The unit has averaged 31 points and 483.7 yards of total offense. The Ravens set a team playoff record for offensive yardage in the victory over the Colts (439 yards) and then broke that mark against Broncos (479 yards).
"The facts speak for themselves and underline the effect Caldwell has had," Banks wrote.
One player who has particularly flourished under Caldwell is quarterback Joe Flacco, who is coming off one of the best games of his career. Flacco's play has dominated the national headlines this week, and even has him gracing the cover of Sports Illustrated for the second time of his career.
Above his photo on the magazine's cover is text that reads, "Dear Joe, Last Weekend You Took Down Peyton. On Sunday You Get Brady – And the Chance, Once and for All, to Rewrite Your Legacy."
Flacco "is playing the best football of his five-year NFL career," Banks wrote, and the Ravens will have to count on him to pull off another road upset this postseason.
"To upset the high-scoring Patriots (league-best 34.8 points per game in the regular season), the Ravens offense again has to lead the way," Banks wrote. "After getting past the likes of Eli Manning, Andrew Luck and Peyton Manning in the span of four weeks, the task of beating Tom Brady on the road looms as the biggest challenge of all."
Skip Gives Flacco Props … Somewhat
Mark this day in history.
Skip Bayless said something positive about Flacco.
The ESPN First Take co-host complimented Flacco's recent postseason performances in which he has outplayed Peyton Manning and Tom Brady (last year). Bayless was reluctant to show total confidence in Flacco, but he did tell co-host Stephen A. Smith that the 9.5-point spread for Sunday was "absurd."* *
"I've got to step back and give credit where it's due," Bayless said. "Joe Flacco has now won five road playoff games. That's tied for best all-time, with Eli Manning and Roger Staubach. I can't take that away from him."
Of course, Bayless still had to offer some subtle jabs, saying that he still doesn't "buy Joe Flacco," and that he's rooting for the Patriots this weekend.
Smith agreed that the Patriots shouldn't be such heavy favorites, and he thinks that Flacco tends to respond with big games when he's under the microscope.
"I think that Flacco has played his best when he's been under duress because of all the skepticism and cynicism aimed at him due to his lack of production," Smith said. "The fact that he's a 9.5-point underdog is something that I like for Baltimore because I especially like that for Flacco. I think that's when he's at his best."
Ravens Could Struggle To Keep Ellerbe, Williams or Kruger
Paul Kruger, Dannell Ellerbe and Cary Williams have emerged this season as three of the Ravens' brightest young defenders. They have all taken on starting jobs and will have a critical role Sunday as the Ravens make a push for the Super Bowl.
The one problem with their emergence, however, is that all three defenders are unrestricted free agents at the end of the season and it will be tough for the Ravens to keep them in Baltimore.
"The team could struggle to even retain one of the defensive trio," wrote Aaron Wilson of The Baltimore Sun. "The salary cap isn't expected to go up much from the $120.6 million level of this past season."
The amount of salary cap space the Ravens have to play with depends on what happens with Flacco's contract. The team hopes to work out a long-term deal with him, but they could use the franchise tag on him, which would be a heavier cost against the cap.
"If the Ravens have to use the franchise tag on Flacco by a March 4 deadline, it will make it harder to keep their defense together," Wilson wrote.
Kruger, who led the Ravens with nine sacks this season, could be in store for the biggest payday considering sacks come at a premium in the NFL.
"Although Kruger prefers to remain in Baltimore, he could potentially command offers in the $35 million to $40 million range that the Ravens can't afford to match," Wilson wrote.
Jim Says He's 'Half The Coach' John Is
John's Ravens and Jim's 49ers are in the AFC and NFC championship games once again, and the brothers are both looking for their first trip to the Super Bowl.
As the two coaches prepare for their respective games this weekend, Jim told CSN Bay Area that he's trying to grow into the kind of coach his older brother is.
"I think he's the best in the league at what he does," Jim said. "I'm half the coach he is. I'm trying.
 "I don't think there's any coach coaching in the game today that really has the full grasp of offense, defense, and special teams like my brother has."
Denver Mayor Michael Hancock made a bet with Baltimore Mayor Stephanie Rawlings-Blake that if the Ravens won last Saturday, he would have to perform Lewis' Squirrel Dance. Hancock obviously lost the bet, but his performance was put on hold because he strained his quad at a western stock show Monday night. [Denver Post]
Expect a street fight this weekend in Foxborough. [Boston Herald]
Film Study: Breaking down the Ravens-Broncos and Patriots-Texans [The Baltimore Sun]
@ravensinsder: "RFA tenders, per memo from NFLPA: $1.323 million (original round, right of first refusal), $2.023 million (2nd rd), $2.879 million (1st rd)" [Twitter]
ESPN's Jamison Hensley: "There will always be a debate on whether Ray Lewis is the greatest middle linebacker of all time. But there's really no argument when it comes to Lewis being the greatest leader in NFL history." [ESPN.com]
Tom Brady: No Gronkowski, no problem. [CSNBaltimore.com]
Few players in sports have ever had the kind of connection with their home fans that Ray Lewis has with the city of Baltimore. As a tribute to Lewis, the Maryland Lottery has released a commercial featuring people around Baltimore thanking Lewis for his 17 memorable season with the Ravens.