Senior Bowl Boasts 'Two Best Senior Receivers in the Last Decade'
Ravens talent evaluators are in full force down in Mobile, Ala. right now, which means they're getting an up-close look at perhaps the best wide receiver class that the Senior Bowl has seen in a long, long time.
Well, Pro Football Focus' (PFF) Josh Liskiewitz is scouting the Senior Bowl for his 10th consecutive year, and he says there are two elite receivers there like he's never seen before.
That's excellent news for the Ravens, whose top offseason need is receiver. But just to temper excitement, remember Liskiewitz is specifically talking about *senior *receivers.
The Senior Bowl frequently lacks star power at the position because the top receivers are usually underclassmen, who often declare for the draft early. That theme certainly continues this year, as 20 underclassmen are eligible to be taken in April, with Alabama's Calvin Ridley expected to lead the way.
Liskiewitz points out that only two senior receivers have been taken in the first round since 2009:  A.J. Jenkins (2012) and Phillip Dorsett (2015).
Now that we've put the competition of the last decade in context, we can still get a little excited about this year's senior prospects.
While ESPN's Mel Kiper told reporters last week that nobody outside Ridley was worth a top-16 pick, PFF has Washington going No. 13 overall in its latest mock draft before Ridley at No. 16 to the Ravens.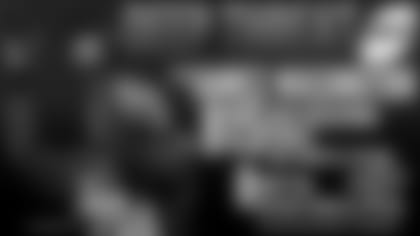 The exciting stat on Washington is that he led all college receivers last year in deep receptions. He caught 17 passes of 20 yards or longer. Big plays were an issue for Baltimore last year, as the team got a first down when they needed 10 yards or more on just nine of 110 opportunities, according to the statistical site Inside Edge NFL.
Washington's 3.4 yards per route ranked sixth in the nation. He also scored 14 times last season, making it his third consecutive year that he notched at least 10 touchdowns. The Beletnikoff Award winner (nation's best receiver) led the country in receiving yards too.
"His game-breaking speed and tracking ability made him a constant deep threat and the focal point of Oklahoma State's outstanding offense," wrote Liskiewitz.
"Two things teams will want to see from Washington in Mobile are his elusiveness on underneath routes (he broke just seven tackles after the catch in 2017) and his versatility, as 92 percent of his routes last season were run wide to the right side of the field. Overall though, his production as a senior was outstanding, as his 87.8 receiving grade ranked seventh among draft prospects at the wide receiver position."
Not to be outdone by Washington, Gallup is another potential first-round pick. PFF has him going at No. 19 to the Dallas Cowboys.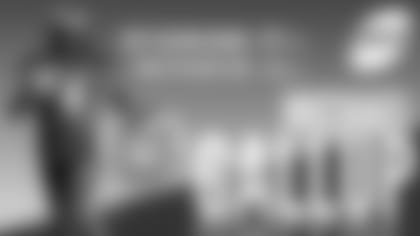 Gallup had the best overall grade at the position from PFF last season, and mostly played outside with only 8.9 percent of his snaps coming from the slot. He also picks up yards after the catch, forcing 20 missed tackles, which ranked ninth among all FBS receivers.
"He was one of the most efficient producers at his position this year, as his 3.47 average yards per route run ranked third among draft prospects, and 14th across the nation's receivers," Liskiewitz wrote.
"With 21 percent of his 163 targets coming on screen passes, he certainly had the volume needed to elude underneath defenders as often as he did, but the bulk of his production came on vertical-breaking routes. … The terror he reigned upon opponents downfield also came in the form of points for the offense, as six of his seven touchdowns on the season came on his vertical routes."
While Washington and Gallup are getting plenty of attention this week, Liskiewitz says there's lots more talent beyond these top two. That list includes Oklahoma State's Marcell Ateman, Iowa State's Allen Lazard, Central Florida's Tre'Quan Smith and Boise State's Cedrick Wilson.
"Much of the buzz heading into Mobile is on the quarterback class, and rightfully so, but it's the wide receiver group that will be truly elite," Liskiewitz wrote.
Ravens Are No. 4 in Rick Gosselin's Special Teams Rankings
It's no surprise to see the Ravens special teams group rank among the best in the NFL once again this year.
Baltimore came in at No. 4 in Rick Gosselin's popular annual list with 233 points, trailing only the Los Angeles Rams (196.5 points), Kansas City Chiefs (229.5) and AFC champion New England Patriots (231.5). Gosselin is a former writer for The Dallas Morning News.
It marked the sixth straight year that Jerry Rosburg's group finished in the top five.
In addition to ranking the overall special teams play, Gosselin also judges 22 specific categories. Baltimore ranked in the top five in several: Kickoff returns: No. 1, 27.5 yards
Punt returns: No. 5, 10.0 yards
Kickoff coverage: No. 1, 18.63 yards
Kickoff starting point: No. 1, 27.8-yard line
Inside the 20 punts: No. 1, 40
Extra point percentage: Tied for first with five other teams at 100 percent
Points scored: Tied for No. 4, 12 points
Points allowed: 15 teams tied for first with 0 points
Giveaways: 13 teams tied for first with 0 giveaways
Ravens Seen Meeting With Alabama Defensive Tackle at Senior BowlThe predictable jokes piled in after a report that Baltimore scouts were seen meeting with Alabama defensive tackle Da'Shawn Hand at the Senior Bowl.
The joke works on two levels: we all know Ozzie likes players from his alma mater, and the Ravens drafted defensive players with their first four picks last year.
Obviously, the tweets are just sarcastic jokes, so you can't take this one report as an indication that the Ravens will go defense heavy again in the draft. The Ravens will meet/talk with close to a hundred prospects over the course of the week. This just happens to be one that somebody saw and reported.
Why wouldn't that list include a stud defensive lineman from a team that just won the national championship?
"I do think one of the Ravens' underrated needs is an interior pass rusher," wrote The Baltimore Sun's Jeff Zrebiec.
"Da'Shawn Hand stands at 6-foot-4 and 289 pounds," added Baltimore Beatdown's Dustin Cox. "He is widely projected as a day two or three selection in the upcoming draft. This would be a typical mid-round pick for Newsome, who loves to find quality defensive linemen later in the draft. Look to current players such as Brandon Williams, Carl Davis, and Willie Henry as examples of this."
Gisele Bündchen Wants Her Husband, Tom Brady, to Retire
Tom Brady's wife, Gisele Bündchen, apparently wants Super Bowl XLII to be her husband's last game.
"Last spring Brady and his family vacationed with retired kicker Jay Feely, a close friend from their college days at Michigan," wrote The MMQB's Greg Bishop. "This being Brady, Feely prefers not to disclose the locale, but he does share that Brady's wife, the supermodel Gisele Bündchen, spent time on that trip 'trying to get me to convince [Tom] to stop playing.' And, Feely adds, 'she was dead serious.'"* *Yes, please.
You should listen to your wife, Tom. The women in men's lives know what they're talking about (wink face emoji).