How the Steelers Are Trying to Mimic Lamar Jackson
Lamar Jackson's unique skill set makes him one of the most difficult quarterbacks to defend against during games, and one of the most difficult to mimic on the practice field.
Cleveland Browns Defensive Coordinator Steve Wilks told reporters that the Browns planned to prepare for Lamar Jackson by playing Madden. The Chiefs used a practice squad cornerback under center to simulate his speed.
It's a challenge Pittsburgh Steelers Head Coach Mike Tomlin faces ahead of Sunday's divisional matchup.
"No one has a quarterback that moves and throws like Jackson," Tomlin told reporters. "We aren't alone on that."
"Against the Ravens, it's different," Sports Illustrated's Noah Strackbein wrote. "With Jackson's speed and athleticism, the Steelers will have the challenge of finding a player to create a Jackson-like play for their defense."
This is the first time Jackson will face the Steelers as a starter. He took over last season after the two teams split the season series. Jackson is a much-improved passer since then and is on pace to throw for 4,440 yards and 40 touchdowns this season.
Tomlin said the Steelers would lose too much in the passing game using a position player to simulate Jackson, leaving them with limited options at quarterback with Ben Roethlisberger out for the season.
"The closest thing the Steelers had to simulating Jackson was Joshua Dobbs, who has since been traded to the Jacksonville Jaguars. … So the Steelers will likely use backup Devlin Hodges, given that third-stringer Paxton Lynch is 6-foot-7."
Even then, Hodges is an undrafted rookie with limited experience.
It shows the lengths teams will go to prepare for one of the NFL's most dangerous dual-threat quarterbacks, and there's still nothing like going up against the real thing.
Ravens Fall in Power Rankings
Pundits remained confident in the Ravens despite losing to the Chiefs last week, but two consecutive defeats have seen them fall in the power rankings.
"A couple of weeks ago, the Ravens were being talked up as one of the best teams in the NFL," Bleacher Report wrote. "A lot can change in a fortnight."
After an almost perfect performance against the Dolphins to start the season and a win over the Cardinals in Week 2, the Ravens were ranked as high as No. 3 in the power rankings last week.
But after suffering their second setback in as many weeks, they dropped outside of the top 10 in many publications.
Added Hanzus: "The defensive struggles ramp up the pressure on Jackson, who in the last two weeks has not looked like the world-beater we saw against the Dolphins and Cardinals in Weeks 1 and 2. … All in all, a lost week."
ESPN also pinpointed its primary concern as the defense but was the most optimistic among publications. The Ravens dropped just four spots to No. 10 in their rankings, and ESPN's Football Power Index (FPI) still gives Baltimore a 55.9% chance to make the playoffs.
"Last season, the Ravens' defense ranked No. 1 in the NFL and helped lead Baltimore to its first division title since 2012," ESPN wrote. " … Someone needs to step up to get this defense back on track."
The defensive concerns are justified after allowing more than 500 yards of total offense for the second straight week, but it's important to remember we're only four games in. As noted in yesterday's Late for Work, pundits aren't ready to push the panic button at 2-2.
Some aren't even ready to crown the Browns leaders of the AFC North.
Half of the publications we looked at still have the Ravens ranked ahead of Cleveland (Sports Illustrated, ESPN, Sporting News, and Bleacher Report).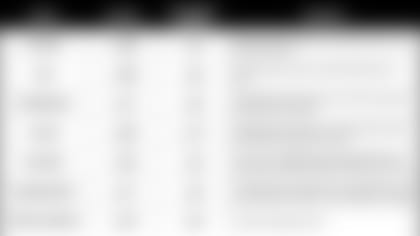 Ronnie Stanley is Playing Like an All-Pro
Ronnie Stanley came into the season looking for his first Pro Bowl nod, and he has played like an All-Pro in the eyes of pundits. Going up against one of the league's top defensive fronts, last Sunday's matchup proved it.
"Stanley and Orlando Brown Jr. did a solid job against Browns edge rushers Myles Garrett and Olivier Vernon," The Athletic's Jeff Zrebiec wrote. "Garrett had one tackle and no sacks or quarterback hits. Vernon had one sack, two quarterback hits, and two tackles."
Stanley hasn't allowed a sack this season and recorded an 87.7 pass-blocking grade, according to Pro Football Focus. He's faced a strong group of pass rushers during that span, including Chris Jones, Frank Clark, Terrell Suggs, Chandler Jones, Garrett, and Vernon.
"Ronnie was outstanding for the third consecutive game," film analyst Ken McKusick wrote. "He allowed just one other pressure when bulled by Garrett. He missed just one block where he gave ground to Garrett. Stanley had six blocks in level two and delivered one pancake."
Head Coach John Harbaugh has seen Stanley progress to his top form this season.
"Ronnie's playing well," Harbaugh said. "He's playing at a very high level. I think he's playing at a top level … and I expect him to keep getting better."
●      The Ravens are favorites on the road against the Steelers for the first time since 2015.