Predictions for Ravens vs. Texans
In a battle of division leaders and MVP-candidate quarterbacks, an overwhelming majority of pundits are giving the edge to the home team.
Of the 58 pundits we looked at, 51 predicted the AFC North-leading Ravens (7-2) to defeat the AFC South-leading Houston Texans (6-3) in Sunday's showdown at M&T Bank Stadium.
Among the 20 prognosticators who predicted the score, most expect it to be a shootout, and it's nearly unanimous that the game will be close. All but one of the 20 believe the margin of victory will be eight points or less.
A win by the Ravens would increase their lead in the division to three games over the second-place Pittsburgh Steelers (5-5), who lost to the third-place Cleveland Browns (4-6) last night.
Some are saying Sunday's game, which marks the first meeting between dynamic young quarterbacks Lamar Jackson and Deshaun Watson as pros, could be the beginning of the NFL's next great quarterback rivalry.
The last time Jackson and Watson squared off was Oct. 2, 2016, when Watson led Clemson to a 42-36 win over Jackson's Louisville squad. Jackson threw for 295 yards, ran for 162 yards and scored three touchdowns that day, while Watson threw for 306 yards, tossed five touchdowns and ran for 91 yards.
Grab your popcorn, folks. This is gonna be fun to watch.
Here's a sample of what pundits are forecasting for the game:
The Ravens' No. 1-ranked rushing attack will get the better of the Texans' No. 3 rushing defense.
NFL.com's Gregg Rosenthal: "In a coin-flip matchup, the overpowering Ravens rushing attack remains the defining group of two teams that can transform so seamlessly from week to week."
NFL Network's Bucky Brooks: "I like Baltimore, their run game, their defense, a little better than Houston. I'm going to go with the Ravens in this one because they're playing at home."
It'll be another big day for Jackson.
NFL Network's James Jones: "I don't think there's anybody in the National Football League right now that can stop Lamar 'Action' Jackson. … With his ability, how special this kid is, even if you're in the right defense, in the right scheme, you have a guy spying Lamar Jackson, his ability to make people miss is unstoppable. And I don't think the Houston Texans are going to be able to slow him down. They're going to have a spy on him, but it gets real when you're in real action trying to slow down Lamar Jackson and he can make you miss. And once he makes one guy miss he is gone."
Jackson will pass for more yards than Watson.
Ebony Bird's Chris Schisler: "Marlon Humphrey can severely limit [Texans wide receiver] DeAndre Hopkins. Marcus Peters and Earl Thomas are going to provide a challenge for the Texans' passing attack as well. With a good game plan, the Ravens can limit Watson the way they limited [Seattle Seahawks quarterback Russell] Wilson. Jackson just had a great game as a passer. … He may be finding his stride as a passer again, like he did in the first two games of the season. Jackson will have his best game in the NFL. Put him down for 275 yards through the air and 60 on the ground."
Expect a heavy dose of Hopkins.
Baltimore Beatdown's Taylor Ciotola: "Whether it's Marlon Humphrey, Marcus Peters or Jimmy Smith, the corner who covers DeAndre Hopkins will be spotlighted all day. One would have to assume Humphrey takes this role with his play this season, but it could be rotational based on the situation of the game. Hopkins is a security blanket for Deshaun Watson, and will be looked at when protection breaks down. Hopkins is a freak athlete that catches everything and has good field awareness. The cornerback covering him must be physical in order to win this matchup against arguably one of the best wide receivers in the league. Look for Watson to target Hopkins regardless if he is open or not. He will give DeAndre the opportunity to make plays that stun Ravens fans in front of their home crowd."
The absence of Texans All-Prodefensive endJ.J. Watt, who suffered a season-ending injury (torn pectoral muscle) in Week 8, gives the Ravens the edge.
ESPN's Rob Ninkovich: "I think Houston in this game is going to miss J.J. Watt. I think they're going to miss that aspect of their defense. And the Ravens are going to be able to take advantage of that with controlling the tempo of the game, running the football."
The game may not be the shootout many are expecting.
The Athletic's Jeff Zrebiec: "Not sure I'm expecting a shootout. I could see both of these teams prioritizing ball possession and keeping the other offense on the sideline, which would mean longer and fewer drives and should keep the score down a bit. This is close to a pick'em game and I don't really like the matchup for the Ravens, but they've proved me wrong twice before recently. I'll say they win 26-23."[add]
The Texans will make enough big plays to win a close one.
NFL Network's Daniel Jeremiah: "If [the Texans' offensive line] can protect, I think they'll get some shots down the field. … I think they get [Marcus Peters] on a double move in this game. I'm going to say the Houston Texans go on the road and get a win."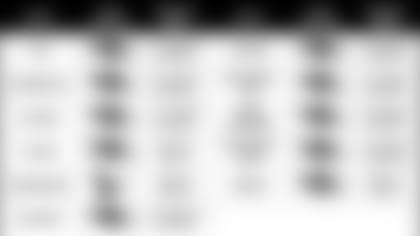 John Harbaugh Has a Case for Coach of the Year
Will the AFC Coach of the Year come out of the AFC North? That was one of the topics discussed recently by The Athletic's AFC North writers. The consensus was that the Ravens' John Harbaugh and Steelers' Mike Tomlin should be on the short list of candidates at this point.
"Right now, I'd probably go with San Francisco's Kyle Shanahan, [and] Harbaugh and Tomlin would be right behind him," Zrebiec said. "No question, Harbaugh and Tomlin are certainly deserving. Harbaugh's conviction and Tomlin's steadiness have their respective teams playing as well as anybody right now. … They're two of the best in the league and this season has served as a reminder of that."
Zac Jackson and Jay Morrison gave the nod to Harbaugh.
"Right now I'd vote for Harbaugh based on the Ravens handing the keys to Jackson and the defense recovering from that late September debacle, but both deserve consideration," Jackson wrote.
Morrison wrote: "I guess I would have to lean toward Harbaugh simply because of where the Ravens stand right now as arguably the best team in the AFC. But then again, they are defending division champs. When you throw in a degree-of-difficulty component, how can Tomlin not be the pick? … I'd still have to go Harbaugh based on how well the Ravens are playing (and let's not forget they were 4-5 at this time last year), but Tomlin gets a serious tip of the cap for the job he's done navigating that ship through … adversity."
Meanwhile, a panel of six Baltimore Sun writers all six agreed that Harbaugh should receive strong consideration for Coach of the Year.
"Not only has he oversaw a team that has completely changed its identity, he has managed one that has undergone significant changes in terms of defensive personnel," Daniel Oyefusi wrote. "Another overlooked factor is the youth of this Ravens team, and how Harbaugh has been able to keep them focused with the team's success this season."
Doug Pederson Compares Patriots Defense to 2000 Ravens
When Philadelphia Eagles Head Coach Doug Pederson was asked earlier this week about the New England Patriots defense (the Eagles will host the Patriots Sunday), he said he saw similarities between the unit and the 2000 Ravens defense.
"I think the biggest thing that jumps out to you right now, the glaring thing, is the turnover ratio. I mean, the fact that they've got six defensive scores this season, the interceptions, the fumbles they're causing — it's a brand of defense where they just smother you," Pederson said.
"They just corral you. … And that's something I think when you look back, if I remember correctly with that Baltimore team, the same structure, the same style of defense. It was a smothering style of defense, and they played fast and they played aggressively."
The 2000 Ravens rode their defense, which allowed just 10.3 points per game (a record that still stands) to a Super Bowl title. This year's Patriots defense is allowing 10.9 points per game (it was 7.6 before the Ravens scored 37 against New England in Week 9).
Pederson knows firsthand just how tough the 2000 Ravens defense was. He was the quarterback for the Browns when they lost to the Ravens, 44-7, that year.
"I think I cracked my ribs in that game," Pederson said.