Pundits Are Unanimous in Ravens vs. Bengals Picks
"We're on to Cincinnati" entered the football lexicon five years ago when New England Patriots Head Coach Bill Belichick repeated the phrase several times at a press conference after a crushing loss.
Belichick was making it clear that he was focused on the next game. Under entirely different circumstances, Ravens Head Coach John Harbaugh expressed a similar sentiment (although he wasn't nearly as terse) this past Sunday night.
After the Ravens' uplifting win over — coincidentally enough — the Patriots, Harbaugh put the victory into perspective.
"We know it's just one game. Just half the season is over, that's it," Harbaugh said after his team's fourth straight win. "We have half the season still to go. So there's a lot of stories still to be written and we're moving on to the next game."
In other words, we're on to Cincinnati.
When the Ravens (6-2) visit the Bengals (0-8) Sunday, they will be the first team since the 1970 merger to face an 0-8 or worse team the game after facing an 8-0 or better team, according to ESPN Stats & Information.
Given the Ravens' and Bengals' records, it's no surprise all 58 pundits we looked at picked Baltimore to win. Of the 20 who predicted a score, the average margin of victory was 16.3 points. The Ravens, who beat the Bengals, 23-17, at home in Week 6, also were a unanimous pick to win that game.
If ever there was a trap game, this is it, but Harbaugh's comments about moving on to the next game just minutes after the Ravens handed the Patriots their first loss are encouraging.
Harbaugh stressed at his press conference Monday that his players are focused on Cincinnati.
"Our guys understand," Harbaugh said. "You want to make a big win matter? Then you have to follow it up with a win. If you follow it up with a loss, you've just negated the win. You might as well not have won the game. So, we don't want to throw that away."
If the Ravens need any additional motivation, all they have to do is look at their upcoming schedule. After facing the Bengals, their next four games are against the Houston Texans (6-3), Los Angeles Rams (5-3), San Francisco 49ers (8-0) and Buffalo Bills (6-2).
Here's a sample of what pundits are forecasting for Sunday's game:
Bengals rookie quarterback Ryan Finley, making his first NFL start, will struggle against the Ravens defense.
Pro Football Talk's Chris Simms: "If you're a rookie quarterback, the Ravens are one of the teams I would not want to make my first start against. … He's going to see defenses and players on the field that he's never seen before in his life. He's going to walk to the line of scrimmage and go, 'Whoa, these Baltimore Ravens are big. Holy crap.' And he's going to go, 'Whoa, what the hell coverage is this?' I mean if they can confuse Tom Brady a little bit they'll certainly be able to confuse Ryan Finley."
NFL.com's Gregg Rosenthal: "While Finley did a nice job completing 7-yard passes in the preseason, he has to face a Ravens defense that was able to fool Tom Brady multiple times last week with blitz packages. Baltimore's secondary is also much improved with Marcus Peters on board, Jimmy Smith back and Earl Thomas rounding into form."
Penn Live's Aaron Kasinitz: "The Ravens will almost certainly try to apply pressure at a high rate Sunday. It'll be up to the Bengals' 24-year-old signal-caller and a shaky offensive line to hold up against it."
The Baltimore Sun's Jen Badie: "The Ravens will face their fourth rookie quarterback this season in Ryan Finley; rookie quarterbacks have managed just one touchdown on the Ravens defense this season."
Turnovers will boost the Ravens.
Ebony Bird's Chris Schisler: "The Baltimore Ravens have seen defensive turnovers make a big difference in their four-game winning streak. … The Ravens defense is starting to hit its stride, and they get a rookie quarterback? Sign the Bengals up for a box of turnovers."
The Ravens' No. 1-ranked rushing attack will thrive against the Bengals' 32nd-ranked run defense.
CBS Sports' John Breech: "The other problem for the Bengals in this game is that they give up 177.6 yards per game on the ground, which ranks dead last in the NFL. The Ravens might not even have to throw a pass to win this game. Basically, if this is a trap game, it's the equivalent of using a mouse trap to catch a large bear, and the Bengals are not the large bear in this analogy."
CBS Sports' Pete Prisco: "The Cincinnati defense has had run issues all season long and that will lead to a big game from Lamar Jackson and Mark Ingram on the ground."
Despite the Bengals' susceptibility to the run, don't be surprised if Jackson throws the ball more than one may expect.
NFL.com preview: "It might be the right opponent to have Jackson use his arm a little more. … If you're looking for another game like he had in Week 1 — one of those 300-plus-yard, three-plus-TD-passing-type games, the Bengals might be the team he does it against, being they're last in yards-per-completion, have given up a passer rating over 100, have only nine sacks, and have given up 36 pass plays of 20-plus yards, which ranks 29th."
The Ravens will put the game away in the second half.
Schisler: "The Ravens will be up a score in the second half, their offense will have a long drive that seals the deal. It's what they do. It's what they did against the Patriots. It's what they did against the Seahawks. It's how they put away the Bengals the first time and how they secured the victory against the Arizona Cardinals. When the Ravens do something this consistently, you can bet on it happening again and again."
The Ravens' momentum from their win over the Patriots will carry over against a Bengals team that will be without wide receiver A.J. Green, who has been a thorn in the Ravens' side over the years.
ESPN's Victor Cruz: "Lamar Jackson's going to take that momentum and just build upon that week in and week out. And the Bengals are trending in the wrong direction right now. They were expecting to get A.J. Green, [but] he experienced some soreness in the ankle, [and] will not play this week."
The Baltimore Sun's Peter Schmuck: "If you're worried about a letdown after Sunday night's huge win over the Patriots, don't be. The Ravens should be pretty proud of themselves after beating the Seahawks and Pats, but they know that every game counts toward playoff seeding and a possible first-round bye. They won't blink."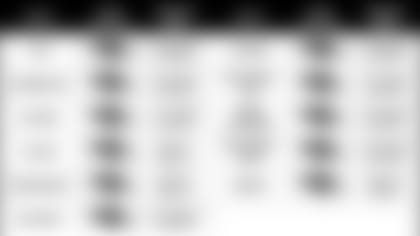 Should the Ravens Pursue Dez Bryant?
Former All-Pro wide receiver Dez Bryant created a buzz earlier this week when he tweeted that he was looking to return to the NFL.
After spending eight seasons with the Dallas Cowboys before becoming a free agent in 2018, Bryant signed with New Orleans last November, but suffered a torn Achilles tendon in practice two days later and never played a game for the Saints. Bryant reportedly had turned down a multi-year offer from the Ravens before the start of the 2018 season.
Would the Ravens have renewed interest in Bryant?
CBS Sports' Patrik Walker listed the Ravens as one of 10 potential landing spots for Bryant, who turned 31 earlier this week.
"[Marquise] Brown is a definitive deep threat while Bryant could provide the 'big-bodied' wideout compliment, with Willie Snead injecting impact in needed spots," Walker wrote. "It's well-known at this point what tight end Mark Andrews can do, but it simply feels like the Ravens passing attack is missing something, and that lack of whatever it is might come back to haunt them when the Patriots seek revenge in January.
"The team once took a chance on Steve Smith Sr. and saw him become resurgent because of it, and Bryant is capable of stepping in and becoming a similar force for them in 2019."
"The Ravens should do their due diligence on Bryant, bring him in for a talk and work him out. If they feel that he can help, and he is willing to accept a role as a third-down, red-zone specialist, they need to bring him in. If he doesn't impress them, and they don't think he'll bring one thing more than Miles Boykin, Willie Snead or Seth Roberts, they need to walk away," McCann wrote.
"A one-year contract to a guy who has proven to you that he is healthy, able and willing to help is worth it. Bryant has proven to be a fierce competitor and extremely gifted contested-ball receiver and could help this team in a key moment. But only at the right price. If they get outbid, they get outbid."
Jackson has said repeatedly that while he appreciates all the praise he's been getting in the national media, he doesn't pay attention to it. In fact, he said if he sees himself on TV, he immediately turns the channel.
At the rate he's going, Jackson may just want to keep his TV turned off. He probably should stay off social media and sports websites as well.
Several days removed from Jackson leading the Ravens to a convincing win over the Patriots, analysts continue to shower praise on the second-year quarterback, who has emerged as an MVP candidate.
"Get out of Lamar Jackson's way, Bill Belichick!" NFL.com's Dan Parr wrote. "The Ravens QB threw The Hoodie in the drawer on Sunday night, dancing all over his doubters while continuing his assault on the record books."
NFL Network's Brian Baldinger said "there really is no defense for [Jackson's] skill set and his talent."
"[The Ravens] have an 'X' factor in Lamar Jackson that no matter how much you prepare for him on film, he is going to make plays in a game that are going to win a game," King said on his podcast.