Offensive Shift Coming For Ravens?
Both of those statements are good news for the Ravens, who are looking for some combination to make up for the loss of Anquan Boldin's 65 catches last year.
"Instead of relying on an unreliable receiving corps, the Ravens may be better served to feed the ball to Rice and tight end Dennis Pitta," wrote Sports Illustrated's Chris Burke. "The Ravens' alternative is to get more creative with how they take advantage of their proven weapons."
In order to get the ball to Rice and Pitta more frequently, Burke expects the Ravens to use more two tight-ends sets with Pitta and Dickson. In those packages, Rice would come out of the backfield as a receiving threat, rather than staying in the pocket to help out in pass protection.
Rice and Pitta would then work the middle of the field, where they both excel. Burke pointed to the New England Patriots as the offense the Ravens may resemble.
"All of this lines up for the Ravens to be, for lack of a better term, a bit more Patriots-like in how they run their offense," he wrote. "Receiver-starved New England stopped attempting to stretch the field horizontally with underwhelming options, and instead began using Rob Gronkowski, Aaron Hernandez and a bevy of talented running backs to create mismatches against linebackers and safeties.
"That's similar to how the Ravens may move the football this season."
While Rice may become more of a weapon in the passing game this season, Burke doesn't expect the Ravens to abandon their running attack. Establishing a ground game has been critical, and that is not expected to change.
"It almost goes without saying that the running game will remain a massive part of Baltimore's offense, especially with [Bernard] Pierce coming on strong last season to aid Rice," Burke wrote. "The Rice/Pierce combo, led into the line by [fullback Vonta] Leach, is far too dangerous to take carries from, and the lack of obvious talent at receiver may drop even more of an onus on Baltimore's ground attack."
But overall, Burke expects an offensive shift coming to Baltimore, with Rice leading the charge.
"The 2013 Baltimore offense will not look exactly like the 2012 version," Burke wrote. "Which is just what Rice would prefer, if his goal is to grab more passes."
Ravens Trying To Get Grip On Pistol Offense?
The pistol offense is all the rage in the NFL these days.
With dynamic duel-threat quarterbacks like Colin Kaepernick and Robert Griffin III, teams like the 49ers and Redskins have shown that the spread offense can make the jump from college to the NFL.
And now the rest of the league is working to figure out how to stop it.
To help get a better grip on the pistol, the Ravens reportedly made a run at the man who created the pistol offense, former Nevada coach Chris Ault. The Ravens were one of several teams that expressed interest in hiring Ault, but he opted to go to Kansas City for a consulting job with the Chiefs, according to the Reno Gazette-Journal.
Ault will consult the Chiefs on offense and defense, working to implement and defend the pistol, according to the NFL Network.
So what exactly did the Ravens have in mind for him?
BaltimoreRavens.com columnist John Eisenberg wrote yesterday that the Ravens are on the right side of the read-option offense. Other media members are also pondering whether it's something Baltimore would use.
"I doubt the Ravens envisioned Joe Flacco faking a handoff and sprinting 50 yards down the field, but perhaps they were trying to find a way to use Tyrod Taylor's athleticism to their advantage," wrote The Baltimore Sun's Matt Vensel. "Or maybe they were less concerned with the read-option aspect and were simply looking to run the ball better with running back Ray Rice when Flacco is in the shotgun and not under center.
"Or perhaps John Harbaugh and Co. just want to be prepared defensively in case they run into the Pistol or read-option offenses in the future."
The Ravens aren't scheduled to play a team during the regular season that currently runs the pistol offense, but more teams could shift in that direction. Plus, the Ravens recently hired quality coaches, bringing in Juan Castillo and Steve Spagnuolo.
"The more smart football people, the better," Vensel wrote. "But reading that they were interested in Ault raised my eyebrows."
Pierce showed during his rookie season that he has the potential to develop into a top-flight running back.
He came on strong at the end of the season, and played a key part in helping to jump-start the running game in the second half of the Super Bowl. Pierce's strong performance has some fans and media members clamoring to get him more carries next season, and one stat may support that argument.
Starting running back Ray Rice broke tackles on 8.5 percent of his carries, although he had a much larger sample size than Pierce. Rice had 318 touches compared to 115 for Pierce.
"Pierce's hard-running style actually isn't all that different from Rice's, but he offers a different look in that Pierce, at 6 feet, is about three inches taller than Rice," wrote Ray Frager of CSNBaltimore.com. "And as the stats show, Pierce was harder to bring down last season."
Ravens Linebackers Trail Pittsburgh
The Ravens are right behind Pittsburgh, in Hensley's mind.
"The Ravens have the division's best outside linebacker tandem in Terrell Suggs and Elvis Dumervil," Hensley wrote. "If Suggs is fully recovered from his Achilles injury, it would be a disappointment if these two edge rushers failed to combine for over 20 sacks. Baltimore was extremely lucky to get Dumervil, its top offseason addition who only became a free agent after a fax fiasco with the Broncos."
While the Ravens have a strong tandem coming off the edges, questions remain at inside linebacker where Ray Lewis retired and Dannell Ellerbe went to Miami in free agency.
"The concern is at inside linebacker, where the Ravens lost both of their starters from the Super Bowl (Ray Lewis and Dannell Ellerbe)," Hensley wrote. "Jameel McClain will start if he can come back from a spinal cord contusion, and the other spot will be filled by Rolando McClain or second-round pick Arthur Brown. It's not an ideal situation, but it's far from disastrous."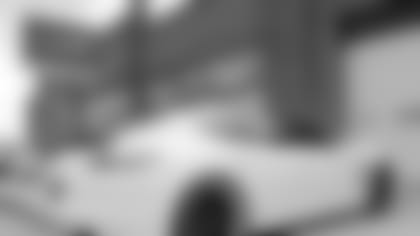 @RayRice27: Thanks to @nolimitbmore, @hre_wheels, & @fabspeedmotorsports for making my whip look amazing follow them on instagram [Twitter] * Outside linebacker hopes to earn an increased role on the defense. [The Baltimore Sun] * Is Bengals running back Giovani Bernard out of North Carolina the next Ray Rice? [ESPN AFC North Blog] * @untouchablejay4 Suggs]: "[I know you probably sick of dealin Wit them wannabes. But honestly I gotta say, I'm who they wanna be!!!" [Twitter] * @TorreySmithWR: "Steve Urkel is considered one of the biggest losers of the 90s yet today he would have "Swag"...time/style changes fast." [Twitter] * @MichaelOher: "Lol just got a blog emailed to me saying how much I was hated by my own nation! That's why I grind everyday for the ones who care!" [Twitter] * Coca-Cola has started a "Get The Ball Rolling" campaign to encourage kids to be active. The company recently held an event at M&T Bank Stadium, which included a visit from former Ravens kicker Matt Stover. [Coca-Cola.com]