Did Ravens Know About Reed's Hip?
The Texans seem to have gotten more than they bargained for with Ed Reed.
After signing with the Texans this offseason, it was revealed that the veteran safety would need offseason hip surgery that is expected to sideline him for at least part of training camp.
So did the Ravens know about Reed's hip ailment?
It's unclear whether that means the Ravens knew Reed would need surgery, if it factored into the Ravens' not re-signing him and how bad Reed knew his hip injury was.
Since Reed was a free agent, the Ravens didn't need to broadcast any injury details with Houston. He was free to sign anywhere.
"This means that the Texans either didn't ask Reed if his hip (or any joint) was bothering him, or the Texans asked and Reed didn't disclose it," Florio wrote.
The Ravens will play the Texans in Week 3, so if Reed's injury lingers too long he could miss the reunion.
Tough Decisions Looming In 2014
The 2013 offseason was occasionally a painful one for Ravens fans, as they watched Reed, outside linebacker Paul Kruger, linebacker Dannell Ellerbe, cornerback Cary Williams, wide receiver Anquan Boldin and safety Bernard Pollard depart for other teams.
Fans may want to get ready to rip the Band-Aid off again in 2014.
The Baltimore Sun's Aaron Wilson forecasts tough decisions ahead, specifically with defensive tackle Haloti Ngata and outside linebacker/defensive end Terrell Suggs.
"Pro Bowl defensive tackle Haloti Ngata carries a team-high $16 million salary-cap figure next year, and Pro Bowl outside linebacker Terrell Suggs has a $12.4 million salary-cap figure for a combined $28.4 million in cap commitments," Wilson writes.
"Both players, especially Suggs (partially torn Achilles tendon, torn biceps), are coming off seasons hampered by injuries and are expected to bounce back this fall."
Those aren't the only big salaries on the books in 2014.
There's also quarterback Joe Flacco ($14.8 million), cornerback Lardarius Webb ($10.5 million), running back Ray Rice ($8.75 million) and offensive guard Marshal Yanda ($8.45 million). That means six key players are slated to eat up $70.9 million in salary-cap space in 2014.
Ravens Assistant General Manager Eric DeCosta doesn't want Ravens fans to get too worried yet, however. I mean we're still a year away and the Ravens put a lot of thought into such decisions.
"I think the thing we want to do is just live in the moment right now," DeCosta said at the Baltimore Sun Sports Forum. "Those guys are under contract. They're all outstanding players. They're some of the very best players at their position in the league. We just want to play this year. We'll let those decisions wait until the future.
"We have a lot of flexibility with the cap. Pat Moriarty and Ozzie do a phenomenal job of making tough decisions. We've made a lot of tough decisions over the last couple of years. They're hard decisions to make. Any time you have to cut a player or let a player go in free agency because of the salary cap, it's tough to do that."
Rolando McClain Made 'Smart' Decision
Rolando McClain's decision to retire last week at the age of 23 surprised many.
But ESPN's Jeffri Chadiha is on board.
"Of all the words that will be used to describe the recent retirement of Baltimore Ravens inside linebacker Rolando McClain – alarming, mystifying and disappointing will likely come to mind – one that won't be used enough is 'smart,'" Chadiha said.
Chadiha says that one glance at McClain's arrest record proves that his life is in "chaos." Another look at his time in Oakland shows his football game was also not up to expectations.
"This is a man who needed many things to go right just to have a chance at success in Baltimore," Chadiha wrote. "He deserves credit for realizing when enough really is enough."
The easy decision, Chadiha says, would be to continue with an NFL career that has had its share of bumps "to keep receiving a paycheck."
"Professional athletes do it all the time. They push their demons aside, fully believing it's better to take the money while it's available than worry about what might happen down the road," Chadiha wrote.
"For whatever reason, McClain chose to pay attention to his own red flags."
McClain's former college coach, Nick Saban, also approves of McClain's decision to step away from the game and work out his own issues.
"I've had a real close relationship with him, and we've talked about it a couple of times," Saban told Alabama reporters. "I think Ro is just in a place where he doesn't think he can do his best. … I think he's a prideful guy, and he'd like to get things straightened out personally and then decide whether he wants to go on and play football or not."
ESPN colleague Jamison Hensley doesn't quite agree, however.
"While I can see Chadiha's point of view, my response is: McClain needs to prove it's the smart move," Hensley wrote. "He's going to have to show he's capable of getting his life in order on his own before giving him a pat on the back."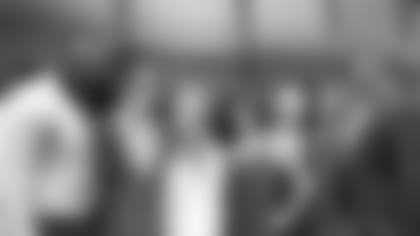 Ravens players flocked to the horse track Saturday for Preakness, and were even included in the festivities.
Wide receiver Torrey Smith gave the "riders up" call that signifies it's time for the jockeys to mount their horses. He also had a fly suit that he showed off on Twitter.
"I'm going in there freestyling," Smith told WBAL in an interview, before continuing to talk about his work in the community and his new haircut.
Smith enjoyed ESPN's 30 for 30 special on why many professional athletes have financial difficulties. @TorreySmithWR: "So after finally watching "Broke" everyone in my circle is required to watch it to understand why I act the way I do ... great special" [Twitter]