How the Ravens Transformed Their Offensive Depth Chart (And It's Paying Off)
What a difference a year makes.
The Ravens public relations staff recently released the team's first depth chart heading into the preseason opener, and it looks drastically different from the one released this same time last year, especially at pass-catching positions.
If you look at a side-by-side comparison of the two depth charts, you can see six different starters (highlighted in bold below).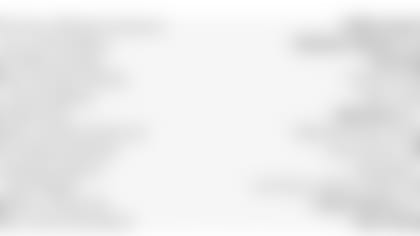 Keep an eye on how the depth chart develops leading up to Week 1 because there could be more changes, including several along the offensive line (if Orlando Brown Jr. wins the right tackle job) and at tight end (if Hayden Hurst wins the starting tight end role). Two other major differences that aren't reflected in this chart are the returns of starting guards Alex Lewis and Marshal Yanda from season-ending injuries.
It's a looooot of change, and the transformation already seems to be paying off. We won't know for sure how improved the offense will be until we start playing regular-season games, but the early indications are positive.
That fact was on display yet again Monday, including on the final drive of the day.
"On the penultimate play of a full-team exercise, rookie quarterback Lamar Jackson's pass bounced off rookie running back Mark Thompson and then rookie linebacker Myles Humphrey before safety Kai Nacua appeared to make the interception while falling to the turf," wrote The Baltimore Sun's Edward Lee. "But Thompson fell with Nacua and ripped the ball from him.
"On the ensuing play, Jackson hit rookie wide receiver Jordan Lasley down the left sideline for the touchdown. The first-year players then chest-bumped each other in the end zone."
Flacco Catches Two Passes Monday, Including a One-Hander
A healthy Joe Flacco is a beautiful sight to see.
It's easy to recognize his improved ability to move around the pocket and deliver gorgeous strikes on the money. But Flacco also continued to put on an elite pass-catching show for the hordes of fans in attendance at Monday's training camp practice when he reeled in two catches.
"Both passes drew some of the loudest applause from the fans who attended the session and maybe some smiles from a coaching staff seeking to find ways to incorporate rookie quarterback Lamar Jackson into the offensive fold."
"I remember [Flacco] coming out — a big guy, big arm," Offensive Coordinator Marty Mornhinweg said after practice. "But then once you dug into the film, holy smokes! He's really a good athlete, especially for his size, and then he showed that throughout his career. I'm so jacked up because this is the first time he's been healthy — in what, a couple years — in camp, and you can see it."
Don't Count Anyone Out Just Yet: Ravens Could Keep Four Tight Ends
With the arrival of two high draft picks in Hayden Hurst and Mark Andrews, it was tempting to count out some veterans when it came to roster-trimming time. Maxx Williams has frequently been cited as a tight end that could find himself on the wrong side of the bubble, but don't be so sure.
Both Williams and Nick Boyle are enjoying very strong training camps while Hurst and Andrews have battled injuries. Hurst has returned to the field, but Andrews missed his sixth-straight practice Monday with a soft-tissue injury.
Keeping Injuries in Perspective
There are a couple players that have missed consecutive days of practice, such as Andrews, running back Kenneth Dixon and outside linebacker Tyus Bowser. There are also a couple guys still on the physically unable to perform list, including Yanda and inside linebacker Bam Bradley.
**knocks on wood** But overall, the Ravens are in good condition on the injury front. **knocks on wood** Head Coach John Harbaugh has repeatedly said there have been no serious injuries. **knocks on wood**
"The good news is they've yet to sustain a really significant injury," tweeted Zrebiec. "But a week here, 10 days there adds up, especially for young guys who need the reps. All in all though, they'd surely take what they are dealing with now rather than what some teams have already gotten hit with."
Some teams around the league have already been hit hard with potential season-ending injuries to starters, including the Carolina Panthers (cornerback Ross Cockrell, tackle Daryl Williams), Los Angeles Chargers (cornerback Jason Verrett) and Green Bay Packers (linebacker Jake Ryan), and they've had far fewer practices.
Inside the Harbaugh-Flacco Conversation After Ravens Selected Jackson
Everybody's got to go through tough conversations, so one can imagine what Harbaugh's discussion was like when he called Flacco after the Ravens used a first-round pick on Jackson.
NBC Sports' Peter King asked about how it went down, along with other questions about what the dynamic is like between the two quarterbacks inside the Under Armour Performance Center.
Harbaugh on what he told Flacco after drafting Jackson: "I called Joe the night we drafted him. My message was, 'You're the quarterback.' But he's realistic too."
Harbaugh on the dynamic of having two quarterbacks: "We have ideas. People are seeing it out here. Sometimes Lamar will be the quarterback. Sometimes we'll have two quarterbacks. Sometimes Joe will be doing something else. Sometimes Lamar will be doing something else. We'll try to be creative. That's really about all I can tell you: We're going to try to be creative with them."
Flacco on Baltimore drafting Jackson: "There's definitely a certain feeling you have. I don't know if it's the worst feeling in the world, but it definitely means something. There's definitely a little bit of a message in there. But this is the NFL, man. I've been in it for 10 years, seen pretty much everything."
Jackson on the Ravens being creative with two quarterbacks: "I'm a quarterback. I'll do whatever they want that's best for the team."
Marlon Humphrey Rebounds With Strong Day
After a couple of tough days where he gave up some deep balls, second-year player Marlon Humphrey tweeted that he needed to practice better. He seemed happy to have a "long" training camp to get back on track.
He didn't need very long at all, however. He delivered Monday.
"Humphrey was active and physical in the padded practice, breaking up a sideline pass for receiver Michael Crabtree during a 7-on-7 drill and then breaking up passes intended for receiver Chris Moore and Crabtree during 11-on-11 drills," wrote Press Box's Bo Smolka. "Humphrey, the No. 16 overall pick of the 2017 NFL Draft, figures to start at the cornerback spot across from Jimmy Smith."
"Nobody is exempt," wrote Zrebiec. "Harbaugh has forced players to run laps around the practice field for jumping offsides. Monday's practice claimed a number of victims with Terrell Suggs, the team's longest-tenured player, being the most notable one. Suggs tried to anticipate the snap count and get the edge on rookie right tackle Orlando Brown Jr., but he crossed the line of scrimmage before the ball was snapped." [The Athletic]
"My notes nor my memory recalls a completed pass this morning when defended by cornerback Tavon Young]," wrote Kyle Barber. "[Young has clamped down on receivers and the starting slot cornerback role. The closest [any]one came to catching a pass was Janarion Grant during one-on-one drills. Grant hit a double move which opened a yard or two of separation. Fans responded with 'ooh's' as it looked [like] Grant won the play, but Young's recovery speed topped Grant's ability to stay open, ending in Young back beside Grant and earning a pass break-up." [Baltimore Beatdown]
"The normally sure-handed Snead dropped the ball on a pair of punt returns, with the first bouncing off his chest and out of bounds," wrote Lee. "After practice, Snead spent 15 minutes catching balls from the Juggs machine." [The Baltimore Sun]