PLEASE NOTE:The opinions, analysis and/or speculation expressed on BaltimoreRavens.com represent those of individual authors, and unless quoted or clearly labeled as such, do not represent the opinions or policies of the Baltimore Ravens' organization, front office staff, coaches and executives. Authors' views are formulated independently from any inside knowledge and/or conversations with Ravens officials, including the coaches and scouts, unless otherwise noted.
*For each home game, BaltimoreRavens.com will feature a Raven's childhood journey that will also be featured in Sunday's stadium gameday program.
*
On Sept. 10, 2010, the Lake Mary Prep (Fla.) Griffins won their second game of the early fall high school football season. But it was one player's performance that night that grabbed local and national headlines after he posted 504 all-purpose yards and three touchdowns in just one contest. That player was Ray Lewis.
Not that Ray Lewis. This was a 186-pound, 15-year-old, high school sophomore – Ray Lewis III. And yes, he is the eldest son of that Ray Lewis.
The importance of this particular evening quickly materialized as word spread of the younger Lewis' standout performance. After all, this was gridiron domination by the firstborn son of one of the NFL's most dominating defensive players ever.
Many have envisioned the day when Ravens linebacker Ray Lewis and his "prodigious" son would emerge as football's greatest generational success story. And many have wondered, will Lewis III follow in his father's footsteps to the University of Miami, or better yet, to the NFL?
Those questions remain to be answered. But if one thing is certain, it's that Lewis will be there, supporting and guiding his son every step of the way.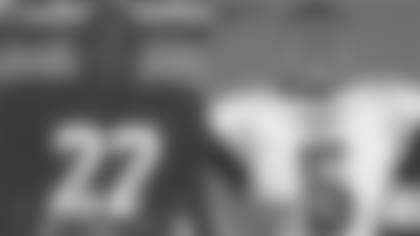 Lewis has never shied from the fact that he grew up absent his father. He has oft spoken about the struggles he faced in adolescence and the important roles played by his mother and grandfather. And although he has developed a strong relationship with his biological father in adult life, Lewis has made it his goal to serve as the honorable role model for his children.
As Lewis III develops, a spotlight casts his every move on the football field.
The elder Lewis knows this, and as the two grow together, their bond forms stronger each day. With each passing year, Lewis III more strongly resembles his father, and many have held their breaths, awaiting his ascent.
"We're identical," Lewis explains. "It's the scariest thing that you will ever witness in a father and son's relationship. From the way he acts, to the way he plays, to what position he plays, at the level he's playing it, the questions he asks, the silliness of how he acts – it's all so freakish. It will blow your mind. And of course, he has to create his own personality as he goes further, but right now to see somebody that alike you, it's a very special thing."
For now, the demands of Lewis' job as an NFL player create challenges in his role as a father and mentor for his son, who lives in Florida. But his family understands that "Dad" plays the game for a greater good than himself.
And until the day Lewis hangs up his cleats, he does what he can to be that lifeline for his son, not only as the teen matures into a man, but as expectations grow.
"It's hard right now, because you always want him to hear that voice," Lewis says. "It's the voice I never heard – the voice of a father. When I was that age, my father was never there for me to hear that voice. I can't help him out there on the field, but that voice can always help him, and that's the relationship I've always tried to keep with him, especially as he gets older."
During the Ravens' season, Lewis makes it a point to speak with each of his children on the phone daily, and it's his voice that he hopes resonates with Lewis III as the adolescent progresses in life and in football. At times, the 11-time Pro Bowler undoubtedly struggles with the geographic distance that keeps him from being with his son. But if nothing else, it's his children that keep him motivated in his own life and in work today.
"I tell my kids, don't grow up in life and say, 'Daddy wasn't there,'" Lewis explains. "Sometimes a vision or a journey makes you go the opposite route of being an everyday, at-home father, and that can be tough. But if you're not the one to create the legacy for them, then what do they follow?"
And to this point, Lewis has kept his end of the bargain. Lewis' legacy remains intact, and in fact, is still being written. From all accounts, it appears he's blazed a trail that Lewis III has every opportunity to follow.
From the outside looking in, it seems living in the "cleats" of Ray Lewis would come with an enormous amount of pressure. As part of the legacy that he has left in 15 seasons with the Ravens, the expectation level for anyone in his bloodline who dares to play the game is towering.
But to this point, it hasn't fazed Lewis III. It's only made him hungrier and wanting it more. "Honestly, I told him not long ago, all you have to do is be you," Lewis affirms. "You don't have to do anything Daddy did. But now, because he is so competitive, the first thing he says to me is, 'I'm going to break every one of your records, Dad.'"
Now there's a scary notion.
"He knows not to let anybody else put one ounce of pressure on him. If I'm not putting pressure on him, then the world can't put pressure on him. And that's one of the things that I value, is that he really goes out and enjoys life.
"He's a kid's kid, even at 15. I tell him, 'You don't have to do anything. All you have to do is be there, be respectful and be humble. The rest will work itself out.'"
Lewis III's possibilities seem endless. A three-sport athlete at Lake Mary, Dad is quick to avow that his son excels not only in football, basketball and track, but in the classroom as well. And if he does decide to follow in his father's footsteps to Miami? Well, Dad wouldn't mind that either.
However, that story remains unwritten. Lewis has made it clear that when the time comes, he will do everything to assist his son in making the right decisions for his future. Sure, it'll be fascinating to watch as the next generation's Ray Lewis writes a legacy of his own, especially if that occurs on the football field. But for now, he enjoys being a kid.
"With him, he's got a very unique trait in that you can see and hear that that's my son," Lewis beams. "And I've never seen a more humble person. When I say humility, humility is his life. Nobody's perfect, but he's a pinch away from being a perfect child, and that's what you look for in an older son who has three younger brothers in the house that look to him to be that role model."
For a man who grew up absent a father, missing that role model that he so badly desired, No. 52 has now instilled a special legacy in the Ray Lewis of the future.
For 15 long years, Lewis has been a devoted father and a dedicated Raven. And while the people of Baltimore have been proud to call him one of their own, that pride will never be matched by those who identify him with a unique distinction – Dad.