Cover Story: Ronnie Stanley Makes His Return at Home in Las Vegas
In his first regular-season game since ankle surgery, All-Pro left tackle Ronnie Stanley will have many emotions playing in his hometown before family and friends.
---
---
For Ronnie Stanley, Las Vegas is home.
It's not about the bright lights, the Vegas strip or the gambling. His parents still live there. It's where Stanley learned to play football, went to high school – the place where his childhood memories come to life.
Stanley has never played an NFL game in his hometown and neither have the Ravens. That will change when Baltimore begins its 2021 season, facing the Las Vegas Raiders on Monday Night Football.
For Stanley, the symbolism can't be ignored. The All-Pro left tackle is returning from the most serious injury of his career, a severely fractured left ankle that ended Stanley's 2020 season on Nov. 1. The past 10 months have included grueling days of rehab, pain and doubt.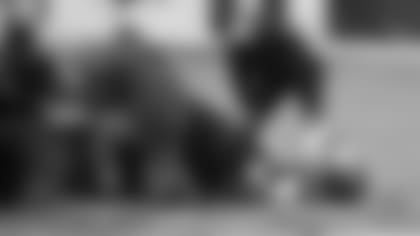 "During that process, there were times when I couldn't even feel my foot under myself," Stanley said. "I was wondering, 'Am I going to be able to do the things I need to do, to play at the level I want to play?' Those thoughts definitely went through my head."
Those doubts are gone. Stanley put in the work and he's back, determined not just to return, but to immediately reestablish his presence as a dominant left tackle. Knowing what her son has endured, Stanley's mother, Juli, will have many emotions watching from the stands at Allegiant Stadium. It will be a proud moment, with at least 20 of Stanley's family and friend in the stands, rooting like crazy for her son and the Ravens.
"The ironic thing is, so many of our family and friends are Raiders fans," Juli said, laughing over the phone. "But of course, when he's here, everyone is going to be wearing purple.
"It's almost surreal. Lots of emotions. Physically, he's coming out of something he's never experienced before. I know he has internal strength. I also know he's the type of kid that wants to do everything right. I know he's going to be prepared. But this is different coming home, and it's been so long. Notre Dame never played here when he was in college. It's exciting, but it's also emotional for me."