Marcus Peters could write a book about interceptions. Maybe he should call it "Pick Six".
However, don't hold your breath waiting for Peters to pen his thoughts in paperback. NFL quarterbacks would learn from a book written by Peters, and he likes keeping his advantage. Quarterbacks have trouble reading Peters, yet he reads them so well.
"He's got instincts, something you can't teach," Ravens cornerback Jimmy Smith said. "He's got cat-like reflexes. He just knows how to get the ball. He's a gambler. I'm not that good at gambling at all. I haven't really learned that style, but I definitely wish I could do it. That's his style, and he's really good at it."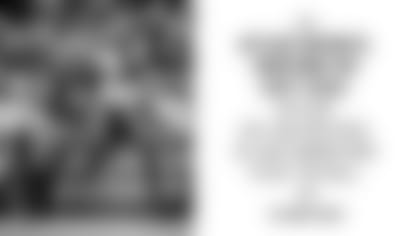 With 26 career interceptions, Peters is far and away the league leader in that category since entering the NFL in 2015. The next closest players during that time span have 16 interceptions – Darius Slay of the Detroit Lions and Reggie Nelson, who's a free agent.
The national spotlight will be on Peters and the Ravens on Monday night when they visit the Los Angeles Rams, the team that traded Peters to Baltimore last month. A few days after trading Peters and acquiring linebacker Kenny Young and a fifth-round draft choice, the Rams traded for another star cornerback, getting Jalen Ramsey from the Jacksonville Jaguars in exchange for a pair of first-round picks and a fourth-round pick.
Will Peters be looking for payback Monday night after the Rams sent him packing? Peters says he has no bitterness about the trade, so there's no score to settle.
"I don't have a chip on my shoulder," Peters said. "How did it end? I got traded, and I'm liking the situation I'm in right now. I just keep moving forward. I don't need any other stuff like that to be ... I understand the business of football."
Peters has only been with the Ravens five weeks, yet he's fit into the secondary like he's been around since training camp. Clearly, he makes the Ravens better. Since he joined the team four games ago, they have the NFL's top-ranked defense. Adding Peters to an already talented secondary that includes Smith, Marlon Humphrey, Earl Thomas III, Brandon Carr and Chuck Clark gives the Ravens coaching staff even more flexibility to create the matchups they want.
During their current six-game winning streak, the Ravens have handled three of the game's top quarterbacks – Russell Wilson, Tom Brady and Deshaun Watson – and Peters has two-pick sixes. His first pick-six as a Raven came against Wilson, an MVP candidate, proving no quarterback is safe.
Peters isn't just sticking his toe in the water in Baltimore. He's making a splash. He plays with a swagger that fits right in with the Ravens, a hot team playing with an abundance of confidence.
Did you see the way Peters was clapping his hands Sunday when he lined up across from DeAndre Hopkins of the Houston Texans, one of the game's top receivers? Peters was smiling from ear to ear, talking trash, relishing the matchup. He loves football. He loves competition. He arrived in the Ravens locker room with major credibility, due to his resume and his DNA.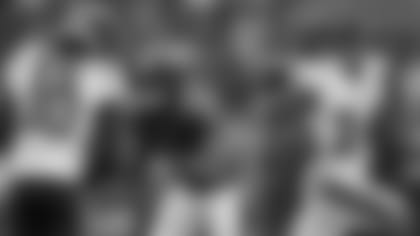 "What's he got like 26 interceptions already?" Jackson said. "That's crazy. If I was playing against him, I wouldn't throw at him. You know I don't like throwing picks.
"Very humble guy from what I've seen. But when you see him on the field? He's a different guy. I feel bad for the opposing team. I hated going against our secondary in training camp. Now we've got Marcus? I love it."
Peters is downplaying his role, saying he is just doing his job. But Peters has also made extra gestures to show his teammates that he's all-in. Shortly after arriving, Peters took the defensive backs to dinner and paid the tab. It's the kind of thing that builds team chemistry, and now the defensive backs are having dinners together on a regular basis.
"Before he came here, I heard a lot about him," Humphrey said. "I heard about the things he does on the field. So, for him to be on my team has really been a help. I think he just said something earlier, the game is a lot of mental. I've definitely seen that in his approach and the things he tells me and the things he communicates on the field."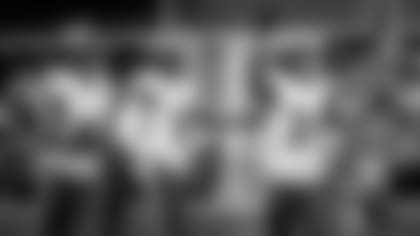 Humphrey said Peters might be the smartest corner he knows. When Peters talks, teammates listen. Why wouldn't they, considering his track record?
"You really don't know until a guy gets into your locker room and your defensive meetings how football smart they are," Defensive Coordinator Wink Martindale said. "I mean, he is a savant when it comes to playing corners and routes. That's been really refreshing. As I've said many times, knowledge is power in this league. You can see with his play that he has a lot of knowledge."
One knock sometimes heard against Peters before he came to Baltimore is that he occasionally gave up big plays. But Peters has been a lockdown corner since he joined the Ravens, and while any cornerback can get beaten, how many cornerbacks can get 26 picks in less than five years?
Part of that is due to Peters' intense film study. He's not a playmaker just because he has athletic gifts. He's a stickler for preparation. Before his pick against Wilson, Peters recognized something he had seen on film in a previous NFC West divisional game against Wilson and thought he knew what was coming. When Wilson threw in Peters' direction, he was in perfect position to cut in front of the receiver.
"That's what everybody's got to understand," Peters said. "Football's more than just us going out there running around on the field."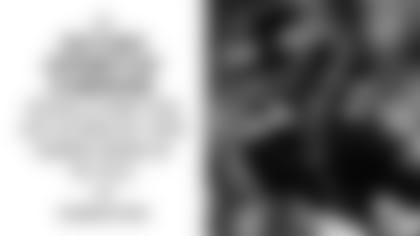 For Peters, football has been a major part of his life since his days growing up in Oakland. His father, Michael Peters, is the head coach at McClymonds High School in Oakland, where he has built a legendary career, winning state championships the past three years. After his pick-six of Wilson, Peters said in the locker room, "My daddy taught me how to do that."
Asked to further explain his father's influence, Peters got to the point. He often does. He can shut down a question the way he shuts down receivers. But when Peters answers, he's a straight shooter.
"That's my daddy," Peters said. "That's my pops. He is me, and I am him. That should tell you a lot. We're a football family. My daddy won three state championships in a row. That's what we do."
McClymonds has a rich athletic history, with an alumni list that includes former Baltimore Orioles great and Hall of Famer Frank Robinson and NBA Hall of Famer Bill Russell. Peters is fiercely proud of Oakland and has deep ties to the community. He has purchased letterman jackets and rings for the McClymonds team, and he is involved with numerous community efforts in his hometown.
"That's where I come from. That's home," Peters said. "That town gave me everything I've got. Hell yeah, I've got pride in where I come from. People from Oakland, we ain't like nobody else. We're ourselves. We don't bother anybody. We just handle our business."
Peters said he doesn't know what he would be doing if football didn't work out for him.
"I was blessed to go to college. I was blessed to receive college scholarships coming out of Oakland. I went to U-Dub (University of Washington)," Peters said. "It panned out for me and I had an opportunity to get drafted. I'm just playing football, and it's given me an opportunity to do so many different things."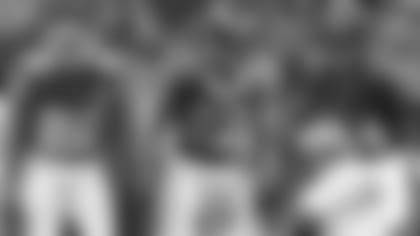 When Peters says he understands the business of football, he speaks from experience. He was drafted by the Kansas City Chiefs and played three seasons with them before being traded to the Rams. The Ravens are Peters' third NFL team, and he is a free agent after this season, so his future is uncertain.
However, acquiring Peters is one of several key moves made by General Manager Eric DeCosta that have improved the Ravens' chances to do something special this season. When the Ravens are playing defense, it's always a good idea to keep an eye on Peters, especially if you're an opposing quarterback.
Rams quarterback Jared Goff learned how good Peters was when they practiced against each other as teammates. Goff doesn't plan to relax Monday night. He doesn't want to be Peters' next victim.
"He's a tremendous competitor and tremendous player," Goff said. "Just seeing the way that he worked every day was something I always admired. Seeing how hard he worked, how high his football IQ was and how much he understood concepts and route patterns. That's what makes him great."