If Mark Andrews has his best season in 2021, don't be surprised.
All summer, Andrews kept his body and mind in a great place. After a terrific training camp, he signed a four-year contract extension Monday, agreeing to terms on his birthday to put the icing on his offseason cake.
Now it's time for the regular season and Andrews likes the way Baltimore's offense is shaping up. He believes the Ravens enter Monday night's season opener against the Las Vegas Raiders with a wider variety of playmakers, able to relieve some of the pressure on Andrews and Marquise "Hollywood" Brown to be Jackson's go-to guys in the passing game.
Even with first-round pick Rashod Bateman (groin) out for at least the first three games, the addition of Sammy Watkins, the growth of James Proche II and Devin Duvernay, and the potential of young tight end Josh Oliver give Baltimore's passing game a different flavor. No matter how opponents try to defend Baltimore, Andrews believes the Ravens will find an answer.
"These guys are totally balling out, catching the ball extremely well," Andrews said on "The Lounge" podcast two weeks ago. "The coaches have done a really good job with them. We've got a dangerous group. I think we're going to have a dangerous attack this year, which is going to complement are run game. Those guys on the outside are big-time playmakers, and I don't think we've had that in a while.
"You look at the last couple of years, Lamar and I have been clicking. Teams go into the game, let's stop (No.) 8 most importantly, and then let's get (No.) 89. When that happens, they're stacking the box, there's not much room in the middle which is a lot times where I work. For us to be able to expand that field, which we're going to be able to do, is going to take that load off of us."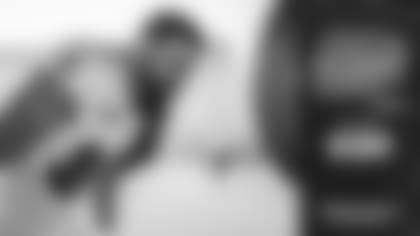 309: Mark Andrews Stops By The Lounge
Tight end Mark Andrews talks about being boosted by more weapons, his connection with Lamar Jackson, his contract, and more.
The way Jackson has thrown the ball since he arrived at training camp is another reason Andrews is excited. Jackson and Andrews have shared a connection from the moment they were drafted in 2018, close friends whose connection on the field goes beyond friendship.
Andrews loves playing for the Ravens, and one reason he never wants to leave Baltimore is because he never wants to leave Jackson. They are instinctive players who always seem to be on the same page. Jackson calls it "street ball", and Jackson and Andrews play as if they grew up in the same neighborhood. If Jackson leaves to the pocket and starts to adlib, Andrews excels at finding an open space to give Jackson a target. When Andrews adds his own twist to running a route, Jackson rarely seems fooled.
"It's special," Andrews said. "I haven't felt that with anybody else, the way we see the game when the ball is snapped. It's just playing football, doing what we did when we were kids. It's awesome to be able to have that, not to have to rep continuously to be able to see things the same way. I love him to death. I love him as a person, as a leader, as a quarterback. He's my guy."
Having sympatico with a quarterback is crucial for a tight end, and Andrews had that in college when he played with Baker Mayfield at Oklahoma. Now Mayfield plays for the rival Cleveland Browns, and while he's still close with Mayfield, Andrews laughingly said that he would tell Mayfield to his face that the connection he has with Jackson is better.
"Yeah, I would," Andrews said. "Oklahoma, obviously I had a great career, but playing with Lamar is different for me. We just click. It's special thing."
Andrews checked every box that was important to him over the past few months. Even before training camp, he spent some quality time with Jackson and other teammates, working out and building chemistry. He attended "Tight End University" in Nashville, a three-day summit where 40 NFL tight ends discussed the nuances of playing the position.
Whether that translates into a bigger statistical season for Andrews remains to be seen. After catching a career-high 64 catches for 852 yards and 10 touchdowns in 2019 when he made the Pro Bowl, Andrews caught 58 passes last year for 701 yards and seven touchdowns.
But it's not the stats that Andrews covets. It's the victories. Whether this is Andrews' most productive statistical season or not, he doesn't want it to end until February.
"I'm always a team guy, never going to be worried about touches or any of that," Andrews said. "I think it's going to be awesome for our offense for me, just to be able to open up the field. The guys we have on the outside are dangerous. To be able to extend the field and open it up, I can't wish for anything more."