All season long, Head Coach John Harbaugh has said running back Willis McGahee was going to play a pivotal role in the Ravens' run to the playoffs. And all season, Ray Rice
's phenomenal play made Harbaugh's words look less and less likely.
For better or worse, McGahee seemed trapped on the back burner.
But when the Ravens needed someone to step up the most Sunday, McGahee answered the call.
In Baltimore's final regular season game, with a spot in the playoffs on the line and the passing game struggling, the veteran running back took the reins of the Ravens' offense.
McGahee scored all three of the Ravens' touchdowns on 16 rushes for a career-high 167 yards. He logged a highlight-reel 77-yard touchdown and sealed the game with a 36-yard gain in the final minutes.
"Willis took over the game," Harbaugh said. "He's explosive, he's powerful and I think he's worked really hard all season to have this kind of game."
McGahee's three rushing touchdowns give him 12 scores via the ground this season and 14 overall, tying the Ravens' single-season record set by wide receiver Michael Jackson in 1996 and matched by Jamal Lewis in 2003.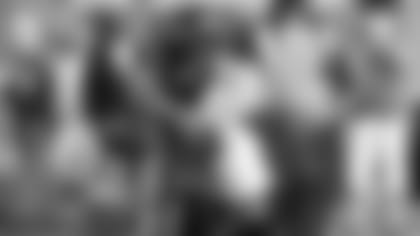 It's the most touchdowns McGahee has scored in his seven-year career, despite a career-low in rushing attempts and yards.
"I think my season's been pretty good," McGahee said. "I've got 14 touchdowns, so you can't complain. I might not have all the yards, but I've got a lot of touchdowns."
Six of McGahee's touchdowns came in the Ravens' first four games as he established himself as the Ravens' red zone specialist. Then he virtually fell off the map.
McGahee didn't log a touchdown in his next six games. Over a nine-game span from Week 4 to Week 13, he ran the ball 43 times for 85 yards. That's an average of less than five carries and 10 rushing yards per game.
McGahee didn't get discouraged. After Sunday's game he said it's been fun watching Rice earn his first trip to the Pro Bowl and contributing his physical style where he can.
"His attitude, his work ethic has been off the charts," Harbaugh said. "Willis McGahee is a leader on this football team, and it's so good to see him step up the way he did."
McGahee entered Sunday's game facing a first-and-goal from the 7-yard line. One carry for five yards and then another virtually untouched up the middle resulted in the Ravens' first touchdown.
Then, with the Ravens clinging to a four-point second quarter lead, McGahee made the best play of his season. He took a handoff to the right side of the line, burst through a hole and shed one hanger-on to get into the open field. He had one man to beat.
McGahee stutter-stepped and seemed to head for the sideline. Just then, he quickly cut inside and clubbed Raiders safety Hiram Eugene with his left arm, sending Eugene tumbling to the ground. McGahee outraced the remaining Raiders and leapt into the end zone to give the Ravens a 14-3 lead.
"I don't know if it was a stiff arm or a beat down," Harbaugh said. "That's one of the most physical plays you'll see. It was impressive."
"I didn't expect it to work that well," McGahee added. "I was just as shocked as everybody else. I knew I was going to stiff arm him, but I didn't know he was going to fall backwards."
In the fourth quarter, McGahee bulled into the end zone from one yard out to give the Ravens a 21-13 lead.
That was the same score when Baltimore got the ball with just less than three minutes left in regulation. McGahee ran right for one yard, then right again for five more, setting up a pivotal third-and-4 from the Baltimore 15-yard line with 2:44 left.
McGahee got the call again. This time he raced around the left side for 36 yards, sprung by a key block from wide receiver Kelley Washington, whose holding penalty negated a McGahee touchdown run against the Steelers last week.
"The blocking was outstanding," McGahee said. "I actually thought that the holes were too good to be true. I was looking for a flag because it was unbelievable out there."