Newly-acquired pass rusher Justin Houston is already scoring points with the Ravens for spurning the Pittsburgh Steelers during free agency.
Houston confirmed reports that he signed with Baltimore despite having some more lucrative contract offers elsewhere. The rival Steelers were one of the teams pursuing Houston that he said offered him more money, but he decided the Ravens were the right place.
"I was so close to signing with the Steelers," Houston said. "That was one of the teams.
"I think it (Baltimore) was a better fit for me, what I was looking for. I just want an opportunity to have one-on-ones and pressure the quarterback. I wanted to go somewhere where I'd have fun and enjoy the scheme and be able to show my talent."
Houston also had Chiefs fans thinking he was going to return to Kansas City when he posted a photo of himself working out with a Chiefs helmet on.
"I think everybody just made assumptions," Houston said. "I had to work out, and I needed a helmet. That's the only helmet I had in my house, so I put it on."
Ravens cornerback Marcus Peters also played a role in Houston's decision to sign with Baltimore. The two players were teammates with the Kansas City Chiefs and Peters knew Houston would fit in well.
"I was talking to him and the Ravens hit my agent up," Houston said. "I came in for a visit and they were explaining the scheme, showing me all the good stuff about it. I fell in love with it. I kind of knew I wanted to be here."
The Ravens are easing Houston into practices and ramping up his work level gradually, and that's fine with him. With 97.5 career sacks, Houston is a proven pass rusher and appears to be in great shape. Defensive Coordinator Wink Martindale hinted that Houston will have a versatile role in Baltimore.
"I'm just trying to fit in right now," Houston said. "I don't want to impose my will on anybody. Trying to learn the Ravens' way.
"They're going to see on film – from what I show at practice – what I'm good, and I think they're going to put me in a position where I can maximize my talent, and … Like I said, any football player, if you know football, you know defense, that's what you want to do."
John Harbaugh Expects Jimmy Smith to Miss 'A Week Or Two'
There was major concern for veteran cornerback Jimmy Smith after he was carted off the field during Friday's practice with an ankle injury. However, Head Coach John Harbaugh confirmed that Smith avoided what could have been a more serious injury.
"He has a low ankle sprain, so a week or two (out of action) is what I was told," Harbaugh said. "It was good news."
Smith has been plagued by injuries during his career, but he has always been one of Baltimore's best cornerbacks when healthy and remains a key to the defense in his 11th season. Smith was unlikely to see much action if any during the preseason, and he can focus on trying to get healthy for Week 1.
Marquise "Hollywood" Brown Making Strides
Wide receiver Marquise "Hollywood" Brown was not a participant in Saturday's practice, but he was on an adjacent field doing conditioning work.
Harbaugh did not offer a timetable for Brown's return, but being able to test his hamstring on the field was a step in the right direction. Brown has been sidelined since the Ravens' second practice.
"It's a hamstring so he's got to kind of see where it's at," Harbaugh said. "You don't want to come back and re-injure it as we've seen before. That will be the key."
Malik Harrison Feels Himself Reacting Faster
Malik Harrison played every game as a rookie as part of the inside linebacker rotation, and the third-round pick from Ohio State made his biggest impact as a run-stopper and physical tackler. However, Harrison wants to expand his role this season to become more of an every-down player. There is competition for playing time at inside linebacker opposite Patrick Queen, and Harrison believes his game is becoming more complete.
"I think it's me being more comfortable and not really thinking, just going out there and just play," Harrison said. "This offseason with there's OTAs and training camp, I'm just trying to make myself better every day, expand my role."
Harrison entered the NFL known for his run defense, but he's putting an emphasis on improving in pass coverage.
"That will take my game to another level, complete my game," Harrison said.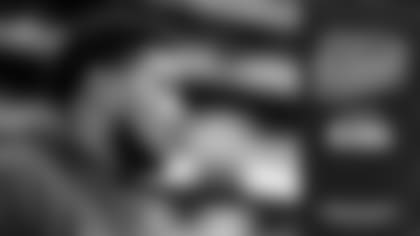 306: Malik Harrison Stops By The Lounge
Second-year inside linebacker Malik Harrison talks about his room for growth, expectations for himself and the defense and his quarterback background.