It has become a regular happenstance for wideout Derrick Mason to lead the Ravens in receptions, but Sunday's 27-13 win over the Miami Dolphins marked his first touchdown of the season.
Mason has paced the team in all games this year, with the only exception being a Week 6 contest in Indianapolis. That day, Mason's six catches for 70 yards were bested by running back Ray Rice's seven grabs for 64 yards.
When Mason hauled in a 5-yard pass from quarterback Joe Flacco and cruised the next 6 yards to the end zone, it was his first touchdown since a 79-yarder in Baltimore's 2007 season finale against the Seattle Seahawks.
Still, Mason doesn't leave his touchdown tally as a marker for his production.
"You know, it doesn't really matter to me, because the touchdowns will come," he said. "They came today. The offense is coming together. We're putting drives together, we're putting ourselves in position to score touchdowns. The only thing getting in our way is turnovers."
Mason, who posted six receptions for 87 yards, was an integral part of an offense that totaled 357 total yards. Flacco's second-career touchdown pass was a highlight of his 17-of-23, 232-yard outing.
And, considering how Mason's 33 catches on the year are drastically ahead of the rest of Baltimore's receivers, it seems the 12-year veteran is establishing a solid bond with the rookie.
"I think we all felt confident going into the game," Flacco stated. "We wanted to get another win and we all knew the only way to do that was to work hard all week and be confident."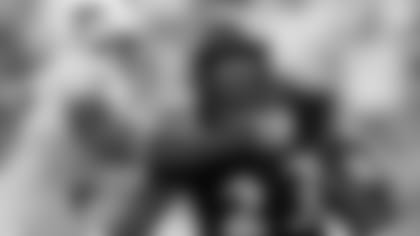 Dating back to his time with the Buffalo Bills, who share the AFC East with the Dolphins, running back Willis McGahee has seen success when facing Miami.
Against his hometown team, McGahee came into the game averaging 91.8 yards per meeting.
He lived up to those high expectations at Dolphin Stadium, tallying 105 yards on 19 carries for a 5.5-yard average per attempt.
In addition, the former University of Miami standout hauled in two passes for 47 yards.
But, it was one of those passes that McGahee would like to have back. In the fourth quarter, McGahee weaved through the Dolphins' defense off a screen pass for 35 yards before fumbling on the Miami 5-yard line.
"After that fumble, that was the worst highlight of my career," McGahee said. "It was a good screen, a good run and it wasn't a good finish, like it was all meant for nothing."
After the defense forced a three-and-out, however, McGahee righted his wrong with a 5-yard touchdown run to cap a 9-play, 68-yard drive.
The Ravens did not start Chris McAlister in a secondary that was already banged-up, missing safety Dawan Landry (neck) and cornerback Samari Rolle (neck).
Fabian Washington and Frank Walker got the nod in McAlister and Rolle's place.
According to head coach John Harbaugh, the decision to have McAlister come off the bench was more based on the Ravens' defensive package and a sore knee that has plagued McAlister since training camp.
"We talk about the knee a lot, but it is a thing that has some wear and tear on it," Harbaugh said. "We think if we manage the packages from here on out. It's not a matter of starting him out there, it's about putting him in the packages where he can be most effective."
The announced paid attendance at Dolphin Stadium was 64,972, but the stands were not nearly full. There were several Ravens fans in the seats, as evidenced by the loud "Heeeap!" calls when tight end Todd Heap made one of his three catches (29 yards)…Punter Sam Koch placed all three of his punts within the 20-yard line…Without return specialist Yamon Figurs (knee), rookie Ray Rice returned four kickoffs for a 25-3-yard average, and safety Jim Leonhard handled two punts for 12 yards.