Odafe Oweh: Laser-Focused on NFL Success
After a late start in football, rookie outside linebacker Odafe Oweh is determined to maximize his enormous athletic ability.
---
---
Odafe Oweh sketches portraits during his spare time. He draws with meticulous detail, patiently working to create something special.
"I don't sell my sketches," Oweh said. "I'm a visual person. If I see something that looks cool or that I admire, I just want to sketch it. It relaxes me. It brings out my creative side."
There are similarities between Oweh the artist and Oweh the athlete. Whether using a pencil or wearing pads, Oweh has a clear vision. He is never satisfied until the picture is complete.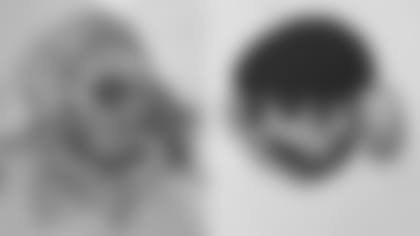 A first-round draft pick with enormous athletic talent, Oweh is beginning his NFL career with a blank canvas. He is passionate about creating another work of art, driven to become a dominant NFL outside linebacker though he didn't start playing organized football until the 11th grade.
Oweh plans to chase his dreams with an overachieving work ethic instilled by his family. His father, Henry, and mother, Tania, who own a medical equipment business, grew up in Nigeria before moving to New Jersey to chase the quintessential American dream. Odafe, who was born in Hackensack, N.J, has an older sister and two younger brothers, and they were all raised to be confident, determined to succeed no matter what stood in their way.
Whatever the Ravens expect from Oweh, his personal expectations are higher.
Oweh's chiseled 6-foot-5, 251-pound frame screams that he's athletic when he walks down the street. But the mental side of football often separates potential from results. Because of his late start in organized football, it may be fair to speculate on what kind of impact he will make as a rookie and beyond. But never question his desire. He believes both his mind and body have been built for success.
"From a young age, I always wanted to be the best at whatever I did," Oweh said. "I don't know if it was my father drilling that into me. But he'd call me a lion. To this day, I hate being second, I hate being inadequate. I hate losing. I hate that more than I love winning. Even when I win, I feel like there's things I could've done to be more dominant."