The Ravens' offensive outburst in Sunday's 41-13 win over the Houston Texans caught the attention of many fans and analysts across the NFL.
One day after the record-setting victory – which marked the first time in franchise history Baltimore has scored at least 27 points in four consecutive games – head coach **John Harbaugh** doesn't want anyone to be satisfied.
"We're proud of the team we put out there on Sunday, for sure, and we're excited to see the team that we're going to be next Sunday," he said in his Monday press conference, less than a week before the Ravens take on the defending Super Bowl champion New York Giants. "We have to get better between last Sunday and next Sunday to have a chance to even compete in this football game."
Such offensive production cannot be overlooked, however, especially in a city where defense has ruled for so long.
Over Baltimore's current four-game winning streak, no team in the league tops the Ravens' average of 33.5 points per contest. The 41 scored at Reliant Stadium marked a season-high and the most since a 48-point night against the Green Bay Packers in 2005.
The progression during that four-week span has shown each time the team takes the field.
The Ravens posted 27 points in Miami, 29 against the Oakland Raiders and 37 in a come-from-behind rally at Cleveland before heading to Houston.
"We're getting better and better each week," said quarterback Joe Flacco![](/team/roster/joe-flacco/3e20766f-6520-4ca1-9901-44389aaea8b8/ "Joe Flacco"), who finished 15-of-23 for 185 yards and two touchdowns versus the Texans. "Our main goal is to improve each week and hit our stride where it counts the most. We're starting to improve each week, and that's the best thing there is."
Flacco has greatly improved along with the offense. The rookie has not thrown an interception since Oct. 12, the last time Baltimore dropped a contest, 31-3 against the Indianapolis Colts.
So has **Troy Smith**, who came back from an infection that hospitalized the former Heisman Trophy winner earlier this year to throw a touchdown pass last week.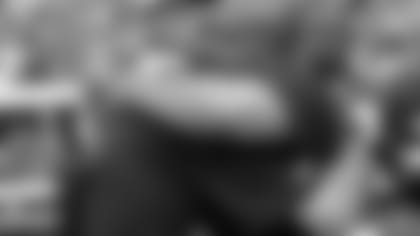 Harbaugh made a special point to credit quarterbacks coach **Hue Jackson**, who has a history of working with prolific offenses.
Jackson was the receivers coach in Cincinnati from 2004-06, where the Bengals' Chad Johnson and T.J. Houshmandzadeh became one of the most explosive tandems in league history.
"Hue Jackson has just done a tremendous job with our quarterbacks," Harbaugh said. "And not just our quarterbacks but with our offense in general from a game plan perspective. He's really made an impact on our offense."
The play of running backs **Willis McGahee**, who had 112 yards and two touchdowns in Houston, and Ray Rice![](/team/roster/ray-rice/9d941a20-0c76-412d-85fd-165a029d59e6/ "Ray Rice"), along with fullback **Le'Ron McClain**, have driven a multi-headed ground attack that is third in the league (150.2 yards per contest).
The three backs have 1,185 yards between them, churning out 4.0 yards a carry.
"We've got three running backs playing like starting halfbacks in this league, and that's a pretty strong statement for the coach," Harbaugh said of running backs coach **Wilbert Montgomery**. "You've got guys playing multiple positions. We've got fullbacks playing half back, halfbacks and fullbacks playing tight end. They line up as wide receivers, they motion all over the place and they're involved in the pass protection.
"Wilbert's responsible for that success there."
Of course, there are many other reasons for squeezing greater performance out of the Ravens' roster.
Tight end **Todd Heap**'s two-score Texans outing showed that he is getting more and more involved, as did **Yamon Figurs**' 43-yard touchdown catch.
Baltimore's offensive line may have given up two sacks, but it was dominant at the point of attack, paving the way for 162 total rushing yards and 27 first downs.
And offensive coordinator **Cam Cameron**'s play-calling has consistently kept opponents on their toes, whether it is with an unbalanced line, direct-snapping the football, or even featuring defensive players on offense.
The unit is getting many opportunities to develop, as well.
Playing with a typically-dominant defense that has forced an NFL-high 36 "three-and-outs by clamping down in three snaps 33.6 percent of the time (36-of-107 tries) is a big reason the Ravens are second in the league with an average time of possession of 33:07.
"The offense is starting to develop that attitude of, 'We're not waiting on the defense," said wideout **Derrick Mason**. "We understand that the defense is going to do what they need to do, but we can't wait on them. We've got to go out there and start scoring points.'"
It seems as though the Ravens have already started. As the recent four-game winning streak has demonstrated, the more points, the better.