Updated at 6:20 PMThe blog is gaining some attention! I've had a few people come up to me in Damon's asking if I'm the guy who blogs from the rallies, asking me questions about Sunday's game, as well as whether they can go greet the team (information on greeting the team after Sunday's game can be found here . Make sure you go to the Welcome Home Rally at Owings Mills Mall, NOT BWI or 1 Winning Drive). I've even gotten a few requests for shout-outs (What's up Mattie?) What else can I say about these fans' love for the team that I haven't already said?
I've been covering these rallies for three straight Fridays now. They've included 18-hour days, wavering wireless signals, repeating myself multiple times throughout this blog and a lot of energy drinks to maintain any coherent thought toward the end of the night. It's been an experience. But through them all I've met some of the best Baltimore has to offer, both on the bus and off.
What compels a fan to dress head to toe in purple, complete with face paint and hair color? How can so many people sustain the high level of energy required to shout out "What's Our Name?" and then to shout the answer even louder so that it echoes off the walls?
I've heard it before from people who didn't grow up in the area: they can't believe how hardcore our fans are. But it doesn't surprise me one bit. It still impresses me to the point that I'm going to write yet one more time about how the people of Baltimore are the best fans in the NFL.
Baltimore is, at its core, a football city. It makes it hard to believe that this town went without an NFL team for 12 years. But the dynamics that a football team creates mesh so well with the chip-on-its-shoulder, blue collar Charm City that the resulting experiences and reactions make the Baltimore Ravens one of the most popular and more significant franchises in the NFL. Yeah, I'm biased, Steve Bisciotti is signing my paycheck. But come to one of these rallies and tell me this team doesn't matter.
The Ravens are engrained in this city's mind, heart and soul. It goes both ways. Because without the fans to support the team, to come out to these rallies, then the Ravens aren't playing in the AFC Championship game this weekend. They don't have the opportunity to get to the Super Bowl.
OK, I'm done repeating myself and getting sentimental on everyone. We'll be out and about throughout the evening, check below to see where. Let's keep the dream alive, cheer loud into the night to make sure Pittsburgh, Philadelphia, Arizona, Washington, Tennessee, Cleveland, Cincinnati, Indianapolis, Denver, San Diego, New York, New England and the rest of these teams know what THIS team is about, what OUR name is.
That's it for the Purple Friday Blog before the AFC Championship. Until next time, this is Geoff the New Media Intern logging off.
So it's getting to be that time of day when people are getting off of work. More importantly, it's getting close to the time when people get off work on a Friday. And more importantly still, it's close to that time of day when people are getting off work, on a Friday, two days before the Ravens play in the AFC Championship.
Somehow, saying this town is excited doesn't quite say it.
Sports Steve has returned to the caravan, and a few other familiar faces in the Ravens community are here. Greg Hudnet, the owner of the vintage 1952 customized Ravens Buick, has started to make the rounds, and everyone always loves coming up to the car and taking photos. The rising star Raven Man was also at Shopper's.
Brave the cold, people! It's not often your team is in the AFC Championship game!
What's our name? Green Terror!
OK, so that isn't the chant, but I wanted to give a shout out to McDaniel College, where I just so happened to go to college. First stop was Greene Turtle, which has only been around about a year but it's a very popular place in town. Luckily it's big enough to fit all the fans that came out to see us today.
Our caravan of followers has gotten bigger with each stop, and we hadn't even pulled into the parking lot when we saw how packed the place was (see previous posts and blogs for my comments on that).
This is the second Greene Turtle we've been to on these rallies, and like before they've been incredibly helpful, especially with providing some entrees. In fact, every place we've been to has been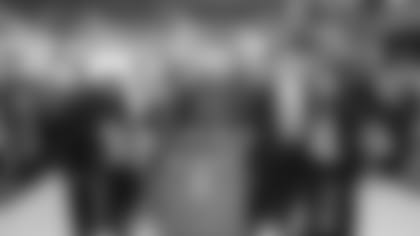 There are a lot of unsung heroes throughout these rallies. From our driver to our police escorts, everyone has been extremely helpful.
After Greene Turtle, we headed to Shopper's Food & Pharmacy in Westminster, where we had sort of a unique little moment. One of our most prominent sponsors is Esskay, who has been with the Ravens since their inception in 1996. They are celebrating their 150th anniversary this year, so our VP for regional partnerships and sales, Eddie Burchell, presented Dave McLaughlin, who heads up the Maryland marketplace for Esskay, with a framed jersey with his name on it.
"Esskay, who has been a long term partner of the Ravens, continues to make a positive difference with us and within the community every year. We are proud to have a partner like Esskay under Dave's leadership," Burchell offered, adding that they've been with us throughout our playoff run, and have always done the right things to make a difference for the Ravens.
This is what sets the Ravens aside from other organizations, and not just sports franchises. Our sponsoring partners play a key role with us, and they're recognized for that. It bears mentioning.
Erin, everyone's favorite playmaker who didn't think I'd mention her last week, wanted to say hello to any readers as well as the rest of the world. We're not prejudiced here at the Playoff Purple Friday Blog, anyone who wants a shout out or to give a shout out can!
We'll be back at Hightopps and Batemans later, so be sure to stop by.
We're in Timonium right now, at Verizon Wireless and heading to Smyth Jewelers soon. It's going well, as always. When we drove by Smyth on our way to Verizon, the parking lot and store were practically empty. When we arrived there a few minutes ago, they were both packed. Our fans are quick.
In the spirit of honoring the fans, I'd like to take a moment away from the action to make an observation.
It was a little more than a month ago that the Ravens lost in heartbreaking fashion to the Pittsburgh Steelers at home to lose their shot at winning the AFC North division title. This was about as agonizing as a loss can be for this city, because it was the Steelers. The team Baltimore loves to hate. Pittsburgh, meanwhile, just loves sticking it to the Ravens. There was a time when people were nervous about whether we'd make the playoffs.
Well, here we are. In the AFC Championship game. And guess what? We're playing the Steelers. Fate, right?
Maybe not. But it is like the plot of a movie. A team with a rookie head coach and a rookie quarterback overcomes a slew of obstacles to come within so close to the championship they can feel it. And they bring their city along for the ride. It's only fitting that the story has to go through the Steel City, home of the "villain" for Baltimore.
Now, I hate to bring back bad memories or lose focus on the moment, but that's just the thing: nobody is paying attention to any of that, no matter how easy it might be to do so. There are so many negative emotions fans could be focusing on right now, given this week's opponent. They're not. And I love that.
It just doesn't matter that it's our biggest rival. It doesn't matter what happened in those past two games. And not only does that astound me, it makes me proud. Our team knows what is at stake, no doubt, and have focused as needed. But our fans have taken that same mentality. This is special. The Ravens are playing this weekend. 28 other teams are not. There's a sense of anxiety that I personally haven't felt since the Super Bowl season. This city and these fans feel it too.
Baltimore refuses to let Pittsburgh get under its skin. This week's game is bigger than the AFC North, bigger than the rivalry. This week, these rallies are about the Ravens and Ravens fans.
I become more proud to be a fan of this team with every stop. Come out and show your pride too.
We've gone from one full house to another, making our way to the original Miss Shirley's on Cold Spring Lane.
It really does impress the heck out of me how our fans will come out no matter the time, no matter the temperature. It's a very frigid day here in Baltimore, it's barely even 9 AM on a Friday morning, and I'm sure many of these people still have jobs to go to. Yet they were here to greet us on our first two stops in full force, and a few have already started to tag along with the caravan.
When the team arrived home from Tennessee this past weekend after the big win, thousands of fans were at BWI to greet them. Patrick Gleason, our PR coordinator, commented on that **in his blog he wrote yesterday**.
I'm a huge Ravens fan, I have been for years and I will remain a fan after my internship with the team is over. But I'm not sure if I would get up at the crack of dawn to mingle with the team the way these fans have. I have to salute them. A lot of teams and a lot of cities say they have the best fans in the NFL. I respectfully disagree with all of them. Baltimore is number one. Period.
See you at Verizon or Smyth. We're going out to Westminster in the afternoon as well, home to my alma mater McDaniel College, so if you're a Green Terror, come and hang out with us. Enter to win some cool stuff. We've got a lot of awesome raffle items to hand out.
I'll ask again, WHAT'S OUR NAME?
C'mon....this is easy.... you know this one....
Now it's coming to you...
I'm back at it again, your friendly-neighborhood New Media Intern to blog on sight from our Playoff Purple Friday Rallies. We've all been feeling the energy all week leading up to this week's AFC Championship game between Baltimore and Pittsburgh, and we're going to go all out today with these rallies to get this city as pumped up as possible (if that's even possible). Today is going to be legen.... wait for it...... dary!
OK, so I'm a little goofy this early in the morning, but it doesn't mean I'm not excited. We all are. It's not even 8 AM and our cheerleaders are in spirit, performing a routine for FOX 45 first thing today.
This is our third day of rallies in as many weeks, and as a result, there's a pretty cool dynamic going between everyone. Today should be fun, in all seriousness.
We're at Miss Shirley's on Pratt Street right now, so check out below to see where else we'll be today, and find more details **here**,
7:30 – 8:15 AM Miss Shirley's – 750 East Pratt Street, Baltimore, MD 21202
8:30 – 9:15 AM Miss Shirley's - 513 West Cold Spring Lane, Baltimore, MD 21210
9:45 – 10:15 AM Verizon Wireless – 1964 York Road, Timonium, MD 21093
10:30 – 11:30 AM Smyth Jewelers – 2020 York Road, Timonium, MD 21093
12:00 – 1:00 PM The Greene Turtle – 830 Market Street, Westminster, MD 21157
1:15 – 2:00 PM Shoppers Food & Pharmacy – 551 Jermor Lane, Westminster, MD 21157
2:45 – 3:30 PM Shoppers Food & Pharmacy – 5457 Baltimore National Pike, Baltimore, MD 21229
3:45 – 4:45 PM Hightopps Backstage Grille - 2306 York Road, Timonium, MD 21093
5:00 – 6:00 PM Damon's Grill - 118 Shawan Road, Hunt Valley, MD 21030
6:15 – 7:15 PM Padonia Station - 63 East Padonia Road, Timonium, MD 21093
7:30 – 8:30 PM Bill Bateman's Bistro(North Plaza) – 8810 Waltham Woods Road, Baltimore, MD 21234
8:40 – 9:20 PM Mother's Federal Hill Grille – 1113 South Charles Street, Baltimore, Maryland 21230
9:00 – 10:30 PM Power Plant Live – 34 Market Place, Baltimore, MD 21202