The Ravens added depth to their backfield, not to mention a four-time Pro Bowler to their roster, by signing fullback Lorenzo Neal Tuesday afternoon.
Neal joined his new teammates in the final huddle after the morning session once he passed his physical. As Neal ambled down the steps from McDaniel College's Gill Gymnasium to the practice field, he needed no introduction.
The Ravens have faced Neal three times since the 5-foot-11, 255-pound fullback joined the San Diego Chargers in 2003. The Chargers released Neal in February.
"The thing about him is that the players all know him," said head coach John Harbaugh. "They all respect him. All of our linebackers have been hit by him. Kelly Gregg has been hit by him. As a matter of fact, he threw off Kelly Gregg's facemask a few years back. Kelly still has the facemask in his den.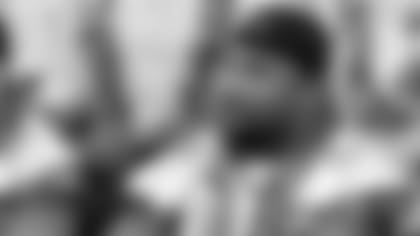 "He's the kind of guy we want on our football team."
Now that Neal, 37, is trading his lightning bolts for purple and black, it didn't take long for him to be welcomed into the fold.
Linebacker Bart Scott took it upon himself to offer the first volley of good-natured ribbing, shouting "Oh no! That's Casey Hampton!" in reference to the Pittsburgh Steelers defensive tackle that was recently in the news for reporting to camp overweight.
The move also marks Neal's second stint with offensive coordinator Cam Cameron, where both were a part of a prolific San Diego offense from 2003-06.
Throughout his 15-year career, Neal has played for six other NFL teams. The veteran led 1,000-yard running backs for 11 consecutive campaigns.
"I think he's just another good back in the meeting room," Cameron said. "He's one of the finest professionals that I've had the privilege to work with. When you talk about a Raven - a guy that's physical, competitive, that knows how to win and wants to win - the guy that I think about is Lorenzo Neal. He's going to come in and complement that room."
The Ravens needed another fullback with Monday's release of Justin Green, a fifth-round draft pick in 2005.
With Neal paving the way, the Ravens could use incumbent fullback Le'Ron McClain at tailback. Despite his 6-foot, 260-pound frame, McClain has recently shown excellent quickness and cutting ability in training camp.
"He's going to be a great complement to Le'Ron, and gives us the flexibility to play Le'Ron at tailback," Cameron explained. "That's a realistic possibility, not just something we're going to do in an emergency."
McClain has seen extra touches because running back Willis McGahee underwent arthroscopic knee surgery earlier this week.
The surgery was considered minor, but McGahee could potentially miss the rest of the preseason.
"They cleaned it up, it was less than what we thought it was, and it's getting healthy," Harbaugh said of McGahee's procedure.