After the Ravens' 27-13 victory over the Miami Dolphins Sunday, head coach John Harbaugh asked the team what coach they thought he would give the game ball to.
Everybody in the locker room immediately shouted, "Cam Cameron!"
Cameron directed a prolific Baltimore offense that racked up 357 total yards, while linebacker Terrell Suggs provided the defensive spark needed to enact revenge for last year's heartbreaking overtime loss.
Suggs took a second-quarter interception 44 yards to the end zone for his first-career touchdown, while the Ravens evened their record to 3-3 in Cameron's first meeting with the team he helmed in 2007.
But for Baltimore's new offensive coordinator, it wasn't about beating his former squad as much as it was rebounding after a three-game losing skid, most recently a 31-3 shellacking from the Indianapolis Colts.
"There's really nothing to say about last year," Cameron said with noted emotion. "All you can do is learn from it and move on. They're two types of people out there. Those people who look in the mirror and people who look out the window for somebody else. There are a lot of accountable guys in that locker room just like there are a lot in here.
"With all that being said, we needed a win. That was the bottom line."
Sunday's contest was dubbed by Suggs as a "make-or-break" date.
The Pro Bowler definitely helped the Ravens make it.
Both teams traded field goals to open the contest before Suggs pounced in front of running back Patrick Cobbs in the left flat to intercept Miami quarterback Chad Pennington. With nothing but daylight in front of him, the 6-foot-3, 260-pounder raced down the right sideline with the Dolphins in pursuit.
As he watched himself on the giant video board atop Dolphin Stadium, Suggs admitted that there was no way he wouldn't score after falling short in the past.
"The first thing I thought was, 'Score,'" Suggs said. "That was my first touchdown, because I always get caught at the 1. I'm sad to say I almost got caught at the 1 again. I got it in, but I was looking at the JumboTron – I'm not Ed Reed, now – but it seemed that first 15-20 yards took forever.
"I got in there, and I think it changed the outcome of the game."
Things didn't change from three weeks ago when Suggs said he saw a similar play against the Pittsburgh Steelers. That time, quarterback Ben Roethlisberger connected with Mewelde Moore for a gain in the same spot.
"I knew it was coming, but I didn't jump it," he stated. "I was like, 'Next time that happens, I'm going to jump it. If I miss it, I miss it, but if I get is, I'm going to the crib.'"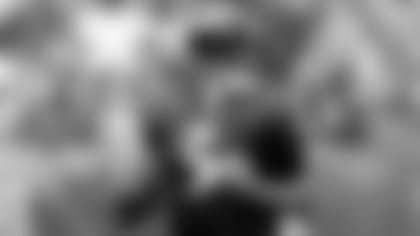 The Dolphins followed with another field goal – a 26-yarder from Dan Carpenter – before Baltimore's offense came alive.
Rookie quarterback Joe Flacco went 6-of-8 for 68 yards on the next series, capping it with an 11-yard touchdown pass to wideout Derrick Mason.
Mason's first touchdown catch of the year was a do-over from the previous play, when Miami cornerback Will Allen dropped a sure interception at the goal line.
Mason put the potential pick on his shoulders, saying that he was supposed to be where Allen was, but was trying to lure a defender away from Mark Clayton. Mason was thankful to atone for the miscommunication.
"Joe put it on the money," Mason noted. "We knew all week that it was a possibility of being there at the right time."
With a 17-6 lead heading into the half, the Ravens refused to let up, relying on a three-headed rushing attack that ground out tough yards against a run defense that entered the weekend only giving up 89.0 yards on the ground (eighth in the NFL).
Running back Willis McGahee gained 80 yards in the second half en route to his total of 105. McGahee even added two receptions for 47 yards and a bruising 5-yard touchdown run.
This despite not having starting right tackle Adam Terry with a knee injury and losing right guard Marshal Yanda for the season to torn knee ligaments.
"Offensively, I think our offense was physical, they threw the ball downfield, and the game plan by Cam Cameron was really outstanding," said Harbaugh. "Really, all year it has been. You see the things we're trying to do, and what we're trying to become as an offense a little bit."
The Dolphins closed to within seven points after Pennington hit rookie Davone Bess for a 7-yard score, but Baltimore bounced back with a nine-play scoring drive in the final period.
When McGahee plowed through two Dolphins for his fourth-quarter score, Baltimore had comfortably stopped a seven-game road losing streak.
The Ravens now head back to Baltimore to face the Oakland Raiders before taking the road on three consecutive weeks.
And while the win in south Florida made for a joyous post-game locker room, Harbaugh isn't one to rest on his laurels.
"You've got to come back next week, and get better, improve, and have a big challenge in front of you," he said. "Even after tonight we've got to go get ready for the Oakland Raiders. They're a good football team, they play defense, they're physical, and they're a big tough football team.
"Whether we won this game or lost this game, that becomes your focus next week."