In partnership with Faceware Interactive and Image Metrics technology, the Ravens today released a photo real, virtual face painting experience that seamlessly integrates into the team's mobile app.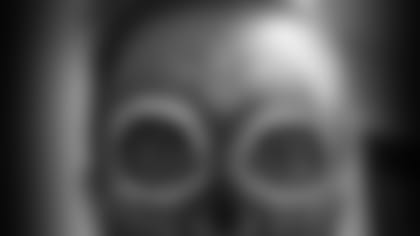 It is the first of its kind in professional sports. Fans must either download or update their Ravens app before using this cool new feature. And, it's available on both iOS and Android (Android update expected late Friday afternoon).
You can choose from 13 different face paint looks to express your Ravens pride – all without the hours of actual face painting. There's a Ravenized Maryland flag, purple and black stripes, Ravens birdie head, Ravens eye mask, a feather mask that flies onto your face when you open your mouth and more.
It's all part of the Ravens' continued innovation in the digital and broadcast realm. Soon, the Ravens will also use the technology to improve the gameday experience.
Later this season, fans will have access to the "Fan Mirror," a full-size, movable, face recognition mirror located on RavensWalk, the M&T Bank Stadium concourse or at special events. In 2018, in-stadium cameras will use facial recognition of fans in the stands and project face paint on them to the RavensVision boards.
The additions complement the three-phase $120 million self-funded improvement program. The Ravens have already installed two 4K ultra-high definition video displays and added SkyCam to the game experience. In 2018, the Ravens will install four new 4K corner video displays.
"We say it all the time. We want attending a game to be an amazing experience for our fans. We want to create lifelong memories," said Senior Vice President of Ravens Media Michelle Andres.  "Our face paint executions are not only a cool way for our fans to show their team spirit, they create those great memories."
// <![CDATA[ (function() { var w = window, d = document; var s = d.createElement('script'); s.setAttribute('async', 'true'); s.setAttribute('type', 'text/javascript'); s.setAttribute('src', '//c1.rfihub.net/js/tc.min.js'); var f = d.getElementsByTagName('script')[0]; f.parentNode.insertBefore(s, f); if (typeof w['_rfi'] !== 'function') { w['_rfi']=function() { w['_rfi'].commands = w['_rfi'].commands || []; w['_rfi'].commands.push(arguments); }; } _rfi('setArgs', 'ver', '9'); _rfi('setArgs', 'rb', '31689'); _rfi('setArgs', 'ca', '20782389'); _rfi('setArgs', '_o', '31689'); _rfi('setArgs', '_t', '20782389'); _rfi('track'); })(); // ]]>