Every birthday is special for O.J. Brigance.
The Ravens Senior Advisor of Player Development, who is battling Amyotrophic Lateral Sclerosis (ALS or Lou Gehrig's Disease), celebrated his 44th birthday Tuesday night at Baltimore's Pimlico Race Course. The event was attended by former and present Ravens, including Ray Lewis, Ray Rice, Ozzie Newsome, Marshal Yanda, Sam Koch and Morgan Cox.
"This is a testament to the power of overcoming the odds and the strength to walk this journey," Brigance told the crowd through a computer that transmits his voice.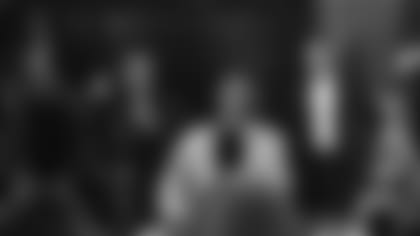 Local leaders such as Mayor Stephanie Rawlings-Blake also attended to show their support for Brigance, who has been an inspirational figure within the Ravens organization and Baltimore community.
"You have inspired me and I know that you inspire everyone," Rawlings-Blake said to Brigance.
Brigance is in his sixth year of battling ALS.
The life expectancy for most people after being diagnosed with the disease is 2-5 years, and doctors initially told Brigance he may not see his 40th birthday. As he celebrated Tuesday night in a gray suit with a Super Bowl XLVII ring on his ring hand, Brigance said that he felt "energized as I celebrate 44."
The disease, which attacks the nerve cells in the brain, has confined Brigance to a wheel chair and robbed him of the use of his arms, legs and voice. He speaks through a computerized device that transmits sentences he types using his eye movement. 
While the disease creates physical limitations, it does not impact a person's mental capacity, and Brigance continues to be a source of motivation and brings awareness to finding a cure for the illness.
"Our circumstances are never an excuse to prevent us from achieving all that God has appointed us to do," Brigance said. "If anything, adversity provides great clarity, which allows us to make a difference in the lives of others. Through our adversity, we have found purpose in our fight against ALS and are so blessed to have each of you standing with us."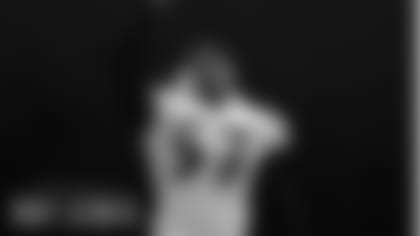 "I am extremely excited about my new book, 'Strength of a Champion,'" Brigance said. "It represents a culmination of life experiences that include triumphs and adversities, which built a resilience in me to never give up."
NFL reporter Peter Schrager, who works for FOX Sports, wrote the book with Brigance. The book also included a forward written by Lewis.
In the book, Brigance recounts his experiences of becoming a Super Bowl champion as a Ravens player in 2000 and as an advisor in 2012. He also shares some personal experiences with those inside the organization, including Lewis, John Harbaugh, Joe Flacco, Ed Reed and Torrey Smith.
"I hope that it will be a great encouragement to all who read it," Brigance said.
The event Tuesday was also an opportunity to raise money for his foundation, the Brigance Brigade, which supports ALS research. The Brigance Brigade unveiled a new logo and announced a change to the annual 5K run in downtown Baltimore. The April event will now be a 5.7K run, in honor of the No. 57 Brigance used to wear.
"By the grace of God, we continue to press forward to achieve all that God has created us to do," Brigance said. "This is much more than a birthday party. It's a celebration of the grace of God and the human spirit and the courage that lives inside all of us."
If you'd like to help, in honor of OJ's 44th birthday, the Brigance Brigade is on a mission to raise $4,400 by Sept. 29. For every donation made, a candle will go on his cake. Donors' names and personal messages will also go in his birthday card.