Corey Graham and his wife Alison were watching Jacoby Jones on "Dancing With The Stars" when a news alert flashed on the bottom of the tv screen.
A devastating tornado had hit Oklahoma. They immediately changed the channel and were stunned at what they saw.
"It shocked me," Graham said. "To see disasters and tragedies happen like that, you just want to help out any way you possibly can."
The Grahams immediately started talking about what they could do.
That idea turned into a blood drive held at the Red Cross in Baltimore Thursday afternoon, where Graham and seven of his teammates signed autographs for fans in exchange for a minimum $20 donation.
The Grahams donated money when Hurricane Katrina hit the Gulf Coast in 2005. This time they wanted to do more. Alison considered flying to Oklahoma, but with 1 and 2 year olds at home, that was impossible. She got on the phone with the Red Cross the day after the storms.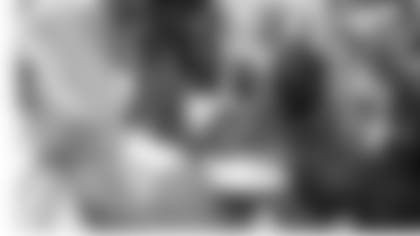 "These things happen all the time and people don't always come out to help," Alison said. "People don't understand how big something like this is. You can always give."
"The last year has been amazing for us in Baltimore as players," Corey added. "We just wanted to come together to help wherever we possibly could. Say a tragedy happened in this area, you would want people in different places to come out and help."
The Grahams were joined by linebacker Josh Bynes, wide receiver Torrey Smith, cornerback Lardarius Webb, safety Michael Huff, running back Anthony Allen, linebacker Bryan Hall and cornerback Asa Jackson.
"No one else on our team had really taken it by the horns and tried to help out," Smith said. "While nobody is really from that direct area, those people need our help as well."
The damage in Oklahoma hit home for Huff, who has a residence in Dallas, Texas.
"You see tornadoes like that all the time in Texas," Huff said. "For it to be that close to home, it definitely hits hard. I kind of know what they're feeling, so I wanted to give back."