The Ravens play their final preseason game in Tampa tonight and the deadline for 53-man roster cuts is three days later.
Here are my thoughts, all in 50 words or less:
The final preseason game really only influences decisions on the last couple/few roster spots. A good game could "put somebody over the top," as John Harbaugh said. Candidates include running back Keaton Mitchell, guard Ben Cleveland, cornerbacks Arthur Maulet and Kyu Kelly, quarterback Josh Johnson, and special teams inside linebackers.
While I think Tyler Huntley is the favorite for the backup quarterback job, don't rule out Johnson. He was significantly better from the first preseason game to the second, and if he has another strong performance Saturday night with Huntley on the bench, it will be a tough decision.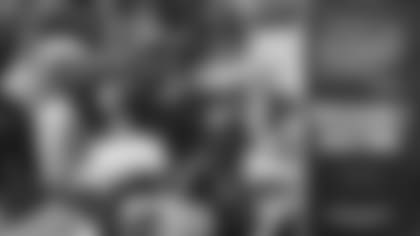 503: Ravens 53-Man Roster Predictions
Our insiders, Mink and Garrett, share who they think will make the Ravens' 53-man roster ahead of the final preseason game.
Here are some other tricky roster calls. With so many young guards, what happens with Cleveland? Do the Ravens need a dedicated backup center? How much cornerback depth is needed? Do the Ravens need to keep a veteran safety? Can the Ravens afford to keep a fourth running back?
At the start of training camp, cornerback Kevon Seymour, safety Ar'Darius Washington, and wide receiver Tylan Wallace were firmly on the bubble. Now I have them penciled in as Week 1 roster locks, which is a testament to the training camp and preseasons they've had. They (seemingly) flat-out won jobs.
This is a good time for a reminder on vested veterans, which is a player with four or more accrued years of service. If a vested veteran is cut, they don't go on waivers. They can immediately sign with any team they choose, including the one that just cut them.
If Tyus Bowser stays on the NFI list, he's not eligible to suit up until Week 5. If he comes off, it's a sign that he's on track to play Week 1 or soon thereafter. Pepe Williams (ankle surgery) must be on the initial roster before being moved to IR.
Rashod Bateman and J.K. Dobbins brought different demeanors to their press conferences this week. Setting aside tweets, contracts, and all the other offseason hubbub, the most important takeaway is that they both feel good about their health. If it stays that way, they will both ball out.
Jadeveon Clowney said the Ravens are going to "take their time" and let him build up into the season after signing so late. It sounds like David Ojabo will get a runway to show whether he's ready to blossom. If not, Clowney can step into a larger role.