The snaps and Pro Football Focus grades are in from the Ravens' Week 2 loss to the Miami Dolphins, 42-38, at M&T Bank Stadium:
The Ravens were rotating cornerbacks with Marcus Peters playing in his first game back from last year's knee injury and Marlon Humphrey dealing with a groin issue. Peters played 62% of the snaps. Humphrey gutted through all but 15 snaps, but was on the bench for the Dolphins' game-winning drive.
Three rookie defensive backs played over 50% of the snaps with cornerbacks Jalyn Armour-Davis and Pepe Williams at 54% and 52%, respectively. Safety Kyle Hamilton again got nearly half the defensive snaps (54%) and got one of the defense's fifth-highest grades. He was not credited with coverage on the 48-yard touchdown to Tyreek Hill in which Hill got behind both he and Peters. Hamilton had his eyes on Jaylen Waddle coming over the middle and Hill zoomed past behind him.
The Dolphins went at the rookie cornerbacks, which should come as no surprise. Armour-Davis had the Ravens' lowest defensive grade from PFF (29.4) and was credited with giving up five catches for 69 yards and a touchdown on six targets. Hill blew past Armour-Davis, who seemed to be playing the wrong assignment, on the 60-yard touchdown to tie the game. Armour-Davis was in pretty good position on the game-winning touchdown to Waddle, but it was a perfect throw from Tua Tagovailoa. Williams was targeted a team-high 10 times and yielded six catches for 42 yards and two touchdowns, per PFF.
Patrick Queen once again played 100% of the defensive snaps, which was lower than last week's 84, but still high at 71. Several factors played into that: the Ravens defense was just 4-of-11 on third down, the kickoff return for a touchdown eliminated one offensive possession, the Ravens offense hit several big plays, and Baltimore's offense didn't sustain many long drives with the running game, particularly in the second half.
Defensive lineman Calais Campbell got the Ravens' highest defensive grade (85.3) from PFF, followed by Williams (77.5), who had two interceptions, and defensive linemen Justin Madubuike and Michael Pierce.
Justice Hill led the running backs with 21 offensive snaps but saw the fewest carries (3). Mike Davis had 18 snaps and had five carries for 4 yards. Kenyan Drake got 15 snaps and six carries for 8 yards.
Somehow, PFF has Lamar Jackson as the Ravens' sixth-highest graded offensive player at 66.4. Tight end Mark Andrews led the offense (86.7), followed by wide receiver Rashod Bateman, tight end Isaiah Likely and wide receivers Demarcus Robinson and Devin Duvernay, respectively.
After playing 45% of the snaps in his first game, Likely was down to 36% in his second game but hauled in four catches for 43 yards. A drop on third down in the fourth quarter proved costly, however.
Rookie offensive tackle Daniel Faalele played five snaps in his career debut, all as a jumbo blocker that didn't pay dividends as the Ravens struggled in short-yardage rushing situations.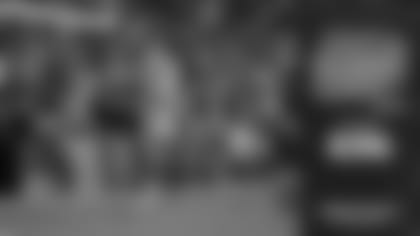 396: Morning Reaction to Stunning Dolphins Loss
Mink and Garrett discuss what happened in the Ravens' Week 2 meltdown in a 42-38 loss to the Miami Dolphins. (edited)See omnystudio.com/listener for privacy information.