Hours before the Ravens kicked off against the Chicago Bears, M&T Bank Stadium and the surrounding area was blanketed by a record snowstorm.
The scene was set for a December battle of two smash-mouth rushing attacks against two talented defenses. Additionally, the Ravens were missing wideouts Mark Clayton (knee) and Kelley Washington (ankle), further pointing Baltimore towards the ground game.
Instead, the Ravens got a career outing from quarterback Joe Flacco, who carved up the Bears for a personal-best four touchdown passes and a 31-7 victory. Coupled with a franchise record-tying six takeaways, Baltimore put together two consecutive wins for the first time since September.
What's more, the Ravens jumped up in the playoff rankings, as the three other 7-6 teams in the AFC (Jacksonville, Miami, New York Jets) all lost to fall one game back in their wild-card bids.
After the final whistle, the Ravens acknowledged their improved standing, but were still rooted in the reality that they control their own destiny.
"It's good that we were able to pick up two victories at home in the past couple of weeks and to go out there and take care of business the way we were supposed to take care of business," said wideout Derrick Mason. "But as I say every week, it means nothing if you can't do it again another week. We're going to enjoy this game, but understand that we're still in a two-game playoff. Whatever we've done for the last two weeks, we need to continue to do, because if we don't it's all for nothing."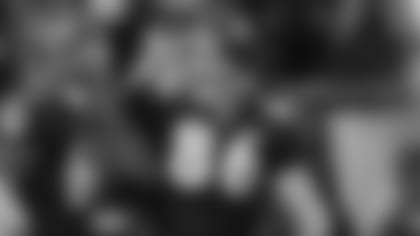 Flacco certainly did his part.
He completed 21 of 29 attempts for 234 yards and a rating of 135.6. He was only sacked once and found five different receivers to out-duel Chicago gunslinger Jay Cutler, who tossed three interceptions and posted an embarrassing 7.9 passer rating. It was so lopsided for Flacco that he was pulled in favor of Troy Smith in the fourth quarter with the Ravens comfortably in the lead.
Cutler? After going 10-of-27 for 94 yards, he was benched for little-used quarterback Caleb Hanie around the same time.
"We've got guys that can fill in all positions and do a great job," said Flacco. "I think you saw today our guys were just making plays all over the place. And it doesn't matter who's out there, we are going to have trust in who's lining up and running the routes."
Things were in Flacco's favor from the beginning. Four plays into the game, Cutler missed receiver Devin Aromashodu in the left flat, where cornerback Domonique Foxworth was waiting.
After a 28-yard scamper by running back Ray Rice, Flacco converted that turnover into a 14-yard touchdown pass to tight end Todd Heap.
On the Bears' second series, Cutler wasted a red-zone appearance when a short pass to fullback Jason McKie was tipped and picked off by linebacker Jarret Johnson.
With a 28-yard run from Rice and a 29-yard throw to Heap, Flacco coolly marched the Ravens 81 yards in six plays to find Heap for a 7-yard touchdown.
Then, there were scores of 32 and 18 yards to Demetrius Williams and Mason, respectively, in the third quarter.
In all, it was Flacco's day to shine while Cutler took a seat to Hanie with 4:57 left.
"They were singling out our men on the outside, so we took advantage of what they were doing in the secondary," Mason explained. "Joe did a phenomenal job of putting the ball where he was supposed to put it, and some guys made some great catches.
"We try to be as balanced as we can, but we want to make sure what we put on film shows the other defense that we can beat you with the run if you want to take away the pass, or we can beat you with the pass if you want to take the run."
The Bears were also stymied by a stout Ravens defense.
Essentially, Baltimore pitched a shutout, as the only Chicago touchdown came on a 49-yard punt return for a touchdown by receiver Earl Bennett.
The Ravens were backed deep into their own territory after stopping three Bears plays from the 1-yard line, taking over possession on downs.
Three straight unsuccessful runs led the Ravens to punt from their end zone, and even though Sam Koch uncorked a long kick, Bennett broke enough tackles – including four inside the 15-yard line – to find his way to paydirt.
Bennett's score proved to be the only hiccup in an otherwise dominating performance.
Cutler's three picks raised his total to 25 on the year. Hanie also threw one to cornerback Frank Walker to seal the outcome in the fourth quarter.
The Bears also coughed up two fumbles, upon which the Ravens recovered and promptly turned into points.
"Compliments to our defense for the turnovers," Harbaugh said. "I think that's pretty amazing to be able to get them to turn the ball over six times, but then to capitalize like we did with the points, that's what really makes it count. That was probably the difference in the game."
Baltimore now takes an 8-6 record into a Week 16 showdown with the Pittsburgh Steelers, who needed a last-second touchdown to defeat the Green Bay Packers and remain at 7-7, lurking in the postseason hunt.
"Hopefully, we're building momentum at the right time," Harbaugh noted. "That's what we're trying to do. But then again, every week stands on its own. We're going to come out with a new challenge against our arch rivals next week at their place, and it's going to present its own set of challenges. We have to go out there and each week, we have to play the best football we can play in all three phases."