The Ravens nearly toppled their second undefeated opponent of the season, but instead they watched their playoff window shrink in a 17-15 loss to the 10-0 Indianapolis Colts at M&T Bank Stadium.
A crowd of 71,320 watched the Ravens' largely dominant defensive performance wasted by an offense that couldn't capitalize.
Baltimore moved the ball well by putting it in the hands of Ray Rice
, who had 27 touches for 135 total yards, on a variety of runs up the middle and short throws underneath coverage. Derrick Mason also helped with nine receptions for 142 yards, and the Ravens managed to log 20 first downs.
The difference came when the Ravens were in Colts territory. Seven times, the Ravens got within Indianapolis' 30-yard line, including four marches to the red zone.
On each occasion, the result was a field goal attempt – that is, until quarterback Joe Flacco
threw a crippling interception from the 14-yard line in the fourth quarter that all but sealed the Ravens' fate.
Billy Cundiff
 converted five of his six field goal tries, tying former Ravens and current Colts kicker Matt Stover's single-game franchise record, but it wasn't enough to overcome Peyton Manning and the Colts' high-powered attack.
"Of those six [field goal attmpts], we need to score at least seven points out of that," wideout Derrick Mason said. "If we score seven points out of that, it might be a different story. So, we need to find a way to score points. We moved the ball effectively down the field, that's not the thing, but you need to find a way to score seven instead of three.
"Against Peyton [Manning], it's been proven; if you give him an opportunity to be in the game and win the game at the end, that's what he's going to do. And instead of us scoring three as opposed to seven, we put them in a good position to take the game at the end."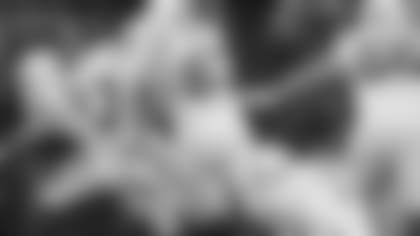 The Ravens were very close to a different outcome.
Cundiff sliced a 30-yard field goal to the right in the third quarter on a series where 260-pound fullback Le'Ron McClain was stuffed for a 2-yard loss on third-and-one from the Colts' 10-yard line.
Later, the Ravens had three chances in the fourth quarter from Indianapolis' 1-yard line, but a Flacco sneak and two dives from running back Willis McGahee failed, setting up Cundiff's final field goal to take a brief lead.
That lead was erased on the Colts' next possession, when an unnecessary roughness penalty on defensive tackle Haloti Ngata
, flagged for diving at a falling ball-carrier, gave Manning life and allowed Stover to hit a game-clinching 25-yard field goal.
Even still, the Ravens had life when Flacco managed to lead the offense to the Colts' 14-yard line in the fourth quarter. There, Flacco was looking for Rice over the middle, but linebacker Gary Brackett feigned a blitz and dropped in coverage. Flacco didn't see him and threw it directly into Brackett's waiting hands.
"It was a bad job going to Ray in that situation, but I didn't see the guy," Flacco explained. "That's a big play right there. We were in field goal range already, and we wanted to convert on third down, but at the same time, we've got to hold on to the ball, and score some points to take the lead. I did a bad job of doing that."
Following several losses this season that seemed to hinge on a few select plays, the Ravens are hoping to buck that troubling trend next week against the Pittsburgh Steelers, who were defeated 27-24 by the lowly Kansas City Chiefs in overtime.
"It's been like that for a few weeks now," tight end Todd Heap noted. "We have to do something where we get out of that rut where we can come out of it offensively and score points like we had at the beginning of the year."
The Colts came out firing. During their first drive, Manning coolly launched a 66-yard bomb to receiver Pierre Garcon before he dropped a 3-yard touchdown pass over tight end Dallas Clark's shoulder. Clark actually made a one-handed grab as he stumbled out of the end zone.
Baltimore settled in after that with a 13-play field goal drive, Cundiff's first from 46 yards, and a huge defensive statement.
On the Colts' next possession, cornerback Fabian Washington tipped a deep throw to Clark that safety Dawan Landry intercepted in Indianapolis territory. It was Manning's ninth interception of the year, but the Ravens only cashed in with Cundiff's second field goal, a 44-yarder, foreshadowing how the game would be played out.
Another Manning pick, basically a fly ball to safety Ed Reed
, allowed Cundiff to add a 38-yard field goal in the second quarter, but the Colts countered with an eight-play, 80-yard drive capped by running back Joseph Addai's 5-yard touchdown run.
In the third, linebacker Ray Lewis
forced a fumble when he hit tight end Tom Santi in the back of the head to jar the ball loose, and defensive tackle Dwan Edwards recovered on the 4-yard line.
All that would come of the fumble recovery was a missed 30-yard attempt from Cundiff when McClain could not bull through the Indianapolis defense.
Three more 1-yard shots came in the fourth quarter, and again, it was Cundiff eventually trotting from the sideline to convert a 20-yard field goal.
"We're moving the ball in between the 30s," said center Matt Birk. "When you get in the red zone, you just have to be that much sharper. Give credit to Indy – they do a good job of defending that, but we have to find a way to put it in the end zone. There's your 'duh' quote of the week."
Cundiff's final boot did give the Ravens a brief 15-14 lead after taking 8:05 off the clock, but Manning was not finished. He efficiently marched the Colts within Stover's range for what would be a game-winning 25-yard field goal, ironic considering Stover's 19-years with the Ravens franchise ended this season.
Flacco gave Ravens fans hope when the offense reached the red zone for the fourth and final time, but his only interception of the game dimmed any light of a comeback.
The Ravens now look ahead at a crowded Wild Card picture with two matchups against the Steelers and a crowded list of teams that continue to harbor tenuous playoff aspirations.
"We all understand what needs to happen now. We do. You can't get in the playoffs unless you win 10 games or more," Mason stated. "And 10 games don't automatically put you in in the AFC. So, we know the road ahead of us. We have to win every game from here on out, point blank. However you cut it, dice it, we need to win every game from here on out.
"Anyone that thinks that we don't have to win all these games from here on out, they're lying to themselves. So, if you want to call it pressure, then it's pressure."