In the end, the Ravens didn't need any help to punch their postseason ticket - they only needed themselves.
With a convincing 27-7 victory over the Jacksonville Jaguars Sunday at M&T Bank Stadium, the Ravens (11-5) clinched the sixth and final AFC playoff spot in a dramatic turnaround from last year's 5-11 campaign.
Baltimore could have made it to the playoffs if the New England Patriots lost to the Buffalo Bills Sunday in a 1:00 p.m. kickoff, but the Patriots did their part by winning 13-0.
That meant the Ravens had to beat Jacksonville if they wanted a January matchup, and that's just what they did - in a big way.
Jacksonville held a brief 7-3 lead in the first quarter, but it was all Ravens from then on out, as Baltimore roared back to mount three long scoring drives in the second stanza, securing a showdown with the Miami Dolphins next Sunday at 1:00 p.m. in Dolphin Stadium.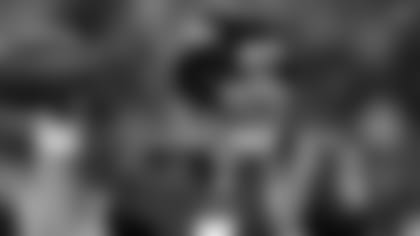 During that game-changing explosion, rookie quarterback Joe Flacco![](/team/roster/joe-flacco/3e20766f-6520-4ca1-9901-44389aaea8b8/ "Joe Flacco") went 12-of-13, hitting on passes of 25, 39, 16 and 47 yards to set up two touchdown runs from **Le'Ron McClain** and another by **Willis McGahee**.
"We knew Jacksonville was going to come in and fight, and it was up to us to jump on them early and break their spirits," said Flacco, who had his best statistical game of the season, going 17-of-23 for a career-high 297 yards and a 115.8 passer rating. "You go down 7-3, and you've just got to go out there and stick to the fundamentals. Before we knew it, we looked up and were up 24-7. It was just doing the simple things the way we should."
Jaguars signal-caller David Garrard answered **Matt Stover's** opening 32-yard field goal with a touchdown pass to running back Alvin Pearman.
Pearman, signed just last week as insurance for a banged-up Maurice Jones-Drew, got wide open in the left flat and scooted 23 yards to paydirt.
But the Ravens responded by opening up the playbook and burying their opponent, relying on Flacco's strong arm and power running from McClain. Flacco went to a no-huddle offense after Pearman scored, completing 6 of 7 passes for 69 yards to set up McClain's 5-yard rumble across the goal line for his team-leading ninth touchdown.
McClain's 10th, a 1-yard plunge, came following a 47-yard bomb from Flacco to wideout **Mark Clayton**.
In between, McGahee followed left guard **Chris Chester** for a 13-yard touchdown, capping a 77-yard play where Flacco found **Derrick Mason** from 39 yards and then a 16-yard flea flicker.
"We feel like when we start fast, that will get our defense going," said McClain, who totaled 70 yards on 25 carries. "We started slow, and they got a score. But you saw the rest of the game. We just took it to them and pounded them. That's what we've got to do."
In fact, the Ravens shut down any and all Jacksonville's attempts at a comeback. Coming out of halftime, the Jaguars marched to Baltimore's 20-yard line, but turned the ball over on downs when Garrard misfired on a fourth-and-4 pass to receiver Dennis Northcutt.
Baltimore used that possession to post a 41-yard field goal from Stover to complete the scoring.
The Jaguars never made it to Ravens territory again until getting to the 31 on their last drive.
Even then, a shot to the end zone was intercepted by safety Ed Reed![](/team/roster/ed-reed/89ece203-7de4-4b40-9651-f16f4c3b7699/ "Ed Reed"), his second pick of the game and NFL-best ninth of the season.
Now, the Ravens are poised to return to the playoffs after missing the 2007 tournament, marking an overhaul to that disappointment. Since then, Baltimore has installed a first-time head coach in **John Harbaugh** and a first-round draft pick at quarterback.
And while many dismissed the Ravens' chances when the 2008 season began, those players and coaches wearing purple and black always believed.
"The team came together in training camp," Reed explained. "In the offseason training, guys did a great job in just helping each other and being there for each other. We know it's one team, not just offense, not just defense, not just special teams. It's all of us together."
Reed's sentiments were shown in the Ravens' jubilant post-game locker room. Director of player development O.J. Brigance, who is battling Lou Gherig's Disease, addressed the group, imploring everyone to continue moving forward through the postseason.
"[Bisciotti] believes in having one another's backs," Harbaugh said. "He believes in playing for one another and trusting one another. Those are his ideals. I think he is looking at a football team where those things are being played out right now."