An image of Ravens running back Ray Rice walking off the field in Pittsburgh with a Terrible Towel draped over his head has stirred up some controversy this week.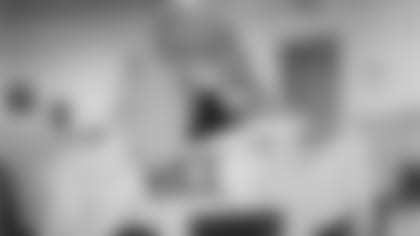 But on Wednesday Rice explained that he meant no disrespect by taking the towel into the locker room, and actually got the towel from a Steelers fan by giving up his gloves in exchange.
"I didn't stomp it or do anything wrong," Rice said. "I actually walked out with it and I think I'm going to save it and put it in my basement to cherish the rivalry."
Rice has a pattern of exchanging jerseys with opposing players after the games, and this was just an example of taking a memento from a classic rivalry game.
"It's not like you get out there and you do derogatory stuff, it's none of that stuff," Rice said. "You think about it as where I'm at in my career, you cherish these rivalries, cherish the moments.
"I apologize for those who see it as disrespect. For me, I thought it was a pretty cool gesture exchanging my gloves with the fan and walking out with it."
After explaining the story behind the towel, Rice plans to leave it in the past and even made a joke about Steelers players coming after him in a couple weeks. 
"Should I be worried about a bounty alert or something? I don't think they're going that far," he joked. "Their fans are great. Their organization is great and the rivalry is always going to continue to be great."