Roquan Smith is a humble guy, but he has no hesitation when talking about his or the Ravens' aspirations this season.
Smith was an instant smash hit with the Ravens after joining the team at last year's trade deadline. Now with a full offseason in Baltimore, Smith envisions even more success for himself and for the team as a whole.
Smith has been present throughout the entire summer. After a vacation to Asia with several teammates, Smith was present for the team's strength and conditioning program, football school, OTAs and of course, mandatory minicamp.
"I'm just excited to get out there and fly around with the guys, because I think we're in for something special," Smith said on "The Lounge" podcast. "And I think myself, personally, I think it's going to be probably my best year, at least the way I feel physically and mentally."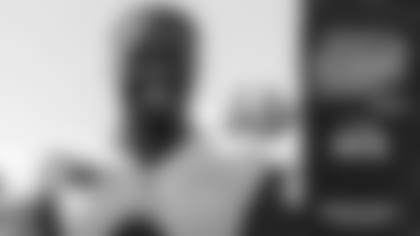 476: Roquan Smith Joins The Lounge
The Ravens Inside Linebacker Roquan Smith speaks with Garrett Downing and Clifton Brown about the benefits of having a full offseason in Baltimore, his experience at the 2023 Pro-Bowl, and his trip to Asia.
Although Smith drew rave reviews for how quickly he picked up the Ravens defense and became a leader last year, he said the quick change in terminology was "a bit confusing" after being a Chicago Bear for four and a half years. Smith also had a change at defensive coordinator last offseason with the Bears, so it was a whirlwind year in the playbook.
Now Smith has his feet under him in Baltimore, and he feels much more comfortable in Mike Macdonald's defense. Smith said he feels like he'll be able to work faster and make more plays, and he's been particularly working on studying offensive route combinations so he can be better in pass coverage.
Smith's 2022 campaign earned him his first Pro Bowl and first-team All-Pro honors, as well as a five-year, reported $100 million contract making him the highest-paid inside linebacker in NFL history.
But four days after inking that deal, Smith's season was capped by a first-round playoff loss to the Cincinnati Bengals. That loss left Smith feeling like there's unfinished business this season. Smith knows how confident he feels, and he got the same vibes when speaking to Lamar Jackson in the locker room recently.
"We want all the smoke, honestly," Smith said. "There's a lot of payback that we have out there. We'll get to it when we get to it, one week at a time."
Smith connected with Ravens Hall of Fame linebacker Ray Lewis at the Pro Bowl and the two briefly reconnected at the Under Armour Performance Center recently. They have more plans to get together during training camp, as Smith is looking to pick up any tidbit of knowledge.
When it comes to attitude, Smith certainly seems to already embody the former Ravens great. Smith has brought a swagger to Baltimore's defense that's part of why his coaches have described him as a "force multiplier."
"Never scared. Wasn't born scared, wasn't planning to die scared," Smith said. "I think most of the guys on the defense live the same way. People may fear us, [and] we want to strike that. At the end of the day, we're coming out to take your heads off."