The Ravens aren't just bringing football abroad this Sunday. They're bringing their brand of football abroad.
Linebacker Roquan Smith played in London once before as a member of the Chicago Bears, and he's excited to be back with the Ravens to show what they're made of, especially against another physical team in the Tennessee Titans.
"It's going to be a sweet game for London, the U.K., to actually show … you know, some teams can be more finesse than others … two old-school teams that are going to hit each other in the mouth and see who is the last man standing," Smith said. "Thirteen rounds and see who is going to have the knockout punch, and I'm erring on the side of Baltimore. I'm excited about it and I think it's going to be a great game to put on for the fans here."
Led by Head Coach Mike Vrabel, a former NFL linebacker, the Titans also have a physical brand of football. Running back Derrick Henry can set the tone with his pads and did so two weeks ago when he piled up 122 rushing yards and a touchdown against the Bengals.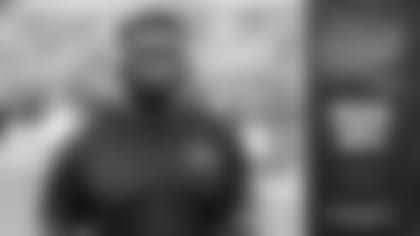 524: Roquan Smith on Bringing Real Football to London, Ray Lewis Comparisons, Bears Trade, Leadership
Ravens LB Roquan Smith joins our insiders, Mink and Garrett, to talk about moving on from the Steelers loss, playing in London, his trash talk and leadership, comparisons to Ray Lewis, the Bears trading him, and much more.
"I think it's definitely going to be a physical game," Smith said. "I watched the game of theirs (against the Colts) on the flight over here and just knowing Vrabel's motto and everything like that. They pride themselves on physicality and things of that nature, but so do we – more so violence as opposed to physicality, a little step above."
The Ravens and Titans have a longstanding rivalry, dating back to the early Ray Lewis-Eddie George days. But the intensity of the rivalry has ebbed and flowed depending on how often they've met each other and the stakes of the games.
It was intense a few years ago when the Titans eliminated the top-seeded Ravens early from the 2019 playoffs. They met again twice the following season. Henry had a game-winning touchdown in overtime of a regular-season game at M&T Bank Stadium, but the Ravens got revenge with a wild-card playoff win in Tennessee, punctuated by a Marcus Peters interception and celebration on the Titans' midfield logo after they had stomped on Baltimore's logo the two meetings prior.
Sunday's game at neutral Tottenham Hotspur Stadium will be the teams' first regular-season meeting since the 2020 playoff game.
"I definitely heard about some of those things from the past," Smith said.