Ravens team physician Dr. Andrew Tucker is getting emails and calls from around the NFL.
They all have essentially the same question.
How on earth did Terrell Suggs return so quickly?
Tucker, who oversaw Suggs' road to recovery, can't believe it himself.
"I didn't think it was going to be for certain that he would be able to come back to play this year," Tucker said.
"If so, I think most of us were thinking at best it would be in November-December."
Nope. Just five months and six days after having surgery on his torn Achilles tendon, Suggs unexpectedly trotted onto the field against the Houston Texans.
Suggs suffered the injury in late April and went under the knife on May 8. He triumphantly returned on Oct. 21, notched a sack, four tackles and a pass deflection.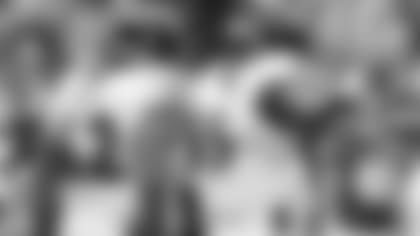 "To get back to play this game at this level, in five to 5 ½ months is really extraordinary," Tucker said. "He's set the standard for recovery from an Achilles rupture."
According to Tucker, it generally takes a recreational athlete nine to 12 months before they feel like they're back. And they're not pushing against 330-pound offensive linemen. He said it's unequivocally the fastest return from that injury he's seen.
But Tucker doesn't have a great answer for those asking how it's done. He doesn't have a new road map for torn Achilles tendon recovery.
"It's not like we have a secret concoction that's beating the system," Tucker said with a chuckle. "It's a testimony to a lot of things. It was sort of the perfect storm in a lot of respects in a lot of ways."
It was simply a combination of hard work, good doctors and rare genetics.
Tucker is constantly amazed by how football players can recover so quickly. "It's off the charts," he says. "Not only do they have super-human physical capabilities. Their ability to recover week-to-week is extraordinary."
But some players are especially fast healers. Suggs, 30, seems to be one of those people.
Ravens defensive tackle Ma'ake Kemoeatu suffered an Achilles tear on the first day of Carolina Panthers training camp in 2009. It knocked him out for the season, and Kemoeatu said it took two years to fully recover.
Suggs suffered a fairly serious knee injury in 2009 in Cleveland. He missed just three games. His healing powers were put to the test again this offseason.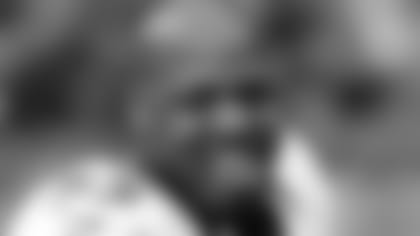 "Everybody's body type is different," Kemoeatu said. "My body wasn't taking the surgery well. In Suggs' situation, his body took it really well. He's got really good genes."
Suggs had successful surgery with Dr. Robert Anderson in North Carolina. He showed patience immediately following the procedure, which is what Kemoeatu stressed to Suggs when the linebacker came to him asking for advice. Suggs followed doctor's orders to stay off his feet for six weeks.
Once the pain of surgery subsides, patients tend to think they can put stress on the tendon. Football players especially can be susceptible to doing that because they're used to pushing through pain and have such a strong desire to return quickly. But doing so can cause harm going forward.
"Terrell did everything right," Tucker said. "He followed the orders of the doctors and the trainers. He worked really hard, but he worked smart. He worked hard when he was supposed to work hard. He didn't push it."
Between six and 12 weeks, the athlete can begin doing static exercises to strengthen the Achilles. That's when the hard work began, and when Ravens Head Certified Athletic Trainer Mark Smith and his staff took over Suggs' care.
Suggs was constantly around the team facility, putting in grueling workouts while his teammates were outside practicing. He would come in for treatment in the morning, work out, then have treatment again.
Meanwhile, his teammates were on the field, preparing for a season full of high expectations. The mental battle while sitting out can take a toll on a player, and was difficult for Suggs.
"It's been miserable," Suggs said after his second practice back. "It's like being the kid that can't go out and play. You get to see all your friends out, and you're stuck in the house."
But Suggs didn't let it deter him. Ravens teammates took notice of the work Suggs was putting in.
"There are only so many guys that love the game as much as he does," fellow linebacker Paul Kruger said. "He's one of those guys that just lives for it – he has a passion for it. I knew that he would do everything he could to get back."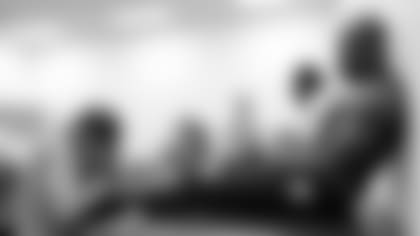 After about 12 weeks, if the Achilles repair is responding well, the athlete can get into more sports-specific activities like jogging and cutting. Tucker remembers checking in on Suggs two weeks ago as he was working out in the Ravens' indoor facility.
"I was thinking, 'Wow, Sizzle is back,'" Tucker said. "I was trying to recalibrate how long it had been because I couldn't believe he was moving so well."
Suggs returned to practice for the first time on Wednesday, Oct. 17. He was limited in what he did, but didn't have any setbacks.
Tucker, the other medical staff members and coaches determined he was ready to go. But none of them thought he would play 44 snaps.
"I'm not sure any of us thought he would impact the game," Tucker said. "When he did, it was like, 'Sizzle really is back. He's not just on the field. He really is back.'"
Tucker, who was on the Ravens sideline in Houston, said it was hard to tell he had an Achilles injury.
"You would think he would be favoring it," he said. "But he still had his push and his explosiveness. It's one thing to just run around on your own and look good. It's another to be pushing on a 330-pound tackle where there's a lot of force concentrated through that repair. Obviously it held up. He feels really good. So all systems are go, which is amazing."
That seems to be the word of choice around Baltimore and even outside it. Amazing.
The Ravens defense has struggled with Suggs out, and still struggled upon his return. But as the players prepared to head into a long weekend of rest during their bye, they at least went in knowing they had Suggs for the stretch run.
"To start off, what Terrell Suggs did is amazing," linebacker Jameel McClain said. "It still baffles me to this day, to this moment. I said to him, 'For you to be out here after going through what you went through, is something that makes you want to fight even more for that respect and for that man.'"