It has been great to have Jonathan Ogden around the building this week. He looks good, and he seems very happy, which was not the case a year ago. Last October, Jonathan was frustrated with his injured toe that was not allowing him to play at "his" level.
I remember Jon telling a TV crew at a production meeting that he believed he could play at a high level, even with the toe. But, that it really bugged him that he couldn't do what will make him a sure Hall of Fame inductee in 5 years. He explained that he didn't expect others to understand that feeling. "If I get beat by a player I know couldn't do that if I was healthy, I couldn't handle that," Ogden said.
To be honest, half of Jonathan or two thirds, or whatever his toe was limiting him to, would still be better than almost every tackle in the league. That's why John Harbaugh and his assistants tried to talk Jon into coming back to play this season – and maybe more years after that. Jon considered the offer, and, obviously, declined.
How about that? (And, think about the millions of dollars Jon gave up in the process.) Talk about pride in what you do. And, that same pride drove Jon to be among the 2 or 3 best left tackles to ever play in the NFL.
There are a number of qualities that made Jon such a great Raven, maybe even the greatest Raven. (Fans will be arguing for years whether Jon or Ray Lewis is the best in team history.) First, Jon is big, made even bigger by his long arms. He dwarfed many of the opponents who lined up across from him. At 6-9 and 350 pounds, Jon could run faster than most running backs. Plus, Jon is highly intelligent and a quick study.
My favorite Jonathan memory came in then-head coach Ted Marchibroda's office. It was 1996, the 1st year of the Ravens and Ogden's rookie season. Ted said I had to come look at the coaching video of a play from the previous Sunday. "Watch this," Ted said.
The play was a screen pass to Earnest Byner on the right side. It went for a gain of about 50 yards. At the end of the play, Marchibroda stopped the tape, and I said something insignificant like, "Let's run that play all the time."
Ted then said: "I'm going to show it again. This time, just watch Ogden."
Ogden lined up at left guard, the position he played as a rookie. On the play, QB Vinny Testaverde pumped to his left before coming back to Byner on the right side. As the play starts, Ogden kicked out left to bump the pass rusher coming from Vinny's backside. Here's the picture: Ogden is now 3 or 4 yards behind the line of scrimmage, maybe 10 yards left of where Vinny was standing. As Vinny tosses to Byner, who is about 2 yards behind the line of scrimmage, you see Ogden's head turn down field to check what was happening.
Ogden was still engaged with the guy he was blocking, and this was about 15 to 18 yards left of where Byner had caught the ball. As Earnest began his sprint up the right side, Ogden took off down field. Now, Earnest was not the NFL's fastest running back, but he could run swiftly. Again, Ogden started behind Byner and 15 to 18 yards to the running back's left.
About 40 yards down field, Byner witnessed Ogden knocking down the cornerback in front of Earnest. Holy cow, I was amazed. How could a man that big run that fast? How could Jonathan be that much faster than our running back? Marchibroda stopped the video and said: "There's not a lineman in the league – not a fullback in the league for that matter – who could make that play."
SURPRISED WE DRAFTED JONATHAN
The day before we drafted Jonathan Ogden on April 20, 1996, Ozzie Newsome, conducting his 1st-ever draft, told Art Modell in a meeting: "We're happy. We're in love with 4 players, and that means we'll get someone we love." We had the 4th pick in that 1st round.
Ozzie then went into detail on 5 players: Keyshawn Johnson, the wide receiver from Southern Cal, Kevin Hardy and Simeon Rice, the outstanding pair of linebackers from Illinois, Lawrence Phillips, the running back from Nebraska, and Ogden, the giant tackle from UCLA. Newsome explained that he would sleep well that night because he knew one of those players would be there with our 4th pick.
But, while I was in the meeting, Ozzie never stated his preference. Not that it matters, but I sure had a preference for someone we shouldn't take. That was Phillips, who had had his share of troubles at Nebraska – and proved to be a bad guy when he did come to the NFL and has had troubles with the law since. I didn't want the public relations headache of explaining Phillips. Most draft previews had us taking Phillips, who not only had visited Baltimore, but he had dinner with Ozzie and Art.
I wanted the 1st pick in team history to be a great player, very smart and squeaky clean. After Keyshawn, Hardy and Rice were taken with the next 2 picks. Newsome then turned to Mr. Modell and said: "Like I told you last night, I thought it could fall this way. We can get the player we love, and we can live happily."
Art replied: "Are you sure this is the guy you want?"
The way Modell said that could only mean one thing: we were taking Phillips, just as predicted by many in the media. I moaned internally – if you can do that.
"Art, it may not be a glamorous pick, but he's the right guy. He'll start 10 years for us," Newsome said. With that said, Oz told his personnel team: "We're taking Jonathan Ogden. Turn that in right now."
I wanted to go across the room and give Oz a hug for not taking Phillips.
No doubt that Ogden sure was a good pick. A few hours later, still in the 1st round, Newsome said to me: "You'll like this next guy we pick. Tough, passionate, a little under-sized, and plays with a chip on his shoulder." That, of course, was Ray Lewis, who we took with the 26th spot in that draft.
Two Hall of Famers, the 1st 2 draft picks in our history, both taken within hours of each other. Don't think any team, or any draft guru, has ever done that.
THE RYANS
We'll have the famed family trio of NFL defensive whizzes at Sunday's game against the Raiders. We have Rex Ryan, our great defensive coordinator. The Raiders bring Rob Ryan, Oakland's highly-respected D-coordinator and Rex's twin brother. And Dad, Buddy, the former head coach of the Eagles and Cardinals and the architect of the Chicago Bears' dominating 1985 defensive unit, will be here, too.
Ryan joined the Ravens' franchise in 1999 as the team's defensive line coach. He served 6 seasons in that position and then was named Baltimore's defensive coordinator in 2005. Dating back to 1999, Ryan has helped the Ravens' "D" rank 1st in nearly every single NFL defensive category. Below is where Baltimore stands with the help of Ryan's guidance:
THE REX EFFECT

TOTAL DEFENSE(Yards Allowed Since 1999)

1. Baltimore
281.3
2. Pittsburgh
283.1
3. Tampa Bay
284.8
4. Miami
301.1
5. Jacksonville
304.2

POINTS PER GAME(Fewest Allowed Since 1999)

1. Tampa Bay
16.9
2. Baltimore
17.3
3. Pittsburgh
17.6
4. New England
18.0
5. Jax./Phi.
18.2

TAKE-AWAYS(Most Since 1999)

1. Baltimore
312
2. Tampa Bay
309
3. Carolina
303
4. Green Bay
296
5. Chicago
294

RUSHING YARDS PER GAME(Fewest Allowed Since 1999)

1. Baltimore
87.1
2. Pittsburgh
92.7
3. San Diego
99.1
4. Tennessee
101.5
5. Jacksonville
102.9

3RD-DOWN CONVERSIONS(Pct. Since 1999)

1. Baltimore
33.9
2. Philadelphia
34.6
3. Chicago
34.8
4. Tampa Bay
35.0
5. Tennessee
35.4

SACKS(Most Since 1999)

1. Pittsburgh
406
2. Philadelphia
400
3. Baltimore
394
4. Miami
393
5. NY Giants
391

INTERCEPTIONS(Most Since 1999)

1. Tampa Bay
197
2. Baltimore
194
3. Green Bay
185
4. New England
173
5. Carolina
170

INTERCEPTION TDs(Most Since 1999)

1. Baltimore
26
2. Green Bay
24
3. Tampa Bay
22
4. Chicago
21
   New England
21
That's an amazing set of numbers Rex and the Ravens' defense have produced.
CAMERON DOUSED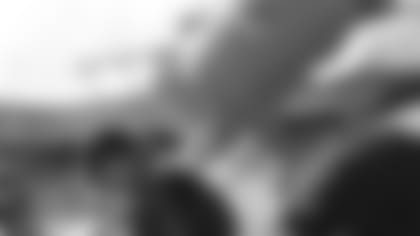 Can't say I had ever seen coaches dousing another coach with Gatorade like Coach Harbaugh and Coach Ryan did to Cam Cameron at the end of last Sunday's victory at Miami. It was quite a tribute to our offensive coordinator.
Leading up to the game, Cameron was the focus of much media attention in both Miami and Baltimore. Cam was the head coach of the Dolphins in 2007 when they produced a 1-15 record. Cam stayed above the fray last week. All he said to reporters was, "I take complete responsibility for what happened with the Dolphins last year." He could have said that he was one of 4 head coaches – Cameron, Nick Saban, Jim Bates and Dave Wannstedt – the Dolphins had in the last 4 years. He could have pointed to all the injuries, including 2 starting quarterbacks, and the Ricky Williams situation. He could have said: "We had some bad luck. We tried to fix a situation that hadn't been working." He could have defended himself a little.
Cam didn't. He said "my fault – end of story."
But, Cameron is a competitive man, proud of his football coaching abilities. He could have pointed to all the accomplishments that got him the Dolphins' job in the 1st place. How, as offensive coordinator for the Chargers in 2006, San Diego led the NFL in points per game (30.8) and was 4th in yards (365 per game.)
Cam wanted more time at Miami to prove himself as a NFL head coach. The new general manager – Bill Parcells, who was hired last December by Miami – decided to let Cameron go to hire someone (Tony Sparano) he knew better. Cam doesn't blame Parcells for doing that, but you know that Cam would have loved the chance to continue.
So, when Harbs and Rex bathed him with Gatorade last Sunday, the message was clear: "Cam, you're a good coach. You made your statement with the way the offense played today. And, we sure are glad you're with us."
ONE MORE OGDEN
Players are paid 1/17th of their salaries each week of the regular season. Early in Jon's career, when he was making very good money as a No. 1 draft choice, he mistakenly received then-rookie free agent Mike Flynn's weekly check.
The players were handed the checks as they entered their offensive linemen meeting room one morning. Somehow Mike grabbed Jon's and Jon got Flynn's, who subsequently became a 10-year starter for us and is one of Ogden's closest friends.
According to Flynn, when Jon opened what he thought was his check, he grumbled, "They messed up my check. This is ridiculous." Soon realizing he had Flynn's check, he turned to Mike and chuckled: "You're getting screwed." The 2 of them still laugh about the incident.
Let's enjoy this one home game we have in a 6-week period. Let's beat the Raiders.
Kevin Byrne is the Ravens' Senior Vice President – Public and Community Relations. He has worked in the NFL since 1977, when he was the then-youngest public relations director in the league (for the then-St. Louis Cardinals), except for the two years he was the Director of Public Affairs for TWA (Trans World Airlines). He has been with the Ravens since they began, and before that was a vice president with the Cleveland Browns. He has won a Super Bowl ring with the 2000 Ravens and an NCAA basketball championship with Al McGuire's Marquette team in '77. He was on the losing end of historic games known for the "Drive" and the "Fumble." He has worked closely and is friends with some of the best in the game: Ozzie Newsome, Brian Billick, Ray Lewis, Bill Cowher, Marvin Lewis, Mike Nolan, Marty Schottenheimer and Shannon Sharpe to name a few.