When you become real good, I guess you get a "face."
The Manning brothers have faces. They even have a website and tumblr specifically dedicated to the Manning Face, a term coined by ESPN columnist Bill Simmons.
So today I'm debuting the "Joe Face."
Wide receiver Torrey Smith actually created the term after Saturday's thrilling double-overtime win, in which Flacco played lights out with 331 passing yards and three touchdowns in the Ravens' comeback.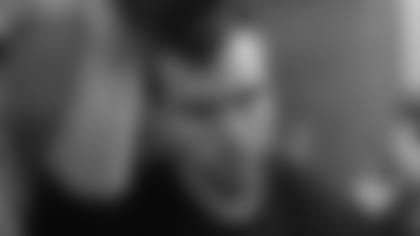 "He stayed level headed, kept the Joe Face on," Smith said after the game.
"Everyone knows the Joe Face, man," Smith said. "It's just blank."
Ahhhhhh. So when does he show it?
"He's like that whether he's doing good or doing bad," Smith said.
Ray Lewis said he saw a new kind of Flacco.
"To look in his eyes, he had something different about him today, and I just wanted to encourage him," the linebacker said Saturday.
But maybe Lewis was too caught up in Flacco's eyes to notice his cheeks, or his eyebrows (am I looking too much into this?). Tight end Dennis Pitta (Flacco's BFF) said it was just the same old Joe.
"Joe is always kind of the same to me, and that's what we love about him," Pitta said.
"He's even-keeled, he's always poised, he stays confident, and we have 100-percent trust in him – especially in the critical moments. In these critical games in the playoffs, we know he's going to come up huge for us."
On a more serious note, Flacco constantly has been critiqued for his laid back personality. People want to see fire, they want to see emotion.
But when you're down a touchdown with 41 seconds left at your own 30-yard line and with no timeouts, isn't it nice to have a quarterback with a Joe Face?