Some players have pictures of their family taped to their lockers. Others, such as linebacker C.J. Mosley, have their goals for the season.
Michael Crabtree has a huge chain.
No, he didn't put it there. It was done by none other than team jokester Justin Tucker.
The chain went up when the Ravens and Los Angeles Rams had joint training camp practices this summer, which reunited Crabtree, cornerback Aqib Talib and their feisty history.
For those that remember, Crabtree and Talib got into fights each of the past two years with Talib snatching Crabtree's chain both times. Showing no topic is too touchy in the Ravens locker room, Tucker brought in a chain as a reminder.
"I don't want to necessarily point out one person that would be the reason for the chain on Crab's locker … but, yeah, it's Aqib Talib," Tucker joked.
While Crabtree and Talib played nice during those hot August practices, Tucker said Crabtree arrived in Baltimore with a reputation of a guy who could "flip a switch," and it's something his teammates like having on their side.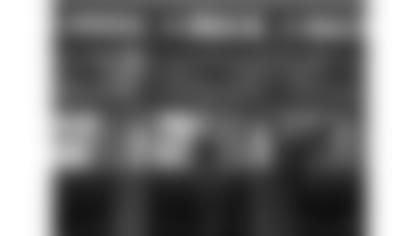 Tucker saw it firsthand in college when Crabtree and the No. 6-ranked Texas Tech Red Raiders beat his No. 1-ranked Texas Longhorns in 2008. Crabtree scored the game-winning 28-yard touchdown with one second left.
"He stuck a dagger in that game. I know the type of player he is and can be," Tucker said. "As any good teammate in here would, I thought I'd remind him of how much of a badass he is. He sees that chain – we all see that chain – we know to flip a switch and it's on."
Crabtree plans to leave the chain up all year.
"I just kept it there," he said. "Tucker got a million jokes. He belongs on somebody's TV or in Hollywood or something. Right now, he's in the football locker room, so I'm just laughing at him. He's a good dude."
Does Crabtree think Tucker's jokes are funny?
"Majority of them," Crabtree said with a chuckle.