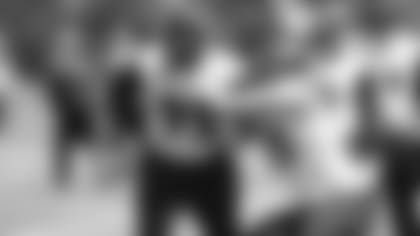 "The Competition" is a series that breaks down every position battle leading up to training camp.
DE Lawrence Guy (6-foot-4, 305 pounds, sixth season)
DE Kapron Lewis-Moore (6-4, 315, fourth season)
DE Brent Urban (6-7, 295, third season)
DT Carl Davis (6-5, 320, second season)
DT Timmy Jernigan (6-2, 302, third season)
DT Brandon Williams (6-1, 335, fourth season)
DE Bronson Kaufusi (6-6, 285)
DT Trevon Coley (6-1, 304)
DT Willie Henry (6-3, 305)
DT Michael Pierce (6-0, 329)
Williams and Jernigan are the two clear-cut starters at defensive tackle, and they have big goals going into this season. Williams has already established himself as one of the league's top interior defensive linemen, but he has yet to make a Pro Bowl and has a lot at stake in a contract year. Jernigan has shown flashes of being a disruptive player during his first two years, but the next step is "to become that force that I was drafted here to be." The starting defensive end is more up in the air, as Urban will try to beat out the veteran Guys and rookie third-round pick Kaufusi.
The Ravens typically use a heavy rotation up front to keep players fresh, so they need about five or six players who they can count on to get reps. Davis struggled down the stretch his rookie year, but the former third-round pick has plenty of potential and will get snaps to spell Jernigan and Williams. Henry, a fourth-round pick, will likely play a similar role. The Ravens have a young overall group of defensive linemen – Guy is the elder statesman at 26 years old – and training camp will be a critical time to find out the pecking order.
Most Anticipated Position Battle
The competition for the starting defensive end job between Urban, Guy and Kaufusi will be fierce. Guy has the most experience, but the Ravens have high expectations for Urban and Kaufusi. Beyond that, several players will be vying for the last few defensive line spots on the roster.  Lewis-Moore enters camp on the bubble, and he likely needs a strong preseason to earn a job on the 53-man squad.