It didn't take long for the trauma – both physical and mental – of Tony Jefferson's knee injury three years ago to set in.
On Oct. 6, 2019, Jefferson crumpled to the turf in Pittsburgh. His leg immediately went numb. His brain flipped from player to general manager. It was essentially a contract year, and a major injury meant his Ravens tenure was most likely over.
"I felt in my heart that something drastic was going to happen, football wise, for me," Jefferson said.
But even at that point, Jefferson didn't envision the resilience it would take to try to get back.
Jefferson underwent the first of four knee surgeries soon after his injury. At one point, his knee was totally stuck – couldn't move. He sat out the entire 2020 season. Last year, he finally landed in San Francisco but was relegated to their practice squad.
That is until he came back home to Baltimore. After a late-season surge, Jefferson re-signed with the Ravens in February. Now he's in training camp, competing in a loaded safety group and hoping to launch the second round of his career.
Jefferson was undrafted out of Oklahoma in 2013. He ascended and was a prized Ravens free agent signing in 2017, inking a four-year, $34 million contract with $19 million guaranteed. Now 30 years old, Jefferson feels like he's basically back at the beginning.
"I honestly felt like I was back in my undrafted stage again. Rookie camp all over again," Jefferson said. "I have a lot to prove."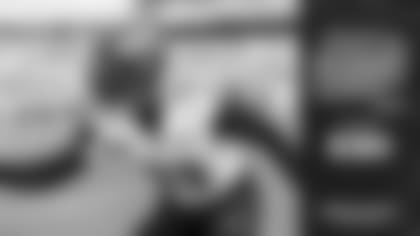 384: Tony Jefferson Joins The Lounge
Veteran safety Tony Jefferson shares details of his journey back to the field after a major knee injury in 2019, the role he envisions for himself in 2022, his thoughts on new safeties Kyle Hamilton and Marcus Williams, and more.
Jefferson's career changed that night in Pittsburgh. He had never suffered a major injury before. Jefferson went down while grabbing a tight end that had gotten past him. He immediately knew his season was over. All of Jefferson's guaranteed money had been paid, so he also knew he was going to be released with one year left on his contract.
Jefferson hung around the team for the remainder of the season, which helped and hurt. The Ravens went on a 12-game winning streak after Jefferson was out of the lineup. Chuck Clark stepped into Jefferson's spot, Eric DeCosta traded for Marcus Peters and added other pieces, and the Ravens went on a historic run.
"It was kind of rough. I'm hurt and I'm like, 'So the team is actually doing a lot better without me,'" Jefferson said.
"I think the best thing for me at that time was just to be around the guys, because that's where my heart was. That kind of helped me through the process. But once it was over, that's when it really sunk in. You're about to be jobless and you're going to have to recover from this tough injury."
Jefferson hadn't just suffered an ACL tear. There was damage to other ligaments in his knee as well, making the initial surgery more extensive and the recovery more arduous. On top of that, doctors also found that Jefferson's body produced more scar tissue than most. His knee was becoming encased in it.
"My knee at one point was just stuck. It wouldn't move," Jefferson said. "I really couldn't get any range of motion in my knee."
Jefferson had a second surgery in February to clean out the scar tissue. It wasn't enough. He went under the knife again in June of 2020. That provided enough relief for Jefferson to get midseason interest from the Indianapolis Colts, who brought him in for a visit. After the workout, Jefferson spoke with Colts General Manager Chris Ballard. Both knew he wasn't ready.
"I knew it, but I was going to try to force it. I wanted to get back," Jefferson said. "I was moving, but I wasn't going to be myself."
Jefferson sat out the entire 2020 COVID season and went under the knife for a fourth time in February of 2021, this time with Dr. Neal ElAttrache, the Head Team Physician for the Los Angeles Rams. That did the trick, but Jefferson still wasn't sure what his future held.
Even with three young kids, including infant twins, Jefferson continued to train every day in the offseason, hoping to get a call.
"Waking up every day and going to workouts it was like, 'Sheesh, am I going to continue to do this?'" Jefferson said. "Nobody was calling me. It was like, 'Am I really doing this for a reason or am I wasting my time?' I was just relying on faith."
In early June, Jefferson signed a one-year, reported $1 million contract with the San Francisco 49ers. He was finally back in the league – kinda.
He was placed on injured reserve in the middle of training camp, then released two weeks later after an injury settlement. The 49ers brought him back in late October, but to their practice squad. He was 29 years old but felt like a rookie again.
"You're a vet and you've made a mark in the league. Then you go back into a situation where everyone is like, 'Yeah, you're Tony Jefferson, but who are you actually now as a football player?'" Jefferson said.
"You're walking around the facility and you're not getting that same respect. I'm out there on scout team running routes. I'm not really the guy. I'm really trying to figure out where I am as a football player. I had to bare through these mental blocks in my mind."
The 49ers called Jefferson up to the active roster for two games. He played just two defensive snaps. Then he went back on the practice squad for three more weeks.
For Jefferson, it tasted less like a humble pie and more like an insulting sandwich, with a side of embarrassment. The 49ers didn't think he could play anymore. He thought he could, but was he wrong?
"It got to the point where I was about to retire, just because that's where I was mentally. That's what they had made me feel like, like I wasn't that type of football player I was before." Tony Jefferson
Jefferson called his agent, Joel Segel, and told him he was ready to retire. In his mind, Jefferson had already started penning the Instagram announcement. Segel told him he didn't think he was done. Jefferson's wife, Jennel, also said he should take some more time to think it over.
On Dec. 8, the 49ers released Jefferson in a mutual move. Two days later, the Ravens called. They were swamped with injuries and needed immediate relief. Jefferson was so amped up for his workout that he nearly fell over running so hard. Ravens Secondary Coach Chris Hewitt had to tell him to chill out.
The following Sunday, Clark went on the COVID-19 list and Jefferson was thrust into action. He played nine snaps against the Packers, then 47 snaps the following week against the Bengals. The Ravens were blown out, but Jefferson was the team's best defender on the day, making 10 tackles and one sack.
"When I came into the Bengals game and I got a sack on [Joe] Burrow, I was turnt up. I couldn't help it," Jefferson said. "I was saying all types of stuff. I know Burrow probably hates me; I was calling him all sorts of names."
Jefferson re-signed with the Ravens on Feb. 25. He was one of the first players the team brought back, and he reclaimed his old jersey No. 23. The Ravens knew what he would bring as a veteran leader who had proven he could still play.
Then Baltimore inked big-time free agent Marcus Williams. Then drafted Kyle Hamilton in the first round. It's a crowded safety room and Jefferson knows a 53-man roster spot is not a lock. He's competing with Geno Stone and Ar'Darius Washington (currently on PUP) for the fourth safety spot, though Baltimore could also keep five. It's going to be tough to see much defensive action, but the Ravens could use a special teams leader with Anthony Levine Sr. now in the front office.
Regardless, after what he's been through, Jefferson's not sweating, and his play reflects it. No Raven has gotten more interceptions in practice this summer than Jefferson, who attacked his offseason training unlike ever before. That included catching 100 balls a day. He made a spectacular interception Tuesday in which he ranged to tip a deep Lamar Jackson pass, then dove to intercept it.
"It was a great play," Head Coach John Harbaugh said. "I don't know how he got his hand on that ball; that was great in and of itself. Then he finds a way to tip it to himself and catch it and make a diving catch, and then he got up and ran."
Beyond what he brings to the field, Jefferson also brings an undeniable energy to Baltimore's secondary. He's often holding court, often laughing with his teammates. In a secondary loaded with talent, Jefferson is kind of the glue that brings everyone together.
"The guy just loves to play football. When you have that kind of mentality, everything else really doesn't matter," Hewitt said. "That's the attitude he takes every day."
"He's trying to go out there and prove to everybody that he can still play football and, [crap], I think he still can. I think he's still got a lot of football left in his body and we'll see where he ends up. I'm biased, but I love Tony." Chris Hewitt, Pass Game Coordinator/Secondary
Jefferson wants to be an NFL general manager someday. When he was debating retiring, his plan was to spend more time with his kids and maybe coach high school football like his good buddy in Los Angeles, Eric Weddle. The two are still close and spend time with each other's families.
Jefferson also saw Weddle unretire to win a Super Bowl ring last year with the Rams, and Jefferson would like a taste of that too. The way Jefferson is looking at it, this is career 2.0, now at 30 years old.
"It's a good time to be a Raven," Jefferson said. "I'm just feeling way fresher and way more relaxed when I'm out there. I guess I'm just more appreciative that I'm able to be out here and play football. I'm not going to let any negative thoughts affect the way I play the game. I know where I could have been and I know where I came from. I'm just enjoying it."