Trent Richardson called his old high school coach Derrick Boyd last week,just like he's done so many times over the last 10 years.
He asked about Boyd's kids. They talked about Baltimore crabcakes. They laughed. Boyd, who has known Richardson since he was 14, could tell something was different.
"I could hear it in his voice," Boyd said.
Laughing hasn't come easy to Richardson over the last year. He was out of football last season after getting cut by the Oakland Raiders in training camp. In the span of four years, he had gone from the NFL's No. 3 overall draft pick to a player nobody wanted. Richardson was suddenly out of work and stripped away from the game he loved.
"I found myself being mad," Richardson said. "Mad at everyone. Mad at the world. But people don't realize I was madder at myself because I let myself get in this situation. It was more that I had to dig out of this hole."
After spending several months as a stay-at-home dad, Richardson realized with absolute clarity he needed to make sweeping changes to get his career – and life – in order. He got back in the gym and started to cut significant weight. He returned to his college town in Tuscaloosa, Ala., and surrounded himself around positive influences.
And perhaps most importantly, he cut ties with many of the people he thought were dragging him down. He stopped giving friends and family handouts. He turned off his phone, blocked out just about everyone and focused his energy into finding his way back into the NFL. 
"Trent has prioritized Trent for the first time in his life," Boyd said.
Family has always been important to Richardson. He grew up in Pensacola, Fla. in a low-income household. His father was not in his life and Richardson was raised by his mother and grandmother.
He lived with 11 people in a two-bedroom home. Richardson's mother, Katrina, always had an open door for family members who needed to come live under her roof. Richardson had two older brothers and they often had other relatives come and stay with them for extended periods.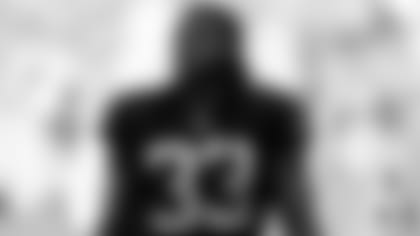 From the time he was born, Richardson had it engrained in him to never refuse family in need.
"My mom never turned anybody down," Richardson said. "My grandma never has. I've always been a man believing that family comes first."
Richardson took that mantra to heart in perhaps too many ways.
When the Cleveland Browns drafted him with the No. 3 overall pick in 2012, he signed a four-year contract with $20.5 million in guaranteed money, including a $13.3 million signing bonus. The requests started pouring in. Everyone wanted a piece. He paid for dinners and trips, and had family asking to come live with him.
For the most part, Richardson said yes to all of it.
"I always felt like if I had it, you had it," Richardson said. "It's just so hard to say 'no' to people. It's hard to say no to people that you really love.
"Do I blame them? Nah. I could say that, but I don't blame them because when you come from where I come from, out the 'hood, you have nothing. People grew up with you, and you think everybody is for you. Everybody wants you to do good – at least that's what you think."
The requests weighed on Richardson. He wanted to help, but knew he couldn't save everyone. It pained him to say no. It also pained him to give people money, only to have them come back later asking for more.
As Richardson tried to transition to life in the NFL, he had a collection of people banging on his door or blowing up his phone every time he stepped off the field. He felt like he couldn't escape it.
"Me carrying a lot of people with me, it gets heavy," Richardson said. "Taking care of everybody else and doing a lot for everybody else was slowing me down. It wasn't me being me."
"Trent's heart is something that's very special," Boyd said. "He really cares and loves people. And I think sometimes you have to love you before you can love other people."
The stress of life away from football impacted the way Richardson performed on the field. He showed great promise as a rookie, rushing for 950 yards despite playing nearly the entire season with broken ribs and a bad knee. He still looked like the bruising ball carrier from his Alabama days.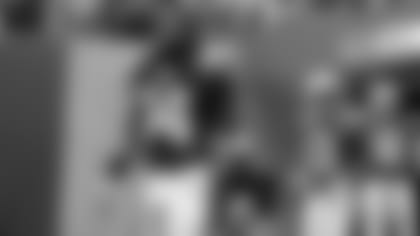 But Richardson took a step back in his second season and the Browns traded him to the Colts after two games. It was the first time in his life that a team didn't want him anymore. The Colts expected Richardson to be their franchise running back, but that hope never materialized and he rushed for just 977 yards over the course of two seasons. The Colts cut him in 2015.
He had another shot with the Raiders last year, but got pneumonia before training camp and then disappointed in the preseason. Oakland released him in its first round of cuts.
"That was the first time I really thought I wasn't going to be playing in the NFL," Richardson said. "I had to tell my kids that Daddy doesn't have a job. That was my third team, so I'm thinking in my head that I don't think I'll get picked up again. It was just like, 'How did I let this happen? How did I let it come down to this?' It just hit me right there."
Giving Football Everything
Football always came easy to Richardson.
He was a local legend since middle school and had people catering to him before he could drive. Coaches for his little league football teams used to put the games on hold until Richardson arrived. If he ran late, so did kickoff.
"When he got to high school, I could tell Trent was used to people waiting on him," Boyd said. "Whatever he wanted done, they were doing."
The tales of Richardson's success only grew once he got to high school. He had games where he rushed for 400 yards. By the time he was a senior, he became the most recruited running back in the country and chose Alabama over offers from just about every major college program. He shined at Alabama, won two national championships and was the nation's top running back by his junior season.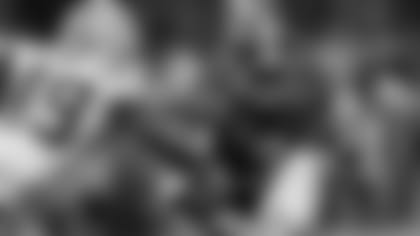 "Football has never been a problem," Richardson said. "Even my trainer said, 'You never had to really put that much into it when you were at Alabama, you were just better than everybody as a freshman.'"
When Richardson got to the NFL, he learned that talent alone could no longer carry him. Disappointments in Cleveland, Indianapolis and Oakland drove home that message.
As he spent a year on the sidelines, watching other NFL running backs he was convinced he was better than, Richardson knew he needed to make major changes to get himself back in the league. He started by getting in shape.
Ravens General Manager Ozzie Newsome called in February, about a week into Richardson's training. The Ravens were interested, but they wanted him to slim down before making it official. Over the next two months, Richardson shed more than 20 pounds.
The Ravens wanted him to report to the offseason program weighing no more than 225 pounds, Richardson said, and he arrived at about 215.
"I'd have to say this is the first time I had to put everything into it," he said. "I put in all this work and I can't let it go to waste. I've done that too many years."
Off the field, Richardson has distanced himself from people who he thought were only after his money. He has learned to say no, even to people he considers family. 
The result is that Richardson enjoys football again. He loves the locker room and being part of a team. He says this is the most fun he's had since college.
"It's been a long time since I had fun with football," Richardson said. "Being back here, being able to get back on the field, and trying to show people what's real about me – it's fun right now. It's a lot of fun."
Those close to Richardson have noticed a difference in his approach and work ethic since joining the Ravens. He has seen the delicacy of his football mortality, and understands the difficulty of getting opportunities. 
"I think this is very fresh in Trent's mind that this is probably going to be his last shot," Boyd said. "He's definitely going to put forth the best effort."
More Work To Do The start to Richardson's tenure in Baltimore has by no means been perfect. He tweaked his hamstring in practice and missed the first week of Organized Team Activities. His absence brought up all the old storylines again about his conditioning and commitment.
Head Coach John Harbaugh told reporters at OTAs, "I think the workload and the amount of work it takes to be a world class conditioned athlete is something that he's working on right now. That's what he needs to understand and that's where he needs to get himself."
But Harbaugh also said he's "very certain [Richardson will] get there," and a conversation between the two of them gave Richardson optimism. Harbaugh told Richardson to be cautious in rushing back to the field because they had a "long way to go" together.
"Hearing that we have a long way to go, that's something to smile about. For him to say that, that's big," Richardson said.
The hamstring issue only cost Richardson the first week of OTAs and he was back on the practice field Monday.
Richardson knows that if he's going to prove himself over the long run in Baltimore, he still has plenty of work ahead of him. The Ravens signed him to a one-year, non-guaranteed contract, so they lose nothing if they cut him over the summer. He's also in the thick of perhaps the tightest competition on the roster.
The Ravens have six running backs, and all of them but rookie Kenneth Dixon have significant experience. Justin Forsett, Buck Allen and Dixon seem like locks to make the roster, which puts Richardson in competition with Terrance West and Lorenzo Taliaferro for the final spot. And the Ravens may not even keep four running backs on the 53-man squad.
"I've never been scared of competition," Richardson said. "There's always been competition everywhere I went. Competition has never been a problem. If you're scared of competition, you shouldn't be in any sport, especially football."
Richardson has to shine over the next few months if he is going to carve out a spot in Baltimore. The Ravens are excited about Richardson's potential and the steps he has made over the last several months, but the talented running back ultimately has to show the organization – and himself – that he's ready to last at the NFL level.
"I'm doing everything I can, and putting in all the work I can to be great. And I'm going to be great," Richardson said. "Next year, I don't even expect anyone to say anything about Cleveland, Oakland or the Colts. I figure we'll be saying, 'How did you prove everybody wrong?'"