*Each week leading up to a Ravens home game, a different Baltimore Football Alumni member checks-in with BaltimoreRavens.com. Be sure to continue to check back throughout the 2010 season to see what your favorite BFA members have been up to. *View Past "Where Are They Now?" Features »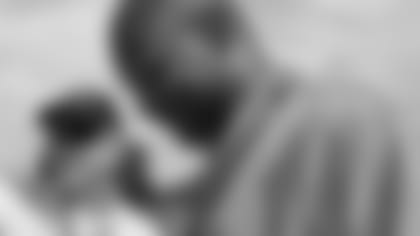 Name: Roy Hilton **
Team: Baltimore Colts
Position: Defensive End
Years Played in Baltimore: 1965 – 1973
After your playing career in Baltimore was complete, what did you do?
I worked as a life insurance salesman at Metropolitan Life and also Prudential, and taught school for a little while.  I taught middle school, was junior high at the time, at a school called Rock Glen and the other school I taught at was Pimlico Junior High – it no longer exists though.  I was a health and physical education teacher – that was my major anyway coming out of Jackson State [University].   
As you are originally from Mississippi, why did you decide to continue living in Baltimore after you finished playing football?
Towards the end of my career I wanted to go back, but by that time I had three daughters and a wife and this was their home.  My kids knew nothing about Mississippi, and it was really a time of turmoil and racial tension and it wasn't a time to unnecessarily put your kids through that kind of a strain. 
Now that you are retired, what have you been doing?
I spend as much time as I can with the grandkids and attending their games.  I have one grandson at Gilman playing football and basketball.  I have another grandson at Penn who is a sophomore, and he came out of Gilman also.  And my oldest grandson just came out of Loyola College, and he played basketball there.
Do you offer advice to your grandkids playing football?
As a matter of fact, I work with my grandsons a little bit.  I can see it materializing now too, especially with the one who is at Penn. 
What was your fondest memory playing football in Baltimore?
Playing with the legends was great, but the biggest thing I suppose was being a part of Super Bowl V.  I was fortunate to be a part of two teams that went to Super Bowls – we lost to the Jets in Super Bowl III, and even today I cannot believe that the game is over!  Winning Super Bowl V was quite a highlight though.
Who was the best player you played with while in Baltimore?
I was very fortunate to play with several of the Hall of Famers – Johnny Unitas [Baltimore Colts: 1956 – 1972], Lenny Moore [Baltimore Colts: 1956 – 1967], Raymond Berry [Baltimore Colts: 1955 – 1967], to name a few.  I was here at a good time because the Colts were one of the top two franchises in the league.  Even Gino Marchetti [Baltimore Colts: 1953 – 1964, 1966] came out of retirement my rookie year.  Marchetti was the defensive end that every kid who played defensive lineman wanted to be.
Who was your favorite quarterback to sack?
They all looked alike to me!  I guess the toughest quarterback to sack was Joe Namath [New York Jets: 1965 – 1976; Los Angeles Rams: 1977] – he had such a quick release.  I recall hitting him several times and thinking I was sacking him, but he was just unloading the ball and throwing it 65, 70 yards.  He was a tremendous passer.  He was tough to get to.
The referees did not protect the quarterbacks like they do now, did they?
No, quarterbacks had to run for their lives!  It's a different game now.  The game has changed tremendously.  You can't breathe on the quarterbacks today!
Who is your favorite Baltimore Raven player today?
My favorite Raven player, just like everyone else, is Ray Lewis.  Another guy who is also a tremendous football player is Terrell Suggs.  I think he is really a great football player, a great linebacker.