Rookie wide receiver Zay Flowers feels very good about his role in the Ravens' new offense under Todd Monken.
In an interview on "The Lounge" podcast, Flowers said he's been playing all three receiving positions – X, Z and F – during practices this offseason.
"That's what I want. That's exactly what I want," Flowers said. "As long as I'm touching the ball, I feel like I can make a play from anywhere, no matter where it is."
With Odell Beckham Jr., Rashod Bateman, Nelson Agholor and others at wide receiver, not to mention top target Mark Andrews at tight end, there's a lot of mouths to feed in the Ravens offense. Flowers, doesn't care how he chips in, but just wants to make an impact.
"[Monken's] offense allows everyone to be able to get the ball. Just spread everybody out, move pieces around, and get everybody open," Flowers said.
"I just want to touch the ball. I don't care how – screens, deeps balls, intermediate routes, shallow crosses – it doesn't matter. As long as I'm touching the ball, I feel confident that I can help the team."
Flowers had a monster senior season at Boston College, catching 78 passes for 1,077 yards and 12 touchdowns. He said Monken's offense will allow him to do even more, particularly pointing out that there's more freedom for him to make moves at the top of his routes. With his lightningquick feet, that's going to be tough for defensive backs to match.
Flowers got together with quarterback Lamar Jackson and Beckham for offseason workouts during the break between minicamp and training camp, and said he gleaned more knowledge from the vets.
"It was good learning from the vets, trying to get a connection with Lamar, learning stuff from Odell like what to and not to do, learning defenses from him and how to run routes and how to be patient on certain routes," Flowers said. "Working out with them added a little bit to my game, I'd say, during this break."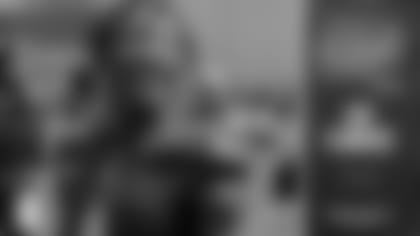 487: Zay Flowers Joins The Lounge
Rookie wide receiver Zay Flowers joins Mink and Garrett to talk about his workouts with Lamar Jackson and Odell Beckham Jr., his goals for training camp, how he expects to be used in Todd Monken's offense, and the childhood game that gave him fast feet.
Flowers used a whiteboard to write down his goals and said he will have specific objectives for training camp before crafting his 2023 rookie-season goals. There's plenty of buzz around him right now, but Flowers isn't buying into the hype.
"Honestly, it really doesn't mean nothing," he said. "You've got to put in the work and go show it. Anybody can say anything before the season. It's just opinion. You've got to put the work in to show it and then it matters."