Ravens Scouts | Baltimore Ravens – baltimoreravens.com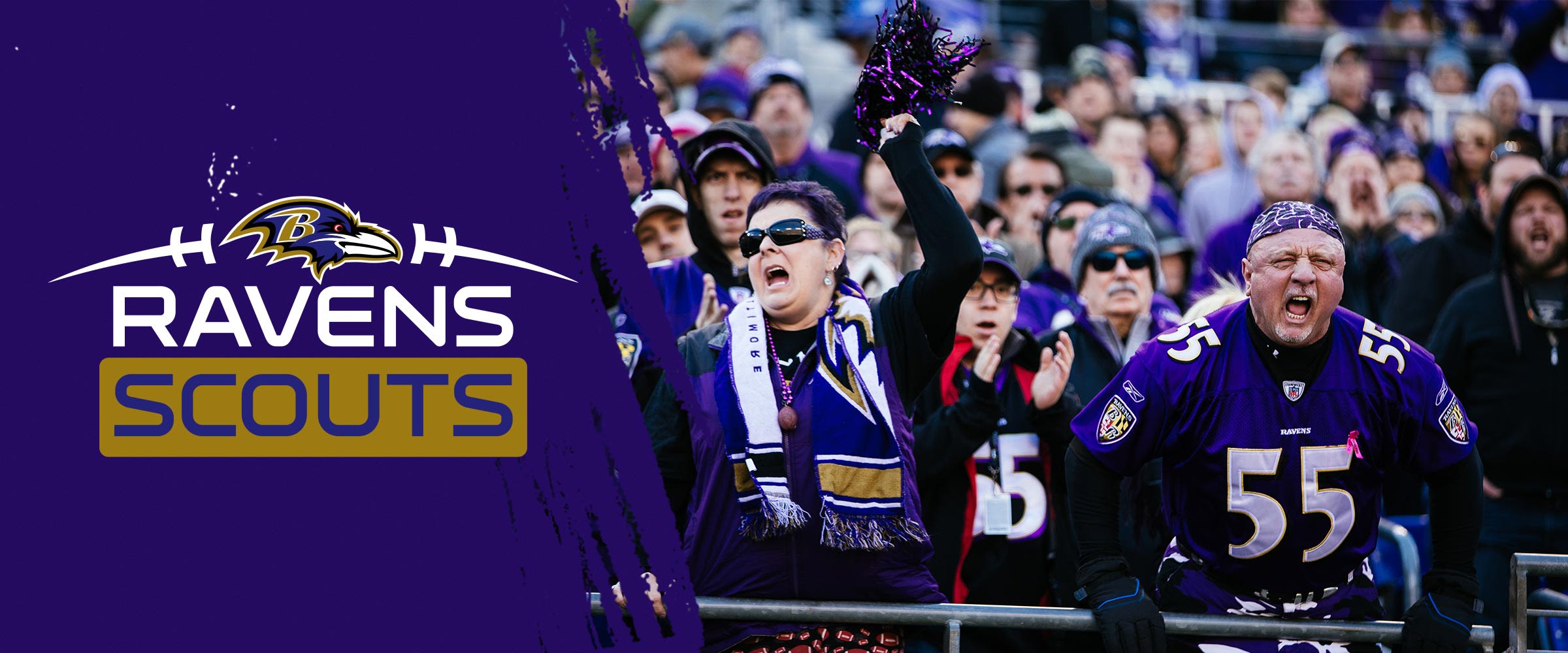 What is a Ravens Scout?
The Ravens Scouts are a ticket sales force of ambassadors with the goal of bolstering the team's current ticket sales efforts. Ravens Scouts are comprised of passionate Ravens supporters from throughout the region, including current PSL Owners, local business executives and civic-minded leaders. The program's focus is to expand the reach and depth of the Ravens' ticket sales outreach by having Ravens Scouts identify opportunities that may have been previously overlooked.
Goals & Expectations
Help build the ticket base through season ticket sale or other ticket sales opportunities.
Promote the program to build awareness and legitimacy
Focus efforts on season ticket sales, premium seating, hospitality tents and group sales opportunities
Ways you can participate:
Assist in identifying season ticket & other ticket-related buyers
Identify qualified leads who will actively engage in ticket purchase discussions
Recruit other potential Ravens Scouts to build the network
Utilize social & digital channels to promote yourself and the program
Host your own fan prospect events with our assistance
Ryan Abey
Law Enforcement
Centreville, MD
Yale Beverly
IT Project Management
Baltimore, MD
Kerrie Brinegar
Pharma Sales
Perry Hall, MD
Bret Foxson
Ravens Scout
Millersville, MD
Andy Funk
Producer
Ellicott City, MD
Billy Gunther
Talent Acquisition Specialist
Bel Air, MD
Chris Helmrath
SC&H Capital
Ellicott City, MD
Jeff Hinton
Farmhouse Greens
Catonsville, MD
David Kincaid
Baltimore City Police Department
Forest Hill, MD
Brian Lee
DPSolutions
Baltimore, MD
Debbie McDonald
Employee Benefits Expert
Marriottsville, MD
Michelle Meekins
Price Modern
White Marsh, MD
Sean Murphy
Navy Veteran
Crownsville, MD
Chris Neall
Law Enforcement
Denton, MD
Brian Strickland
Ravens Scout
Baltimore, MD
David Toth
Payroll Expert
Columbia, MD
Martika Trimble
Cyber Security
Cumberland, MD
Carmen Trimboli
Select Event Group
Laurel, MD
David Tucker
Chesapeake Bay Foundation
Olney, MD
Matthew Wever
Cyber Security Expert
Mechanicsville, MD