Twice a day, once the different positions split up on the field for individual drills, it is difficult to not look in the direction of the offensive line.
That is the general area where one can hear offensive line coach John Matsko's voice getting louder and louder, begging, pleading and most likely demanding his charges to place a foot here or punch a hand there.
And often, that voice is directed at Oniel Cousins.
The rookie out of UTEP is constantly the source of Matsko's hands-on style of coaching, something Cousins appreciates.
"You just have to take it in," Cousins said. "I'm a guy that's hard on myself already, so I take the coaching as much as I can. Coach Matsko stresses technique so much.
"They like to get after it, and they want the best out of everybody. They want everybody to get better."
Cousins admits that he still has a long way to go with his technique, having only played on the offensive line since 2005 after switching from defensive tackle during the spring football season.
But a background in soccer developed Cousins' sound footwork, something that obviously translates well to the field. In addition to his athleticism - having played both left and right tackle in college - the 6-foot-4, 310-pounder has a mean streak the Ravens love.
In fact, Cousins was involved in two skirmishes during offseason minicamps, refusing to back down to more tenured players.
"I just like to play physical and I like to finish," he explained. "That's why I'm trying to get better, and that's what I'm trying to bring to this offensive line. I'll do whatever it takes to help this team win."
It's evident that Matsko and assistant offensive line coach Andy Moeller are grooming Cousins to eventually become a stalwart right tackle, a reason for such tough love on the practice field. But considering Cousins' accountability to himself and coaches, it could happen sooner than later.
"I don't want to let them down and don't want to let myself down," said the rookie, later recalling some sound advice he'd received from Matsko.
"It's just a grind," Cousins continued. "You have to be tough in the game all the time. You have to go that extra mile as a person and a player."
Some more notes and observations from Wednesday's afternoon session:
Kicker Piotr Czech got his first work of training camp, as the Ravens practiced kickoff return and coverage.
Czech put on a show, displaying his booming leg with multiple kickoffs that sailed into the end zone. The 6-foot-5, 210-pound rookie free agent out of Wagner is hoping to make the team as a kickoff specialist.
Running back Ray Rice was the one catching many of those kickoffs. Rice also was practicing shagging punts during the morning session, something he said he hadn't done since high school.
Still, the Rutgers' record-holder looked impressive on the punt team, catching the ball cleanly despite having two players smack him with blocking pads as he hauled it in. He also tried fielding punts with a football already in his grasp.
"Getting out here and doing the reps – the JUGS and the drills the coaches have me going through – especially the individual attention right now has really been helping me out," Rice said. "I really think I have good hands, so it's just getting the form and getting in the position to catch the ball that is the biggest thing with punts."
He did muff one kickoff in the afternoon, however.
The quarterbacks enjoyed some down time at the end of practice, going off to one end of the field for a skills challenge with quarterbacks coach Hue Jackson.
Joe Flacco, Kyle Boller and Troy Smith all tried to drop footballs in a trash can from around 20 yards, then weaved around an array of trash cans to hone their footwork, and finally paired up for a contest where they had to hit a target on their partner, whom they faced.
The Ravens signed Anwar Phillips, a 25-year-old cornerback out of Penn State. Phillips was originally signed by the New Orleans Saints as a rookie free agent in 2006.
For Thursday:With the entire team finally at training camp headquarters after reporting Wednesday, the Ravens will hold an administration day Thursday, with no access to the public or media.
AM Notes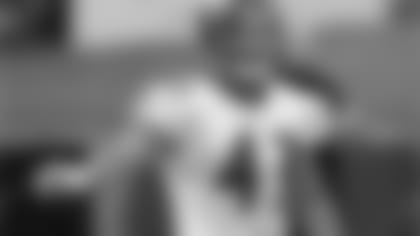 Because the Ravens have no cornerbacks currently in Westminster for training camp, Tom Zbikowski and Haruki Nakamura have been forced to make the pass-coverage calls to various stand-ins, including head coach John Harbaugh.
Harbaugh took the field for a few snaps, falling in his backpedal on one of them.
"What's that machine called when you fall and you can't get back up right away? Lifeline? Well, I needed one of those today," Harbaugh joked.
If Harbaugh slipped, however, it wasn't for lack of communication.
Zbikowski and Nakamura are doing their part on the back end of the secondary without much - or any - help from the corners.
Each young prospect has gotten their hands on a few passes. On Tuesday, Zbikowski even saved a touchdown by intercepting Troy Smith's pass to Ernie Wheelwright in the end zone. Credit the tip to Nakamura, who raced to the back line to meet Wheelwright.
Their production continued Wednesday, as each one was often in the right place at the right time. Even if the wideout made the catch, it was evident that Zbikowski and Nakamura would make him pay.
Harbaugh praised his fellow (temporary) defensive backs after Wednesday's morning session.
"[Tom is] our kind of guy, he's Rex's [Ryan] kind of guy and he's the Ravens' kind of guy," said the coach. "I would put Nakamura in that same kind of category. We wanted two safeties that could run around and hit people and make plays on the back end. Hopefully, we got two guys like that."
Some other notes from Wednesday morning's practice...
Defensive tackle Trevor Pryce was absent from practice after participating in both sessions yesterday. He was one of the invited veterans to attend camp early.
That list also cites Smith and quarterback Kyle Boller, tackle Mike Kracalik, linebackers Dan Cody and Prescott Burgess, running back P.J. Daniels, fullback Jake Nordin, newly-signed tight end Aaron Walker and nose tackle Kelly Talavou.
Tight end Adam Bergen, a three-year veteran out of Lehigh, was not in attendance after the club added him to the roster late Tuesday.
It was only during seven-on-seven drills, but the catch of the day had to go to Wheelwright, a 6-foot-5 undrafted free agent from Minnesota. Wheelwright got the crowd going with a shoestring catch on a crossing route that he just managed to haul in on the left sideline.
Running backs worked on blocking a padded goal post on one end of the field. Daniels, Ray Rice, Allen Patrick were joined by Nordin and taught the finer points by running backs coach Wilbert Montgomery.
On one rep, Patrick tried to chip block the post, but overshot it a bit and crashed into a stack of empty trash cans, drawing laughs from his teammates and media.
A dearth of tight ends also caused some shifting around of the offense during an installation period, as Flacco and Smith each saw some time at the position. Flacco even made a nice catch of a 15-yard pass over the middle.
The early practice was met with thick, grey clouds that would do their job in cooling off the McDaniel fields, but eventually open up for training camp's first signs of rain.
As the drops came down during post-practice press conferences, many reporters hoisted umbrellas over their respective video cameras when Harbaugh, Zbikowski, Ray Rice, Tavares Gooden and Oniel Cousins spoke.
Stay tuned to the BaltimoreRavens.com media player for full-length videos of the interviews.
The rest of Baltimore's veterans will report to the Westminster Best Western today, with physicals scheduled at 3:00 p.m.
The first to arrive? Pro Bowl tight end Todd Heap, who pulled in around 10:00 p.m Tuesday night.