When Mark Andrews went to "Tight End University" in Nashville last summer, he was surrounded by the best of the best at his position.
He soaked up speeches and tutorials from Kansas City's Travis Kelce, who was one of the main organizers, San Francisco's George Kittle, Las Vegas' Darren Waller and more.
Andrews listened, chatted with them during down time, "picking their heads, seeing how they view the game." It was all interesting stuff, but while the fourth-year tight end was playing the student, he knew he belonged at the front of the class.
"I know my abilities," Andrews said in August. "I know what I'm really good at and I know what they're really good at. I feel strongly about where I'm at."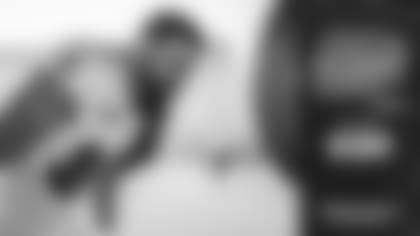 309: Mark Andrews Stops By The Lounge
Tight end Mark Andrews talks about being boosted by more weapons, his connection with Lamar Jackson, his contract, and more.
Andrews knew a big season was coming. He had a phenomenal offseason of training and the Ravens had improved their wide receiver corps, which would help take some of the weight off his shoulders to carry the offense. He's done it anyway.
As Andrews prepares for Sunday's Week 17 game against the Los Angeles Rams, he enters wearing the crown as the best tight end in the league. Andrews was voted by his peers and NFL coaches as the starter of the AFC's Pro Bowl roster, ahead of Kelce. He leads all NFL tight ends in both catches (93) and receiving yards (1,187), while his nine touchdowns are tied for the most.
Andrews' 2021 season will go down as one of the best in NFL history. Up next is a couple franchise records.
Andrews needs just 15 yards to have the greatest receiving season in Ravens history, surpassing Michael Jackson's record of 1,201 yards in 1996. Judging by his recent play in three-straight 100-yard games, he should get the record early in Sunday's game. With 11 more receptions, Andrews will surpass Derrick Mason for most catches in a single season in Ravens history.
There have been plenty of great tight ends in Ravens history. Shannon Sharpe was a major player in delivering Baltimore its first Super Bowl. Todd Heap was the Ravens' go-to guy for nearly a decade. Dennis Pitta became Joe Flacco's security blanket and helped deliver another Lombardi Trophy. Heck, the Ravens even have a Hall of Fame tight end in their front office with Ozzie Newsome.
But none ever had a season like the one Andrews is having this year. The Ravens franchise has been starved for big-time receivers for a long time. Now they have multiple, but the leader comes in a 6-foot-5, 256-pound body.
"Someone said it's been around for like 26 years, and that's a big thing," Andrews said of getting ready to surpass Jackson's record. "That's something where your name is stapled into an organization and a franchise, and not many people get that opportunity. So, that's going to be, obviously, a huge honor, if I'm able to do that."
Heap said he's enjoying watching Andrews top his team records.
"My boys and I watch the games. It's fun to look at the TV and be like, 'There's how it's done. That's how to do it the right way,'" Heap said.
"I love watching his toughness. And you can tell he's a leader out there by how he carries himself. There's a lot of tight ends that can make spectacular plays. It's rare to have a guy do it over and over and over consistently. That's what's fun to watch about Mark."
Even the Ravens probably didn't expect this from Andrews. After all, they drafted a different tight end, Hayden Hurst, in the first round in 2018, then Andrews in the third.
Even though Andrews won the Mackey Award his final year of college at Oklahoma, there were questions about his speed after his Combine workouts, and concerns about some of his raw attributes (wingspan, hand size). His college production was dominant, but some wondered if that was partly inflated because of the explosive offense he operated in.
Those questions, and Andrews' draft position – after Hurst, Mike Gesicki and Dallas Goedert – still motivates Andrews.
"Not getting drafted where I thought I deserved to get drafted, that's something that definitely fuels me; it fuels me to this day," Andrews said. "I've been doubted a lot in my life – at almost everything. So, it's going out there and proving people wrong. But at the end of the day, I go out there and prove myself right. I know what I am, I know what I'm capable of, and I know what I bring to a team, and I've known that for a long time. So, all this is great, but I'm going to continue to be me and just play the way I play."
Andrews has become a better blocker this season, solidifying perhaps the biggest weakness in his game. His intense offseason training – catching endless passes of the JUGS machine operated by his dad and running routes and blocking his brother – at his family home in Arizona has paid off.
But what stands out about how Andrews has taken the next step this season is that he's become even better at his best attribute – getting open.
Andrews has often talked about, and shown, his "special" connection with quarterback Lamar Jackson. What's become apparent, especially over the past three weeks when Andrews has posted three straight 100-yard games, is that it doesn't matter who is throwing to him. He just gets open regardless.
"He can do whatever he wants to – for real," safety Chuck Clark said. "Sometimes, playing football, you're expecting a route you're about to get or what the route is building into, just with where he's lined up at, the concept that's coming. He just might put his own little artsy, creative twist to it. So, I think he just has the freedom to do what he wants to do."
"I would put about three people on him," linebacker Josh Bynes said. "You can't just sit there and think you've got him figured out. He finds his way open, finds an open area in the defense. He's relentless in his effort and gives 110% every single time he's on the field. He does that in practice every single day. He's just an exceptional player. Honestly, you've got to put a corner on him; it's got to be Jalen Ramsey at this point."
Andrews had a "perfect game" in Cleveland, catching all 11 of his targets for 115 yards and touchdown. He followed it up with 10 grabs for 136 yards and two scores from Tyler Huntley against Green Bay, then eight receptions for 125 yards and a score from Josh Johnson in Cincinnati.
"Mark Andrews is a monster," Johnson said with smile and shake of the head. "Just seeing it in practice and then playing with him in the game, he's a great safety net to have. He's been doing it since he stepped on the field in the league and he's only going to continue to do it. He's a blessed one."
The way Andrews has played this season, especially when the Ravens have needed him the most, will make Andrews Baltimore's MVP this year. When Jackson went down, Andrews stepped up.
"A great player makes players around them better," Head Coach John Harbaugh said. "Mark is that kind of a player."
The Ravens know Andrews has a lot more damage to do. Baltimore inked him to a five-year contract extension on his 26th birthday, making Andrews one of the highest-paid tight ends in the league. Even that is looking like a bargain right now.
"He's a Pro Bowl player. He's an All-Pro," center Bradley Bozeman said. "He's going to be one of the best to ever do it, to be honest."
It's not just that Andrews is having a historic season by Ravens standards. He's also having one of the best ever for a tight end in NFL history.
Tony Gonzalez's biggest year was 102 catches for 1,258 yards and seven touchdowns. Sharpe's was 80 catches for 1,062 yards and 10 touchdowns. Antonio Gates' top year was 89 grabs for 1,101 yards and 10 touchdowns. Rob Gronkowski's was 90 receptions for 1,327 yards and 17 scores.
The three seasons with the most receiving yards by a tight end in NFL history have all happened since 2018 – two by Kelce and one by Kittle. Kittle posted 1,377 yards in 2018, then was topped by Kelce's 1,416 yards in 2020.
Andrews is on pace for 1,345 receiving yards, which would rank third all-time among tight ends. Though it does come with one extra game, Andrews' 2021 season will go down as one of the best in league history. And in an era with perhaps the best class of tight ends ever, Andrews stands at the top this year.
"It's a cool thing to be able to put up big numbers and make big plays and try to help this team out and win games," Andrews said. "But at the end of the day, I'm a team guy. All I really want to do is win games, and that's all I'm trying to do."