Bradley Bozeman is an Alabama guy through and through.
He was born in Roanoke, Ala., went to high school at Handley High School in Roanoke, then won a national championship with the Alabama Crimson Tide.
So when debating where to set up shop in Maryland, Bozeman and his wife, Nikki, settled on something that's becoming popular in Alabama. They live in an RV in rural Eldersburg.
"It's country out there," Bozeman said. "It kind of fits who we are."
Bozeman has found his fit in the Ravens' offense this season.
Figuring out who was going to start at left guard was the biggest roster question mark this offseason. Head Coach John Harbaugh said in August that even whoever stepped in for Week 1 wouldn't have the job locked up. There's a difference between a guy who starts a game and a starter.
Bozeman is now a starter, and a key piece of the Ravens' historically good running game and the NFL's top-ranked offense.
"He's just consistently gotten a little bit better and continued to work extremely hard," eight-time Pro Bowl right guard Marshal Yanda said. "He's progressed as a player. When you're in your second year, you have a lot of room to grow. The kid's done that. He's kept his head down and been more and more consistent."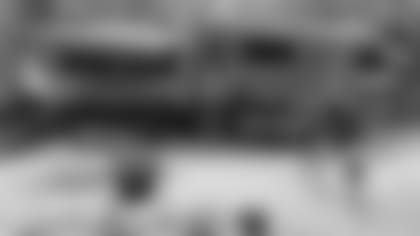 The Bozemans first considered buying one about a year ago. They wanted to travel the country during the offseason and were looking for a cheaper home base, so it made a lot of sense.
"We didn't feel secure in buying a house and we were tired of renting. Rent around here is expensive! Alabama is pretty cheap," Bozeman said. "So we bought the RV, and we're saving I think $1,800 a month."
That also includes free WiFi and cable through the RV park's hub, which is a nice perk for a thrifty guy who also loves to buy used things off Facebook Marketplace.
This RV ain't exactly roughing it. They still sleep on a king-size bed. There's a spare bedroom, full living room and full kitchen. They can't have more than one person in the bathroom at a time, but who really needs two in there anyway?
"It's a small house pretty much," Bozeman said. "It's been a lot of fun. We haven't killed each other yet (laughs)."
Bozeman's teammates gave him a hard time about it when he moved into the RV full-time in March, after taking it north to New York, south to Alabama, and back.
"Boze is a character, man. I remember last year when he was talking about buying the RV. It was the countriest thing I've heard in my life," right tackle Orlando Brown Jr. said with a big laugh. "Boze is very much himself. He definitely lives a different lifestyle than most in the NFL, for sure."
This offseason, the Bozemans are going to pull anchor and hit the road for a good cause. On Feb. 10 – not long after the Super Bowl – they'll start a cross-country trip in which they'll stop at 22 schools to talk to kids about bullying. It's something that impacted both Bradley and Nikki greatly growing up.
Full details on their trip and a way to donate to the cause can be found on their website. They will post updates throughout the trip, so you can follow along as they go.
"We're really excited about that. We'll get to see the country and bring light to a great cause," Bozeman said. "I feel like we don't really understand quite the importance, as adults, of teaching kids how to respect others and that the words that come out of your mouth are very powerful. A lot of kids suffer with bullying."