Jamal Lewis, One Of Ravens 10 Best; Practicing vs. Ray Lewis
As selected by our season ticket holders as part of our 20th season celebration, Jamal Lewis is one of the 10 best Ravens. The spectacular running back played for the Ravens from 2000, when he was the fifth player selected in the draft, through 2006. In 2003, Lewis rushed for 2,006 yards, the third best in NFL history and earned the NFL Offensive Player of the Year award. On Sept. 14th of that season, Jamal crushed Cleveland at M&T Bank Stadium with 295 rushing yards, second most in league annals. Lewis finished his nine-year career with the Browns (2007-09).
We have asked each of our elite 10 to answer 20 questions. Here are Jamal's answers:
How was blocking Ray Lewis during training camps?
(Laughing) "We had the 'brother-in-law system.' We were like two lions knowing we could get the best of each other, so we kind of shared 50-50. That was our rule."
How was it playing against the Ravens defense when you were with the Browns?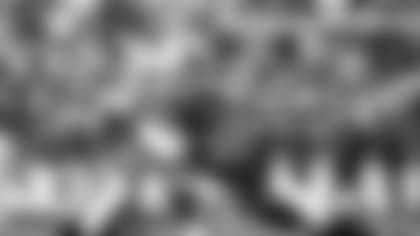 (Again, laughing) "Well, I never thought about it when I joined the Browns. But, then I had to run against Ray and [Haloti] Ngata, Ed Reed and Chris McAlister and all those other guys. It gave me a chance to understand about being the prey. They all trashed-talked me before every game, but it was all in good love. They got their licks in. … And I gave some out, too."
What does it mean to be a Raven?
"Professionalism, hard working. All the things that are important to Baltimore and the history there. It means winning. Playing tough and with enthusiasm. Surrounded by good people and trying to be one of them."
Who was your favorite teammate?
"Has to be my fullback, Alan Ricard. We saw things eye-to-eye. We were like brothers. I still talk to him today. We send each other pictures of when we ran the ball."
What was your 'This is the NFL' moment?
"My first start [in front of Priest Holmes]. It was against Cincinnati. Takeo Spikes blasted me. Knocked me flat on a screen pass. The ball went one way, and I went the other. When I looked up, Coach [Brian] Billick was standing right there. He looked at me and said, 'Welcome to the NFL.' That was it. I still remember it clearly."
Your most embarrassing moment in football?
"I can answer that immediately. I was playing youth football. I got the ball and somehow got turned around and ran for a touchdown – to the wrong end zone. My Mom, my family, everybody stills remembers it – and they remind me about it."
"Probably my grandfather, Willy Parrish. He was strong, hardworking. He instilled a lot of that in me, and I'm still trying to live by the standards he set."
(Chuckling) "I was hoping you wouldn't ask that. Wanted to dodge this one. It was one of those housewife shows, you know the 'Real Housewives…'"
What scares you now and when you were a kid?
"Bad health scares me now. I want to stay healthy. When I was a kid, it has to be elevators and dogs. Horrified of both them, but over them now."
"Spending time with my kids. Taking them to school and chauffeuring them to activities. That and business, trying to come up with something new."
Your fastest 40-yard dash?
"I could run for a big man – 4.38, at my pro day at Tennessee before the draft. I was 231 pounds. I was running for the money." (laughing) (Editor's note: Jamal played most of his pro career at 245-250 pounds.)
Youngest player to score a touchdown in the Super Bowl…
"I didn't think I'd get in any record books for anything. But, I think I'm still in the Guinness Book of World Recordsfor this. My kids are actually the ones who told me this. They seemed really happy about it, and I think it's good, too."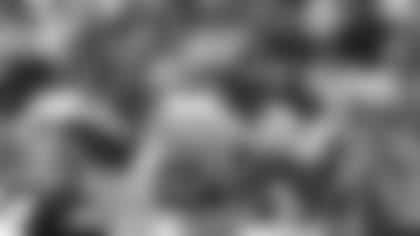 "Unbelievable year. Our quarterback [Kyle Boller] got hurt, and we ran the ball. Our line was great. They made the holes for me. I felt what we accomplished – with all my rushing yards – it was good for the city of Baltimore. Good for all of us. Kind of a proud moment, a pick-me-up for the city."
Sept. 14, 2003 (game Jamal rushed for 295 yards vs. Cleveland):
"Just a great day. I knew I could have a good day, but you don't think about setting records. Our plan was to pound on them that day. I did want to get the single-game rushing record after seeing Corey Dillon [Cincinnati] run for so much my rookie year. The day's a great memory for me and my family. One of the greatest days of my life, having success doing something I loved."
Winning the 2003 NFL Offensive Player of the Year award?
"Never expected to win an award like that, and I really look at it as a team award. I couldn't have done anything without my teammates and coaches."
Jonathan Ogden, 'Zeus' [Orlando Brown], 'Muli' [Edwin Mulitalo], [Mike] Flynn – your offensive line?
"My bodyguards. They were great players and leaders. And funny. They made the locker room fun."
"My mentor and one of the most professional persons I ever met. I always tried to treat new running backs coming to the team like he treated me with such class and respect when I was a rookie."
"Just a Grade-A person. Someone I idolize as a business leader. He's the ultimate professional and a great guy and friend. When he called me about being in the Ring of Honor, it made me feel so good. I'll keep telling my kids about Steve – and Art Modell. How lucky was I?"
Your entrance into the Ravens' Ring of Honor?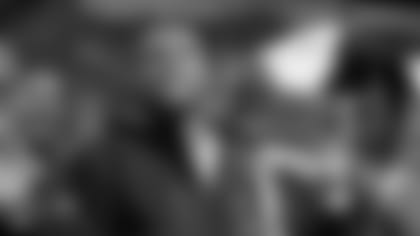 "Humbled. What can I say? It means a lot to me. To be recognized by such a great organization. And, I got to go up the same year we won our second Super Bowl. That's even better."
Team you loved to beat and best place to win on the road?
(Laughing) "Can it be any other? Pittsburgh and Pittsburgh. And, so glad you guys did that last week."
It was a lot of fun to beat the Steelers at Heinz Field last Thursday. It was the type of game in which Jamal would have loved to play. It was loud, raucous and physically challenging. … And, we ran the ball 39 times with Justin Forsett gaining 150 yards.
Big-time performance by the Ravens and our new Pro Bowl running back.
We'll need Forsett and much more against another tough AFC North foe, the Browns, this Sunday. Every game against Cleveland seems to be decided late and by a few points. (Oh boy!) Let's beat the Browns.