Three-and-0 looks pretty good in purple and black, doesn't it?
Far cry from a year ago when we were 0-3, damaged and heading for a long, tough season.
And, how much fun is this? We're certainly not boring. No doubt that we have all been on the edge of our seats, or standing near the sideline to the very end of each of our three victories. Games like these can be exhausting for all of us, including the fans.
Yet we all know what the elephant in the room is: 3-0 against whom? Whom have the Ravens beaten? Are we a bad team disguised as an unbeaten?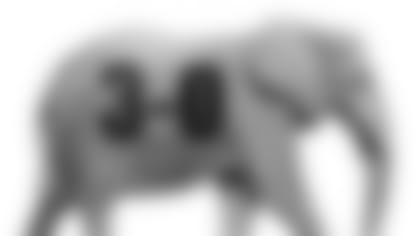 Steve Smith Sr. said the other day: "Hey, we lost games like this last season." (Man, it's good to have that feisty receiver back on the field. Try telling him there's such a thing as a bad 3-0 team.)
Here's a view from the respected Greg Bedard of Sports Illustrated, a guy who does study game tape and talks to a lot of people around the NFL: "We're still not buying the Ravens: Baltimore may be 3-0, but I'm not convinced. So far the Ravens have beaten Buffalo by six, the Browns by five and the Jaguars by two. They'll get better as the season goes along. After last season's tour de bad luck, they'll certainly take 3-0. But Joe Flacco has thrown three touchdowns against four interceptions and has a 77.4 passer rating. That is nowhere near good enough."
• TIMEOUT! This is the truth. Reality. I've been in the NFL for 38 years, and the league has been relentless in trying to make all teams even. The result has made the NFL the No. 1 entertainment franchise in the country. We are the "On-Any-Given-Sunday" league. We can all beat each other! You can start a rookie quarterback from a Division I Championship Subdivision school against one of three teams guys like Bedard consider serious Super Bowl contenders and win by 31 points. [That's what I'm talkin' about, Eagles. Way to thump the Steelers (34-3)!]
Here's a perspective from another respected national journalist, NFL.com's Don Banks: "Style points have never been Baltimore's calling card, but they're finding ways to gut out a win every week. … There's something to be said for being able to live on the razor's edge, and not only survive, but thrive."
How does the team handle being 3-0? John Harbaugh is relentless, too. His mantra in a nutshell is: Get better. "It's not about winning pretty. We've never been that. You can call us ugly, but we stay true to the focus of finding ways – getting better – to win the next game. That's what we do," Harbs said. "We talk about stacking. We want to stack good meetings after good meetings, good practices, good weightlifting sessions. We want to stack wins, and that's really our task at hand. We want to go 1-0 this week."
This quote represents a lot of what Coach Harbaugh lives every day, and it's noticed by many close to the team and throughout the NFL. Childs Walker of The Baltimore Sun wrote earlier this week: "I've written it many times over the years, but John Harbaugh's greatest strength as a coach might be that his teams never quit." (There's that relentless theme again – striving constantly to be better. Stacking good efforts on top of good efforts, good play after good play.)
The Associated Press reported on Monday this assessment on our current team: "The Ravens do have an identity: They know how to win."
Let's look at some of the headlines for the Ravens right now:
The Ravens' defense is the NFL's second best (average yards allowed) and has given up just 10 points in all of the second halves. With the game on the line in the fourth quarter, our defense has been spectacular. Just watch how our defenders all fly to the ball every play. (Relentless, if you will.)
The Ravens have overcome significant situations on the road (down 20-0 in the first quarter at Cleveland and three turnovers in the fourth quarter at Jacksonville) and still found ways to win.
In mid-summer, high-humidity-Baltimore-type-heat in Jacksonville, our "old men" stood tall: Terrell Suggs got two sacks in the fourth quarter, and Smith Sr. caught eight for 87 yards.
Joe Flacco shows no signs of being slowed by the knee that was surgically repaired last December.
Mike Wallace and Breshad Perriman are dangerous deep-ball receivers, and Joe might be the best deep passer in the game. Perriman is improving with every snap. Dennis Pitta is back.
Confidence is huge in sports. Winning breeds more winning.
Some Things That Are Concerning
We're not running the ball the way we want.
We start two rookies on the left side of the offensive line, and defensive coordinators are staying up late looking for schemes to confuse Ronnie Stanley and Alex Lewis, plus beat them up.
We have a lot of "old guys" coming back from injury (see numbers 3 and 4 above).
At least one 3-0 team in each of the last five seasons has not made the playoffs.
Our winning point differential – total point difference in all games – is low, and studies indicate those teams don't fare well later in the season.
We play in a division with two teams – Pittsburgh and Cincinnati – almost everyone predicted would make the playoffs this season.
There's more we could insert in each of the above categories, but these represent a consensus from the "half-filled" and "half-empty" camps.
Know one thing, we're all very happy to playing at M&T Bank Stadium for the next two Sundays. Our defense feeds off the frenzy there. Since 2003, Ravens defenses have allowed the NFL's fewest points (16.3 per game) and yards (291.6) at home games. QBs have managed just a 74.4 QB rating against John Harbaugh teams in Baltimore.
Here's some more discussion ammo: The Ravens are 12-2 at home all time against West Coast teams. Sunday's opponent, the Raiders, are 0-5 in Baltimore. The Chargers are 1-3, the 49ers 0-2 and Seattle is 1-2.
Harbs has been asked a lot this week about being 3-0 against "weaker teams." "These are fair questions," the head coach said. "It's cool, and I'm sure fans and reporters enjoy discussing all of this. It's also noise that doesn't impact us. The real evaluations will come after the season. Our focus is finding and practicing what we have to do to beat the Raiders." On Monday at his press conference, John had some fun, chuckling when he said: "Bill Parcells said, 'You are what your record says you are.' I was reminded of that by you last year – quite frequently. I'll remind you. It's a pretty good statement."
After three games, the Ravens are in first place in the AFC North with a 3-0 record. In comes the 2-1 Raiders, another team many reporters predicted great things from this season. It will be an intense battle: very physical and nail-biting. What else would you expect?
P.S. Witnessed one of the coolest things in Jacksonville last Sunday… Leading the Ravens 17-16 with 3:06 left in the game, the Jaguars lined up for a 52-yard field goal. They make this, and we have to score a touchdown to win. I was standing on the sideline next to, according to Terrell Suggs, "the 6-foot-12 giant" Brent Urban. (Urban, by the way, is a 6-foot-7 defensive end.) Associate Head Coach and Special Teams Coordinator Jerry Rosburg, raced up to Urban, pounded him on the chest and shouted: "Urban, go win this game for us." Urban responded: "I will." You saw what happened. Urban blocked the field goal, giving us a short distance to travel to get in position for Justin Tucker's game-winning field goal. Urban told me yesterday that Rosburg had told him earlier that if the game is on the line, he was going to call the play where Urban, hopefully, comes free to get the block. And, it worked. Good coaching and nice play, big man.