Robert Kennedy, Martin Luther King and Jesus Among References On Opening Night
Have you ever heard about the African Impala?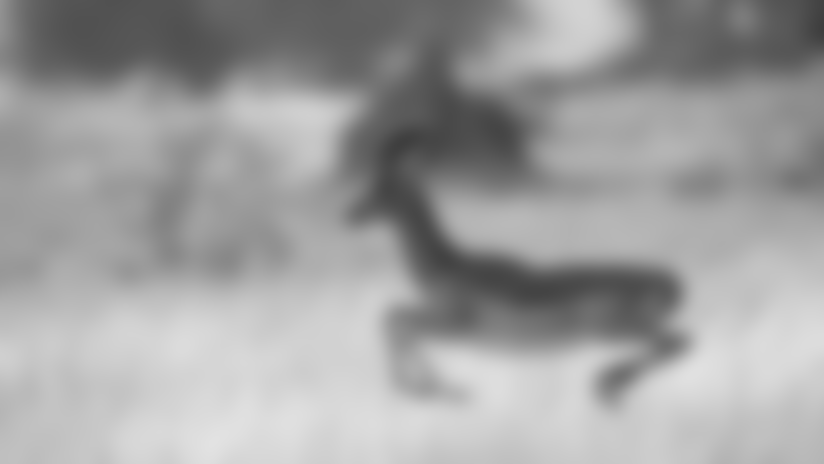 Ravens players have. They heard it from John Harbaugh on the opening night of training camp.
"The African Impala can jump 10 feet high and leap up to 30 feet, yet zoos contain them behind walls that are shorter," Harbaugh told the 90 players who currently are the 2014 Ravens. John's season-opening speech clearly had the attention of the group in the main team meeting room at the Under Armour Performance Center.
"The Impala," Harbs continued, "won't jump unless it sees where it can land. We don't know where we're going to land, but we're going to make that leap, right?"
(Shoot, I wish I knew about the African Impalas when my children were younger. It would have provided the same lesson John was giving last week.)
The Ravens' head coach was mesmerizing, making references to many historical figures, including Robert F. Kennedy, Martin Luther King Jr., Jesus, other martyrs, Joshua Chamberlain and Spain's Hernán Cortés. (Cortés is the Spanish conqueror who came with a small group of soldiers and defeated the mighty Aztecs after burning his ships so that his troops couldn't retreat.)
He talked about coming together as a team and showed video of Reverend King proclaiming: "We may all come in different ships, but we're all in the same boat now."
It was clear John had spent a lot of time preparing a speech that he hoped would stimulate the growth of the team.
His basic theme, to me, shouted that if you don't reach to be the best – jump when you don't see your landing – you won't be the best. You'll never reach greatness. And, he stressed, "the journey is hard, and we will have to overcome obstacles along the way."
Coach Harbaugh looked around the room and asked: "Do we want to be great?" Heads were nodding. "Most people are afraid to fail. … We will go where all of us decide to go together. Our hard work will give us our edge. Our attention to the detail of what we do will make the difference in the long run."
A video of King then came up on the screen. It was the American hero's famous "street sweeper" speech. Love the words to the beginning of this important sermon from Dr. King:
"And when you discover what you will be in your life, set out to do it as if God Almighty called you at this particular moment in history to do it. Don't just set out to do a good job. Set out to do such a good job that the living, the dead or the unborn couldn't do it any better.
*"If it falls your lot to be a street sweeper, sweep streets like Michelangelo painted pictures, sweep streets like Beethoven composed music, sweep streets like Leontyne Price sings before the Metropolitan Opera. Sweep streets like Shakespeare wrote poetry. Sweep streets so well that all the hosts of heaven and Earth will have to pause and say: Here lived a great street sweeper who swept his job well. *
"If you can't be a Pine at the top of the hill, be a shrub in the valley. Be the best little shrub on the side of the hill.
"Be a bush if you can't be a tree. If you can't be a highway, just be a trail. If you can't be a sun, be a star. For it isn't by size that you win or fail. Be the best of whatever you are."
"Do your job to be the best. Take those extra steps. Opportunity will not knock for us," Harbaugh explained. "We have to knock, and the door is going to be locked, bolted and protected. It will not be easy, but we will bust through to the other side."
He then saluted members of his coaching staff. "Juan Castillo drove his car to Green Bay, slept in it and waited on the steps to the front door to ask for an interview with Mike Holmgren. Juan had driven all night in a snowstorm to be there when the first coaches arrived." One of the first coaches was Andy Reid, who soon became the Eagles' head coach and hired Juan.
"Gary Kubiak – how easy would it be for him to collect his head coach money right now and sit out this year. But, he didn't. He wants to be here to be part of something special," John continued.
Harbs emphasized having faith in each other. "We're not here to play it safe. What did Jesus say, 'We will storm the gates of hell together.' There are a lot of definitions of faith. It's belief in one another. It's trust in one another. Few go all in for each other and for a common cause. Most hedge their bets. We can go all in."
The head coach then showed this excerpt of Robert Kennedy's famous speech when RFK quoted the famed Irish writer George Bernard Shaw, who wrote: "Some men see things as they are and say, 'Why?' I dream things that never were and say, 'Why not?'"
Coach said it was OK to share the video he showed at the end of the meeting:
Team Meetings Also Have Fun
Had the chance to go to another team meeting a few nights later when our public relations staff made a presentation to the players. Before we were introduced, we had the chance to see a rookie sing.
We are not a hazing team, but the veterans do ask rookies to sing at the start of training camp meetings. It brings a lot of energy to the start of the meetings. Quarterback Keith Wenning, dressed in a penguin costume, performed that night. The first-year player (sixth-round draft choice) could pick any song he wanted. Wenning selected R. Kelly's "I Believe I Can Fly."
Soon after he started, Haloti Ngata shouted: "Louder, can't hear you back here." Keith sang louder. It was almost on key, but it was not enthusiastic. "Rook, start again. Sing it like you believe it," Terrell Suggs encouraged. After a second attempt, Suggs looked at Harbs: "Coach, he needs to practice and come back another night." The whole room, including Wenning, laughed. I assume Wenning is now practicing.
Less than a week before the first preseason game, which takes place next Thursday against the 49ers at M&T Bank Stadium.  Big crowd, good teams and, for most of you, first looks at many of our new players and vets.